Be On Time with Media Center Calendars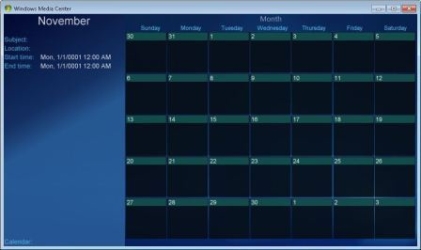 MadeforMediaCenter.com has added a new Windows Media Center plugin to its catalog: Media Center Calendars. As the name implies, Media Center Calendars brings your calendar into WMC. The free plugin can import your Outlook 2010, Exchange, Windows Live, or Google calendars into WMC and you can even run an optional background app to provide appointment alerts. I've only used the plugin with my Google calendar and it definitely works well. The right side of your screen contains a view of the current month populated with events with more details of the selected event on the left. Unfortunately it seems you can only access your main Google calendar, so functionality might be limited for folks who utilize a number of added calendars as I do, but perhaps a future update will expand support. Current update plans already include weekly and daily views. If you decide to take this slick new plugin for a spin, be sure to share your thoughts.
Ever wanted to check your Calendar from Media Center? Well you can now using Media Center Calendars, the app enables you to view your Exchange,Windows Live and Googlecalendars from the 10 foot UI. There is also a background service that will alert you with calendar events.