Cooler Master Releasing Silent Pro Hybrid Fanless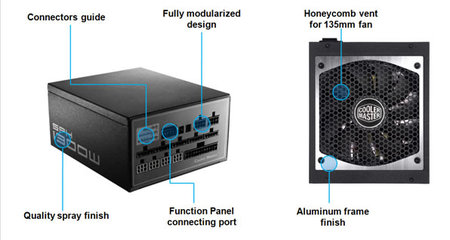 I debated whether or not to leave the word "fanless" in the description or not, given that the power supply actually DOES have a fan, but that's what they're calling it so I'll go with it. The geek in me loves seeing these "silent" PSU's come back in the market. The last version of the Antec Phantom truly silent PSU was one of my favorites, but peaked at 500 watts. The point of this one is a bit more comprehensive, as the controller aims to take control of all your system fans, but also occupies a 5.25″ drive bay.
Cooler Master announced a world's first in power supply technologies, the Silent Pro Hybrid Series. Equipped with fully modular cables, centralized control of power supply and system fans, a noise-free operation mode, and an included 5.25" drive bay fan controller module, the Silent Pro Hybrid Series becomes the industry benchmark to aspire to. Cooler Master Silent Pro Hybrid represents a paradigm shift in the way power supplies will be perceived within a system setup. It includes the features that many enthusiasts demand such as full control over cable management with fully modular cables, over 90% efficiency with 80Plus Gold Certification, noise-free operation, and other value-added features that ensure these users get the most out of their purchase.