Apple TV Reportedly in the Works, Name Already Taken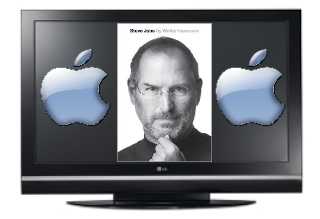 Walter Isaacson's biography of Steve Jobs has garnered all sorts of attention, including a little blurb that Steve Jobs gives about making an Apple TV. No, not that Apple TV, a real TV. Apple watchers have speculated for years that Apple would eventually try to push its way into the flat-panel television market, but instead the company has focused its less than undivided attention on the hobby known as the Apple TV. Now that the good moniker has been taken, it appears that Apple really is looking at moving into television sets.
Apple has a prototype TV in the works and may introduce a product for sale by late next year or 2013, according toGene Munster, an analyst with Piper Jaffray Cos. He based that timing on meetings with contacts close to Apple's suppliers in Asia, industry contacts and Apple's patent portfolio. Munster said Apple also is investing in manufacturing facilities and securing supplies of LCD screens.
Now here's where things go off the rails for me. In his biography, Isaacson quotes Jobs as saying:
I'd like to create an integrated television set that is completely easy to use. It would be seamlessly synched with all of your devices and with iCloud. It will have the simplest user interface you could imagine. I finally cracked it.
However, the "real" Apple TV project is reportedly being spearheaded by Jeff Robbin who helped develop the original iPod. He is also the software engineer responsible for iTunes, which anyone who has ever used a computer can tell you is an abomination of UI design. So, perhaps that is a bit strongly put. What do you think? Can Jeff Robbin and Apple truly deliver on the wunderTV?