Viako Mini Letter ML-45 LEAP E-350 Barebones Nettop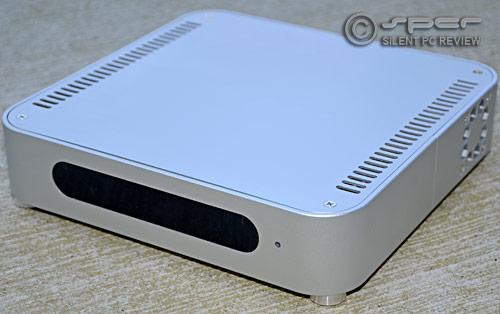 Unless you closely follow news announcements you probably have never heard of Viako, but they're a company in Korea who are aggressively taking on the HTPC market. Although no current US distribution, the products themselves look very attractive, so it's good to hear that they can actually perform as well.
The package contents on the otherhand are anything but a blast from the past. The ML-45 is a diminutive barebones PC with a sleek aluminum casing housing and the latest in nettop technology: AMD's Fusion E-350 accelerated processing unit consisting of a dual core 1.6 GHz CPU and Radeon HD 6310 graphics. Though not exactly a stellar performer, the E-350 still runs circles around Intel's Atom processors and the graphics chip is more than capable of decoding full high definition video. It has all the right hardware for a media PC including connectivity options like 802.11n and Bluetooth. The included remote, front panel display, and the application(s) running may be what makes or breaks the experience; Too often these are just thoughtless add-ons.