SiliconDust HDHomeRun Prime Officially Available for Pre-order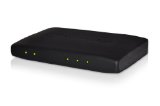 The long and torturous wait for the SiliconDust HDHomeRun Prime is almost over. Today, SiliconDust has just given word that the three tuner variant, HDHR3-CC, is available for pre-order from Newegg for $250 with a ship date of June 29th.
The six-tuner variant, HDHR6-CC-3X2, should become available for pre-order next week at a price of $499.
HDHomeRun PRIME is available for pre-order from NewEgg today, with HDHomeRun PRIME 6CC to be available for pre-order in the coming week. Orders will be fulfilled by Newegg in the order in which they are received for each model. Both models are expected to begin shipping in volume in July, with the 6-tuner model expected to ship a little ahead of the 3-tuner model.