Amazon rolling out Netflix-like unlimited video streaming for Prime subscribers?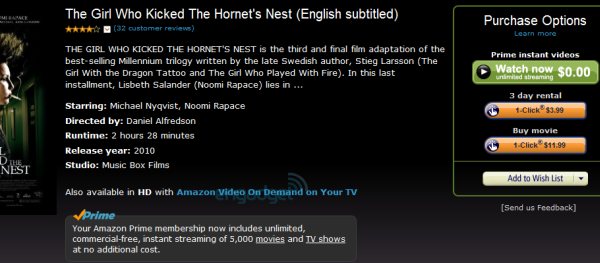 This has since been yanked from even the user who reported it, but this would make sense from Amazon's side as they try to really get in the digital streaming game, but you'd have to believe they would charge more than just a Prime membership.
That's a nice bonus for the $79 / year package that currently adds a few free shipping bonuses and it would be cheaper on a yearly basis than Netflix's Watch Instantly ($95.88.) As seen above and in the gallery, it consists of "unlimited, commercial-free, instant streaming of 5,000 movies and TV shows" with selections that mirror the Watch Instantly catalog closely. Resolution is apparently limited to a "pretty solid" 480p SD, but there's no word on audio or subtitle options. We'll wait to hear if anyone else is seeing a similar page before assuming a wide rollout, but it certainly appears that there could finally be a viable competitor to the Netflix juggernaut.