Optoma HD20 DLP Projector Review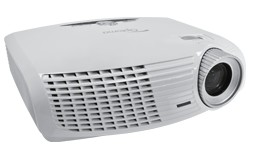 For <$1000 you could be rocking a 1080p projector and watching a 100" screen. That's just a drop in the bucket compared to the price of the larger LCD and plasma sets on the market. If I had a large enough room to arrange and accommodate a projector, I'd be seriously considering this one.
Optoma has upped the bar with their release of the HD20. This sub $1k
projector is full 1080p, has more than enough inputs for most
applications, and gets you into a front projection system for an
unbeatable price. Value shop for a power retractable screen and a mount
and you're only out around $1700. I know lots of people that have paid
that (and more) for a 50" flat panel. At this price, if it turns on it's
pretty much a success. Well, I'll spare you the suspense – it turns on.