Drinking The Kool-Aid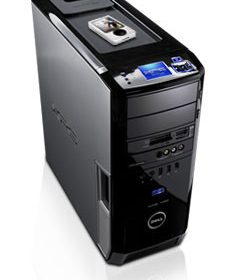 Chris Lanier has reported that Dell has taken and finally grown a set of stones and taken a stance on their CableCard offerings. Unlike some others, *cough* HP, Dell will be making all XPS 420 desktop PCs CableCard ready. This means they will have the proper OS w/ CC support, proper BIOS support and the ability to select CableCard tuners.
The price and performance of this beast is another noteworthy accomplishment. The base configuration comes with a Q6600 processor, 3GB of ram, 2400 pro and 320GB HD for $900. As usual Dell falls a little flat in the video card department. The 2400 pro is hardly qualified for HD duties. If you configure with a 2600XT, 500GB HD and dual tuners that takes you to $1539. *NOTE* This is a BTX motherboard and there are very few BTX cases on the market.
Currently Dell is offering a 100 dollars off plus there are a couple of coupons floating around to take another $100 off the final price. So for $1339 you get a decently spec'd machine that you might be hard pressed to build yourself that cheaply.
Use code N148DK363R6WB0 to save $200 off any $1,399.00+ Dell XPS. (valid 12/7/2007 12:00:00 AM – 12/20/2007 11:59:59 PM)
Use code 7D425SNMDPQF3N to save $200 off any $1,399.00+ Dell XPS. (valid 12/7/2007 12:00:00 AM – 12/20/2007 11:59:59 PM) (*Note* The coupons only take $100 off because they are already offering a $100 instant rebate.)
Of course it comes in a standard XPS case, which on its own is pretty nice. However, it is not HTPC worthy. I hope the next step Dell takes is to stick this into a HTPC style case :). As Chris mentions, this is a good step forward in getting widespread CableCard support. It is one good step to take but we are in need so many more. That is a rant for another time.
Did I drink the Kool-Aid? You bet. A couple of things swayed me. My wife has asked that the main HTPC case remain hidden unless its a slimline case like Omaura's TF5. And to keep me off of the WAF tales thread , I needed to have a Media Center that replaces our Cable Tuner PVR in functionality. Thanks to Chris for his cracker jack CableCard reporting.