Ceton InfiniTV Network Tuner Wizard: Access InfiniTV Tuners From Multiple PCs

One of our most popular guides in the past several months has been Michael Welter's guide and tool for configuring the InfiniTV for use by multiple PCs. Now, Ceton has released the InfiniTV Network Tuner Wizard to provide an easy way to configure and officially support the InfiniTV when used by multiple PCs. We've had the opportunity to use the wizard and produce a guide to help you learn what it does and how to use it.
Before we get started, it is important to understand that the InfiniTV is treated as a network device under Windows. Of course, the InfiniTV has no Ethernet port to make it physically accessible on the network so it relies on the built-in bridging functionality within Windows. A bridge is created that links a network interface card (NIC) and the InfiniTV. The InfiniTV is then assigned an IP address just like any other device on your network.
By default, Windows Media Center (WMC) does not look for or discover OCUR tuners via NICs so the InfiniTV Network Tuner Wizard must be installed on any system that will be accessing the networked InfiniTV tuners. The wizard user interface revolves around a WMC plug-in that looks and feels a lot like the WMC TV Setup.
The wizard allows individual InfiniTV tuners to be reserved for each system which is necessary to ensure reliable operation of the tuners. Tuners can be allocated to any PC, however, once the tuner is allocated, it can't be used by any other PC.
Note 1: This guide will refer to a "host" PC which is the PC with the InfiniTV physically installed and a "client" PC which is a PC that is accessing one or more of the host PC's InfiniTV tuners.
Note 2: Some screen captures are from beta versions or previous releases and may be slightly different from the final release.
Since there are a few different scenarios that are possible, this guide will be broken up into the following sections:
Minimum Requirements
Ceton InfiniTV Driver: 1.1.0.8 or higher installed on host and client PCs
Ceton InfiniTV Firmware: 1.0.3.4 or higher installed on host PC InfiniTV 4
Ceton InfiniTV Hardware: 4790 or higher installed on host PC InfiniTV 4
The WMC Digital Cable Advisor (DCA) has been performed on each host and client system.
Each host and client system should meet the minimum requirements set forth by Ceton.
Host Installation and Configuration
InfiniTV Network Tuner Wizard Installation
Download the appropriate installer from Ceton.
Close WMC on the host PC and then install the latest released InfiniTV Network Tuner Wizard as shown.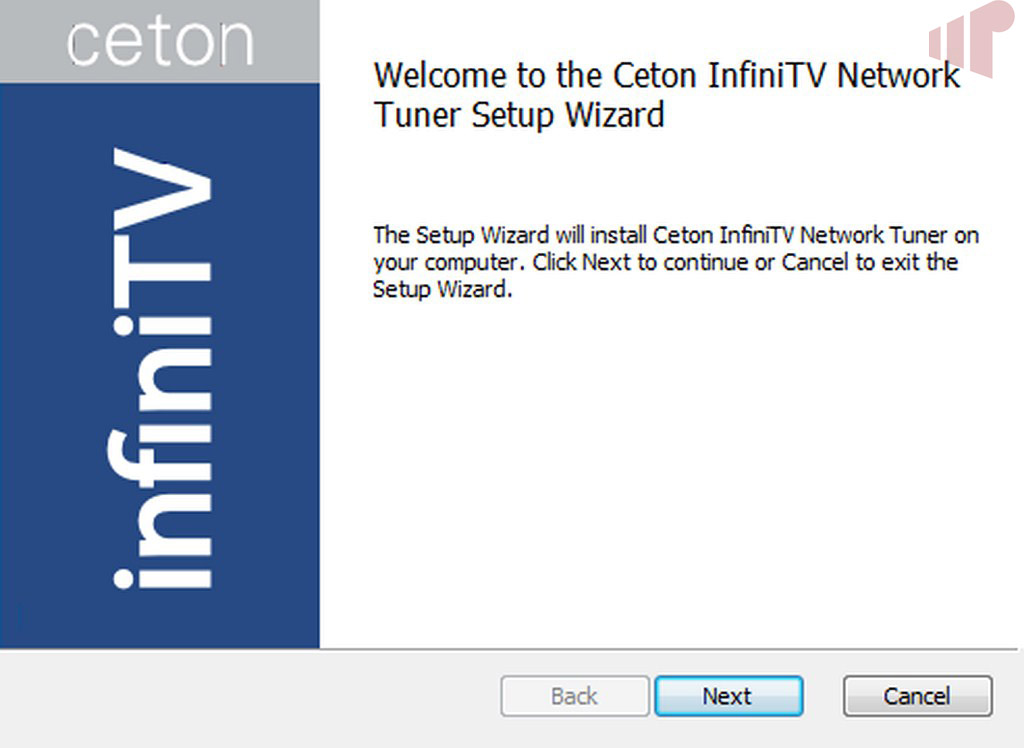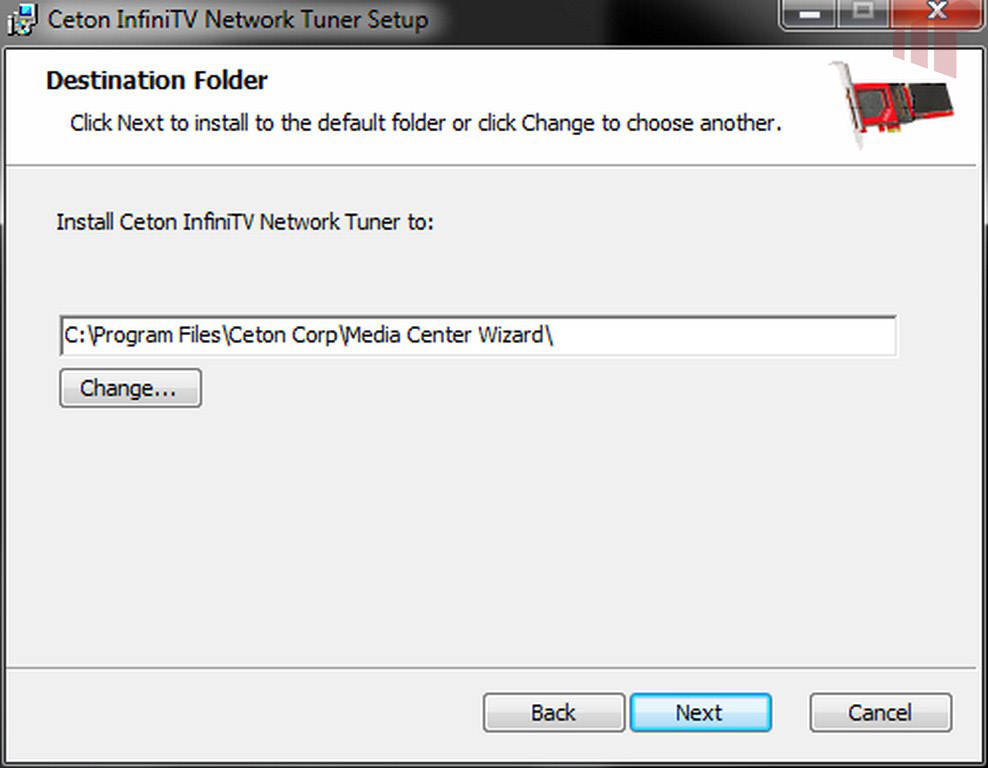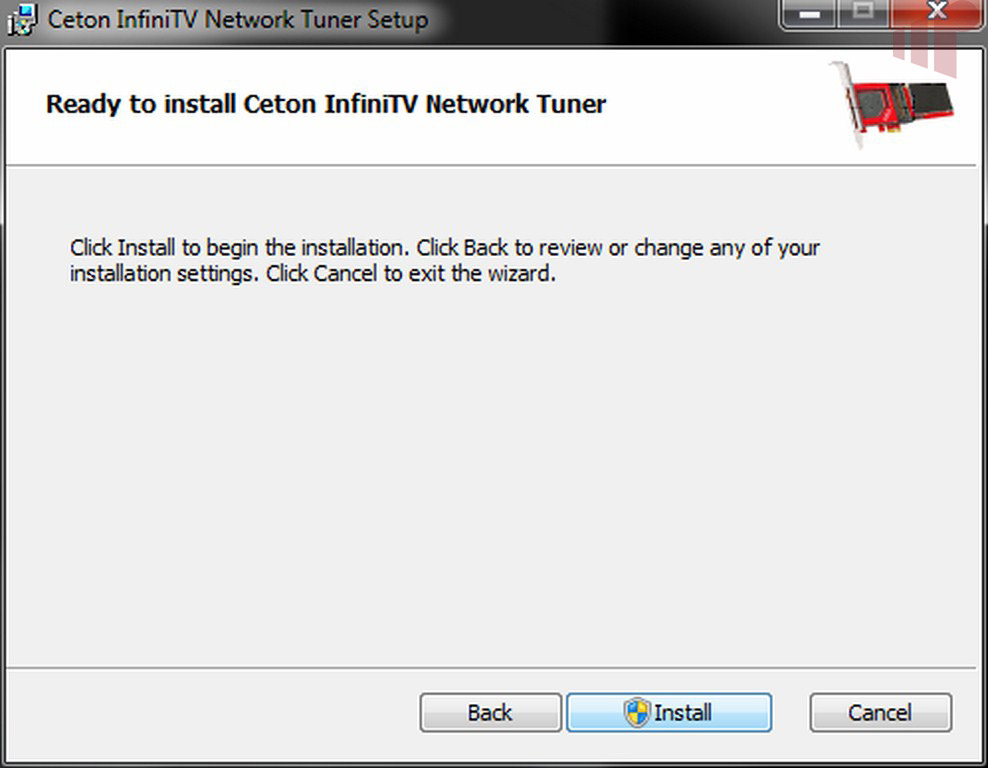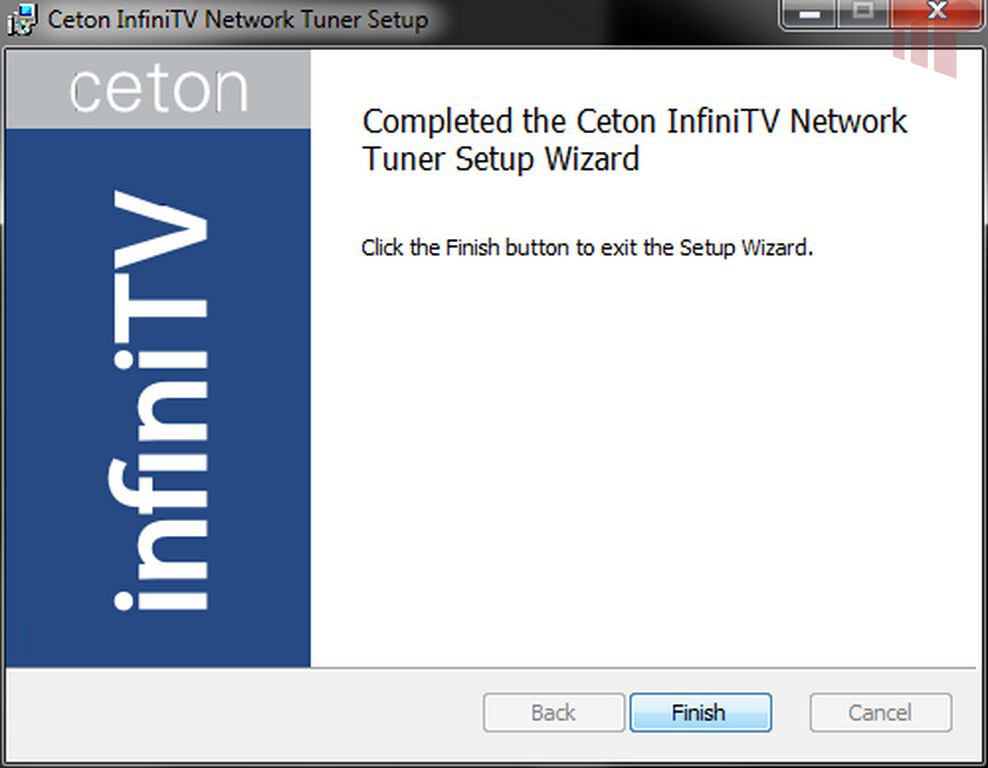 InfiniTV Network Tuner Wizard Configuration
Open WMC and follow through the setup screen captures as shown: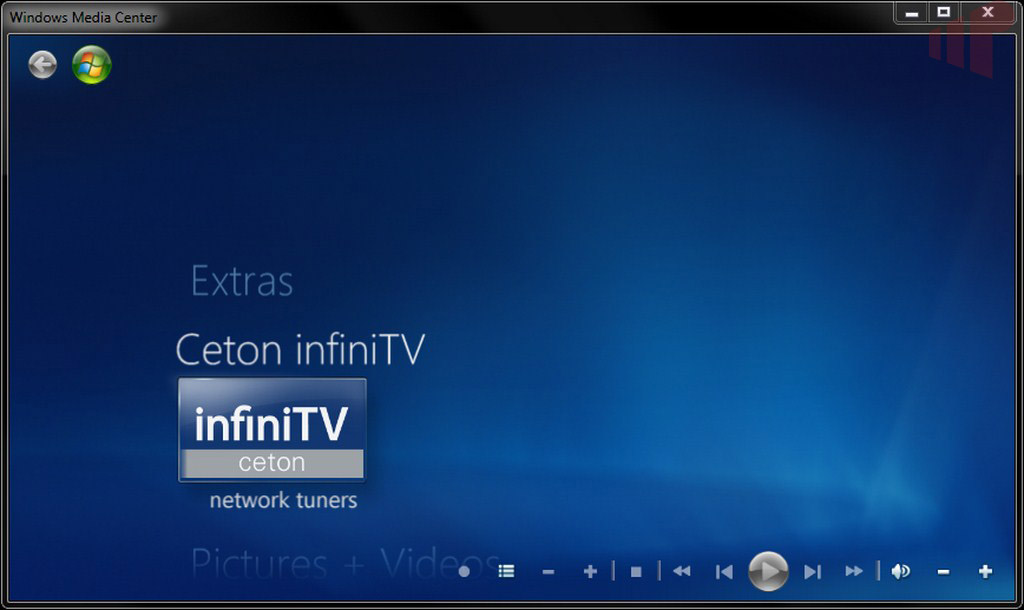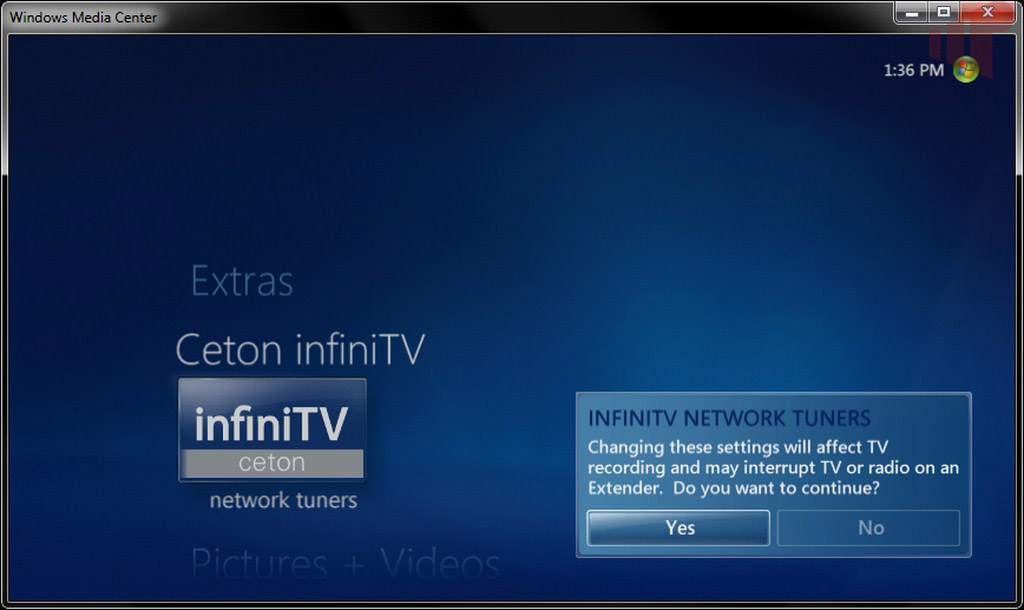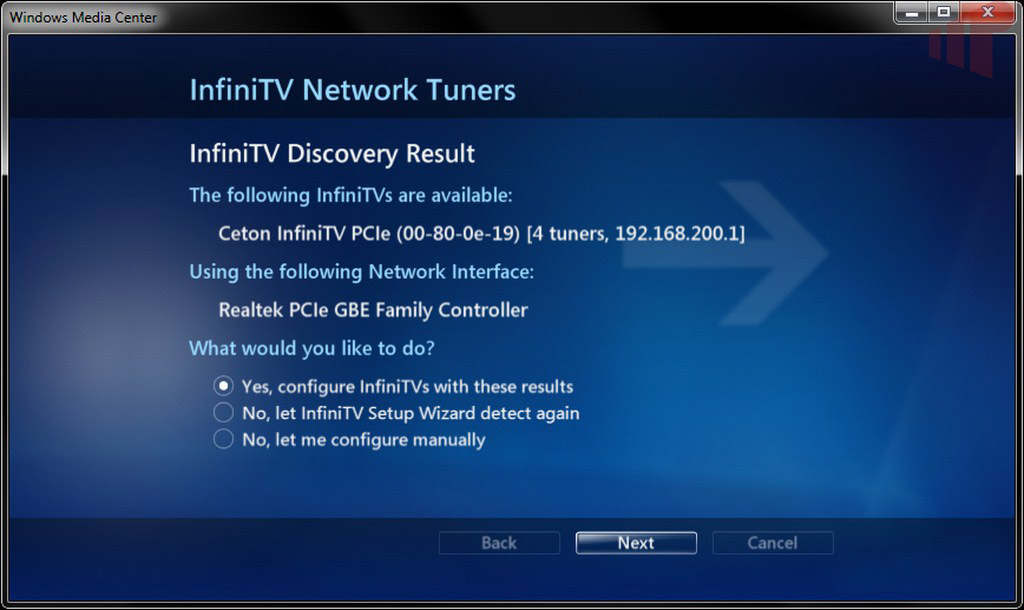 Obviously, select the firewall choice that applies to your system. If the firewall you use in not listed, select other. In this case, you will need to manually open up the ports displayed by the wizard.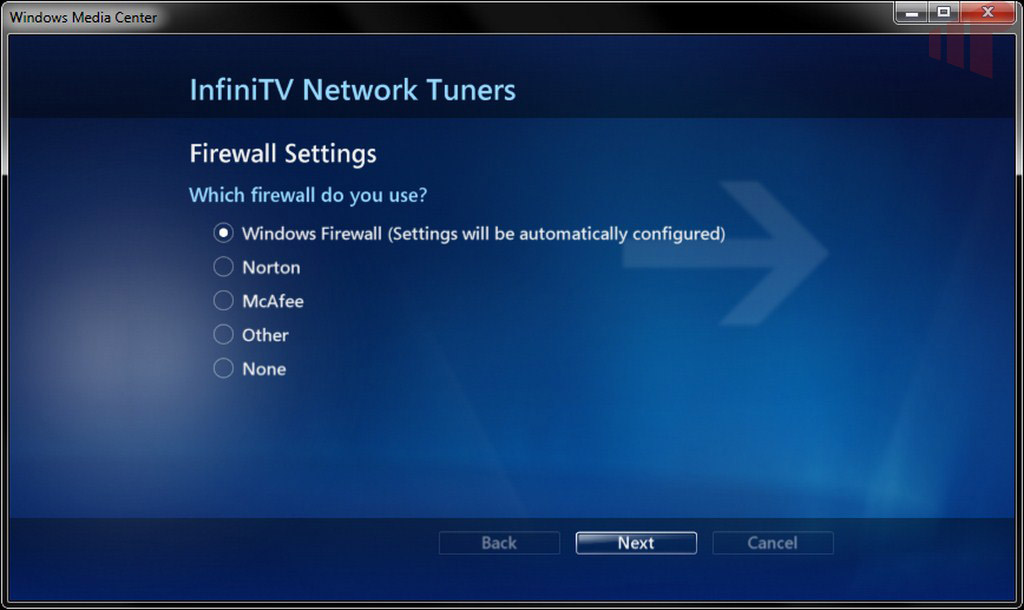 On the InfiniTV Tuner Selection page, you are selecting which tuners to bind to the host PC. Once selected, these tuners will not be available for use on client PCs. If all of the tuners are to be used on client PCs, do not select any for the host PC.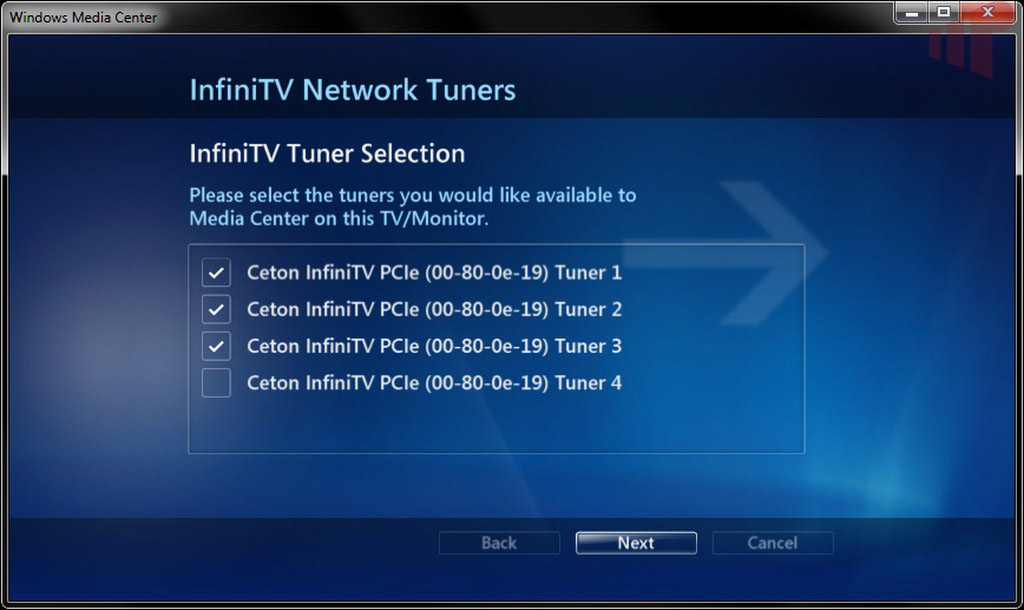 This concludes the host PC InfiniTV configuration, however, the WMC TV Setup must be performed if any of the tuners were bound to the host PC. If no tuners were bound, it is not necessary to complete the WMC TV Setup.
[Optional] WMC TV Tuner Setup
This step is not required if you did not reserve any InfiniTV tuners on the host.
Note: If performing the TV setup on a system for the first time with a CableCARD device, you may be presented with a few additional screens not shown and be asked to install PlayReady (which is a requirement).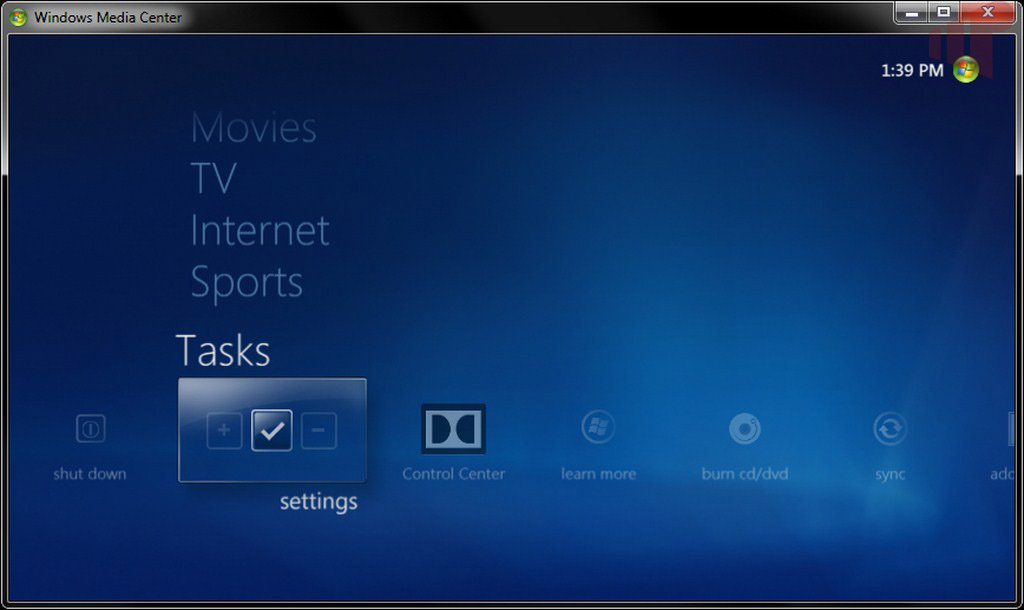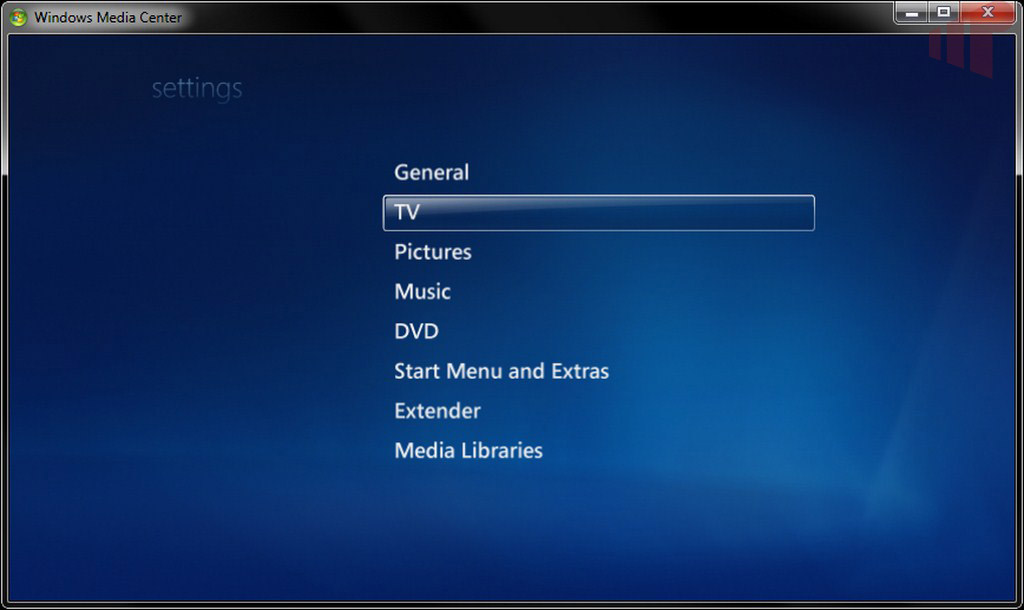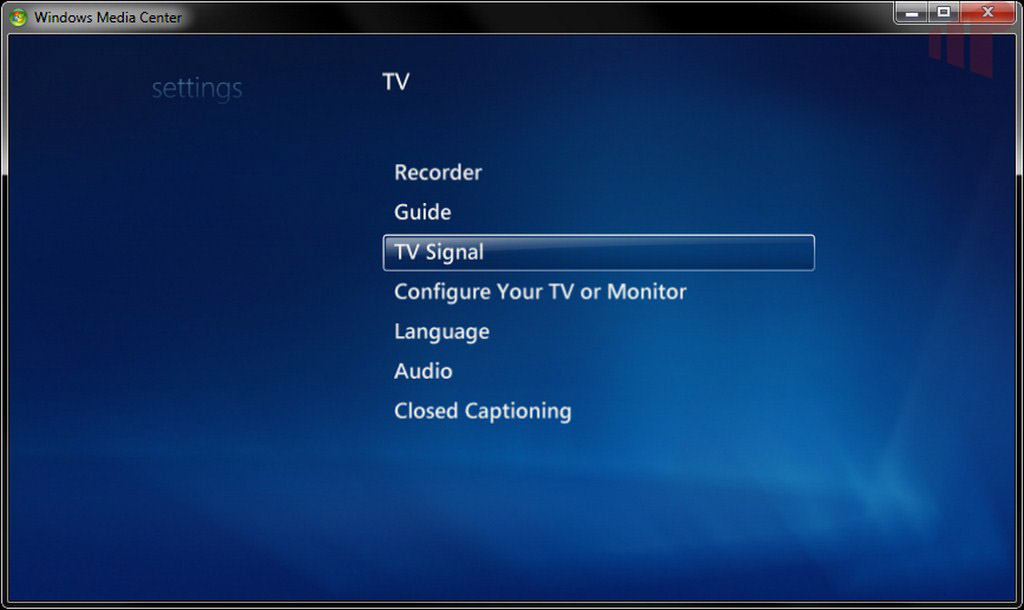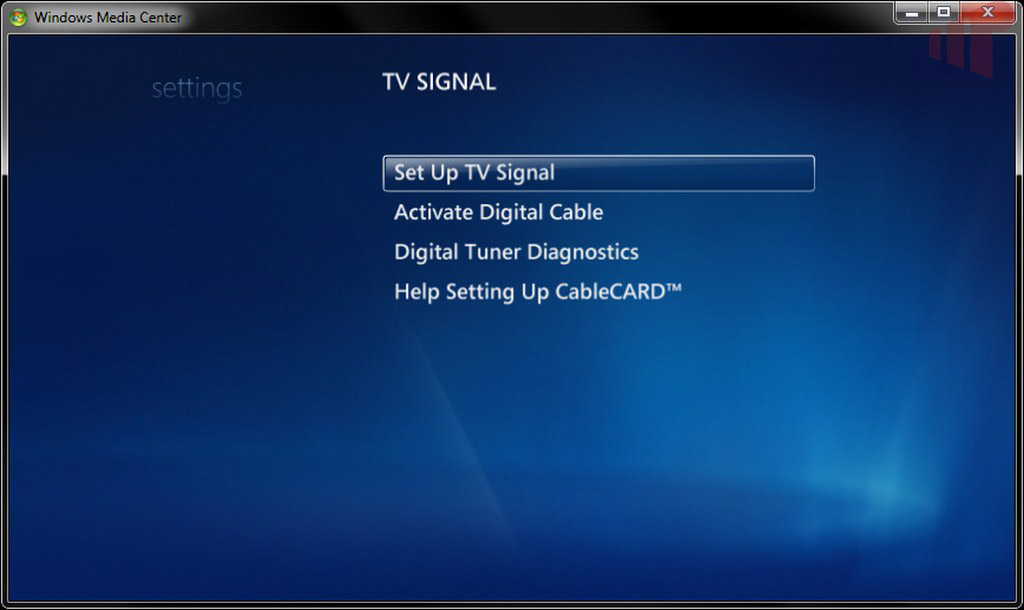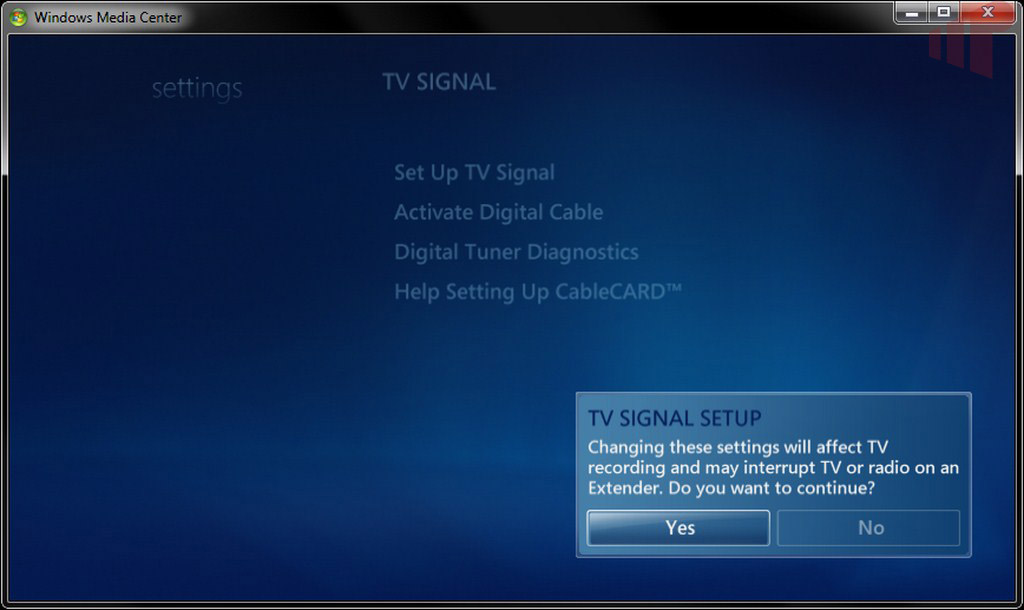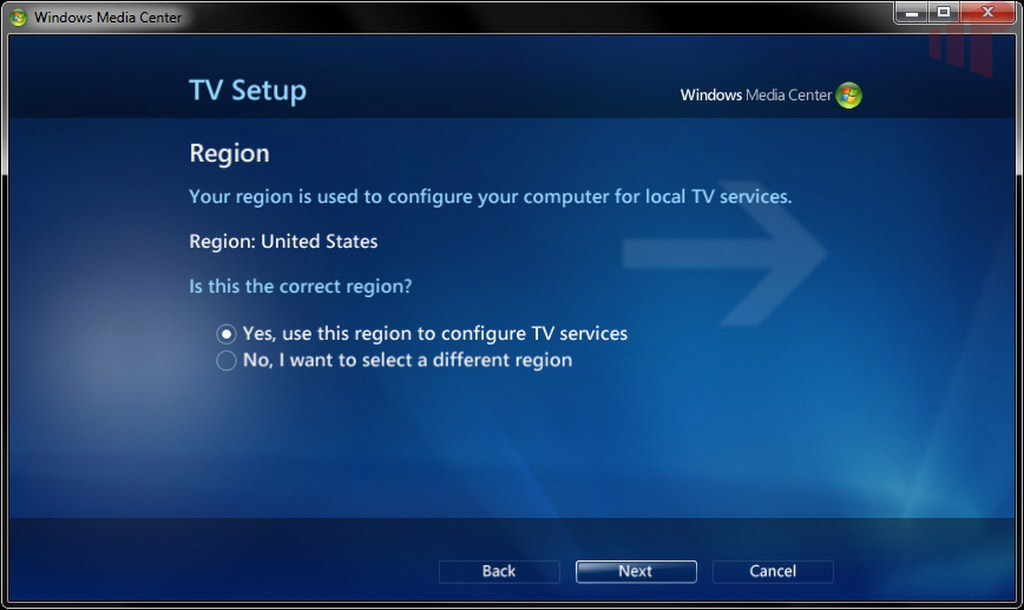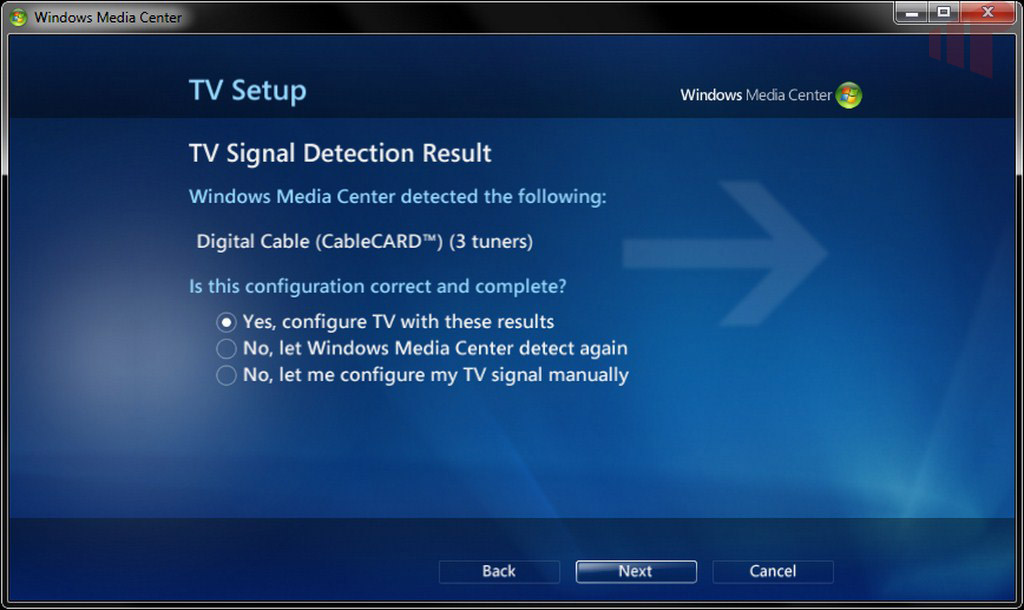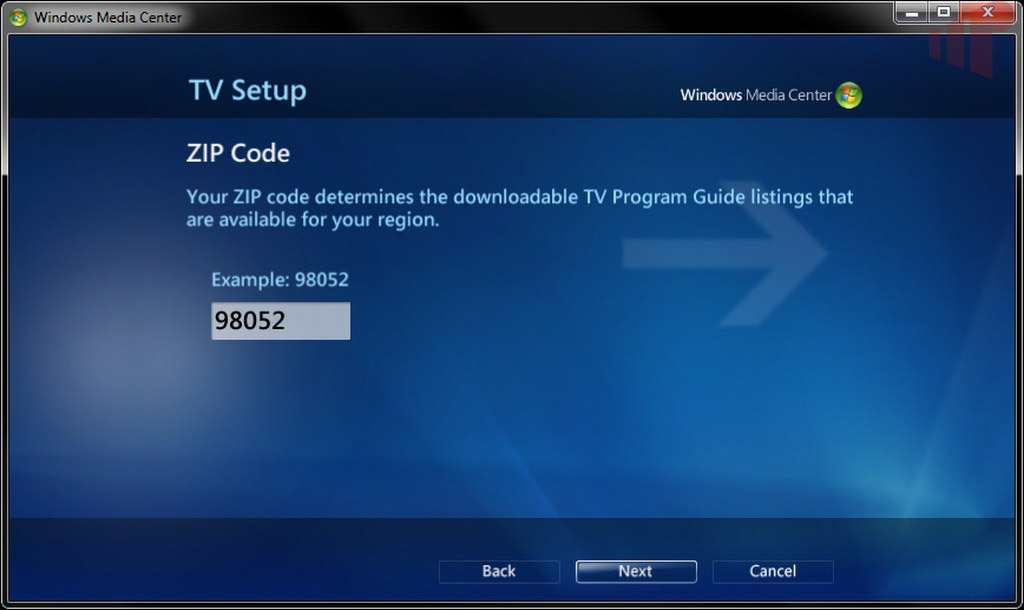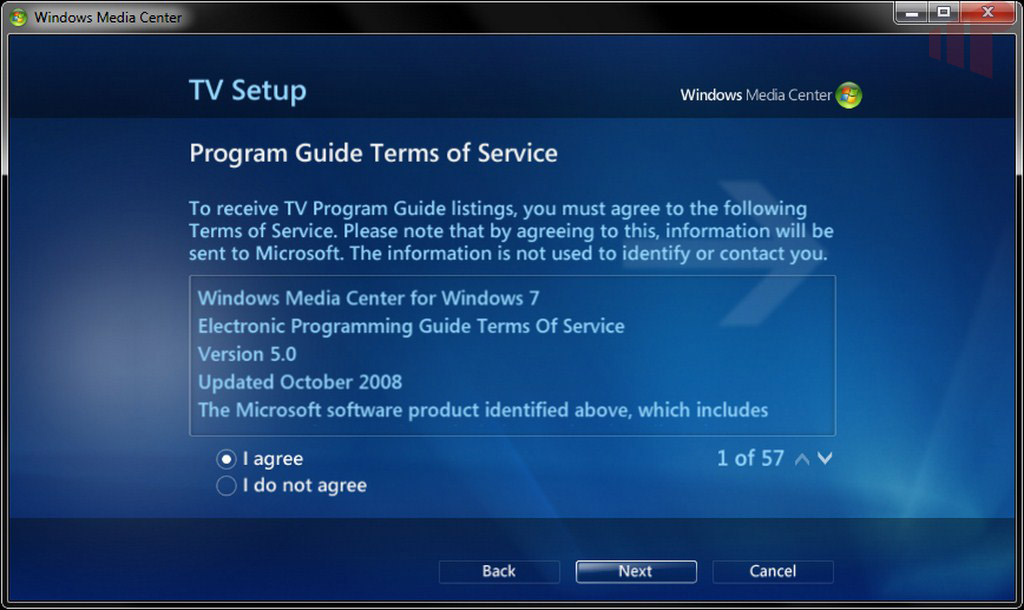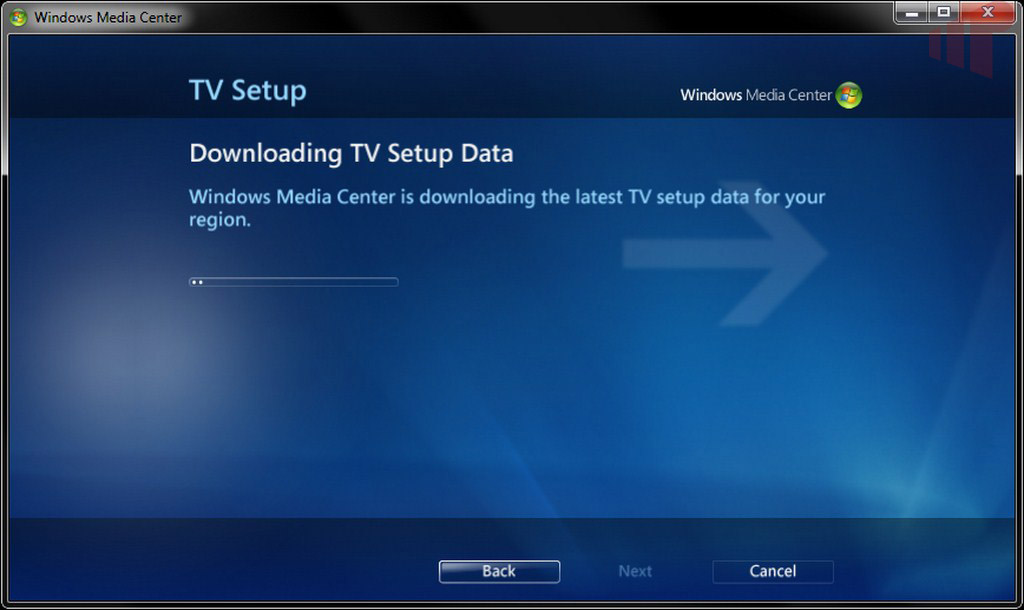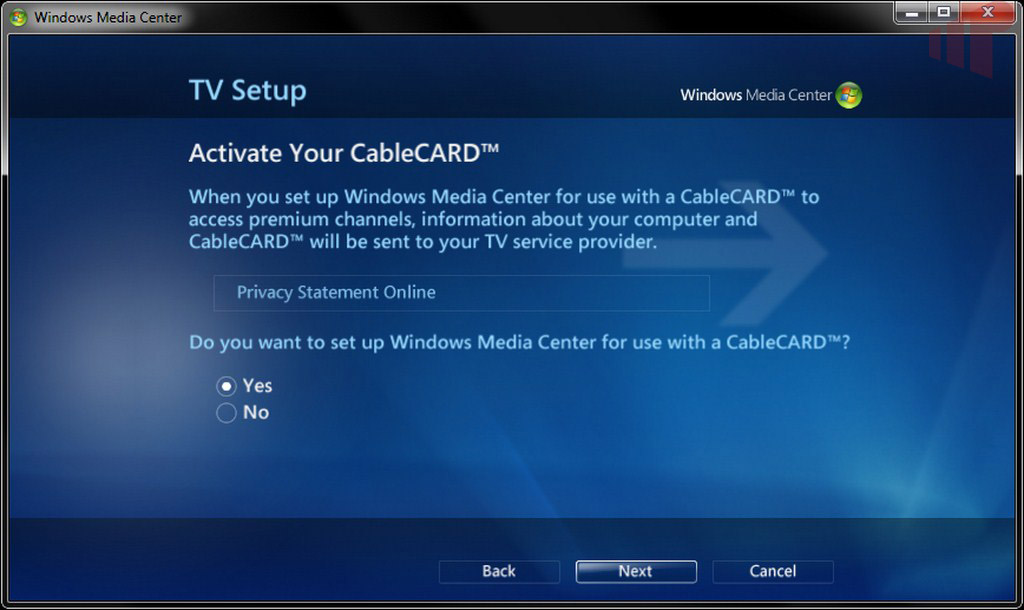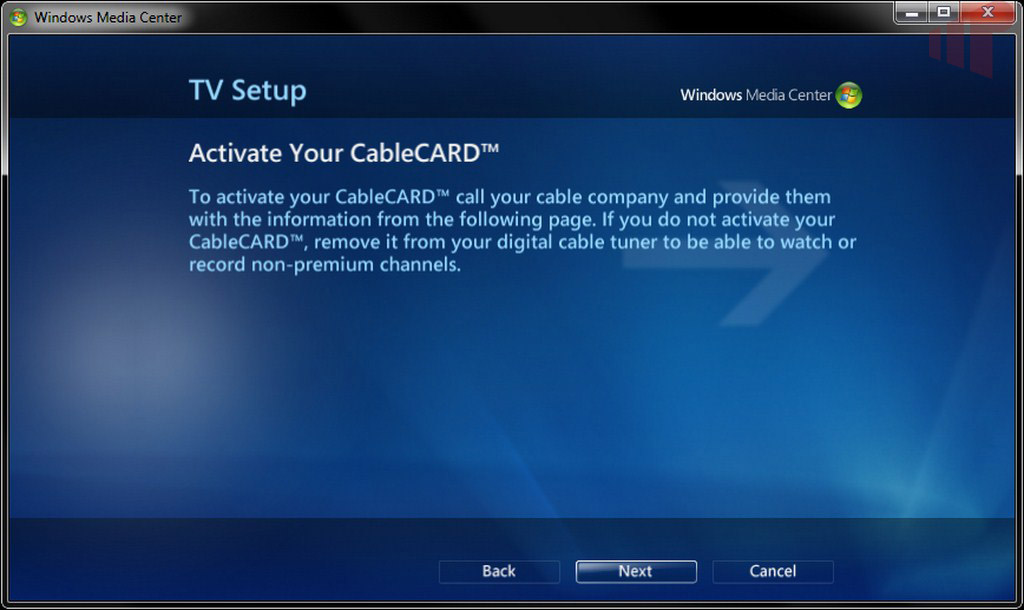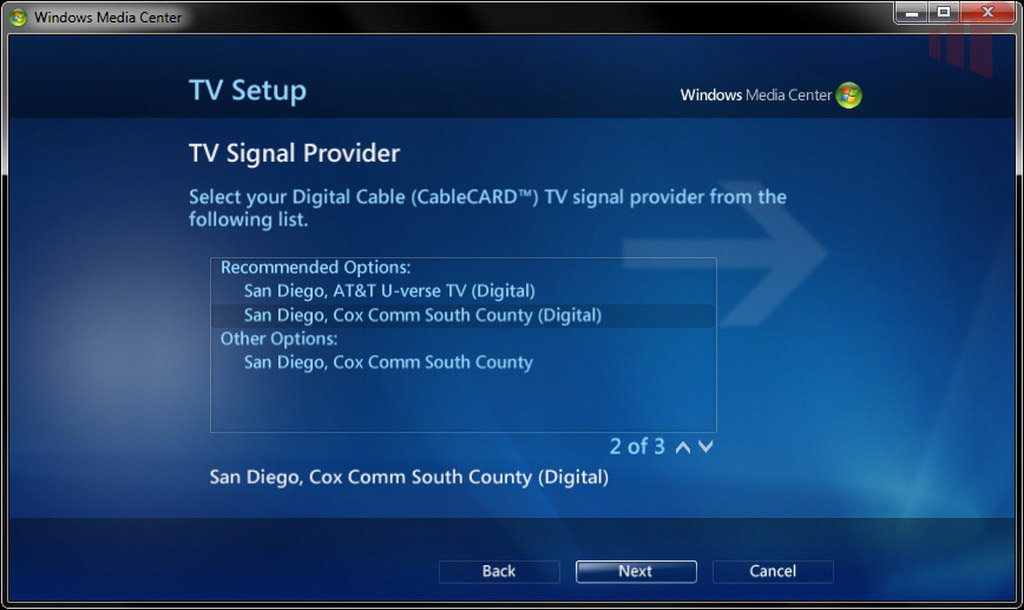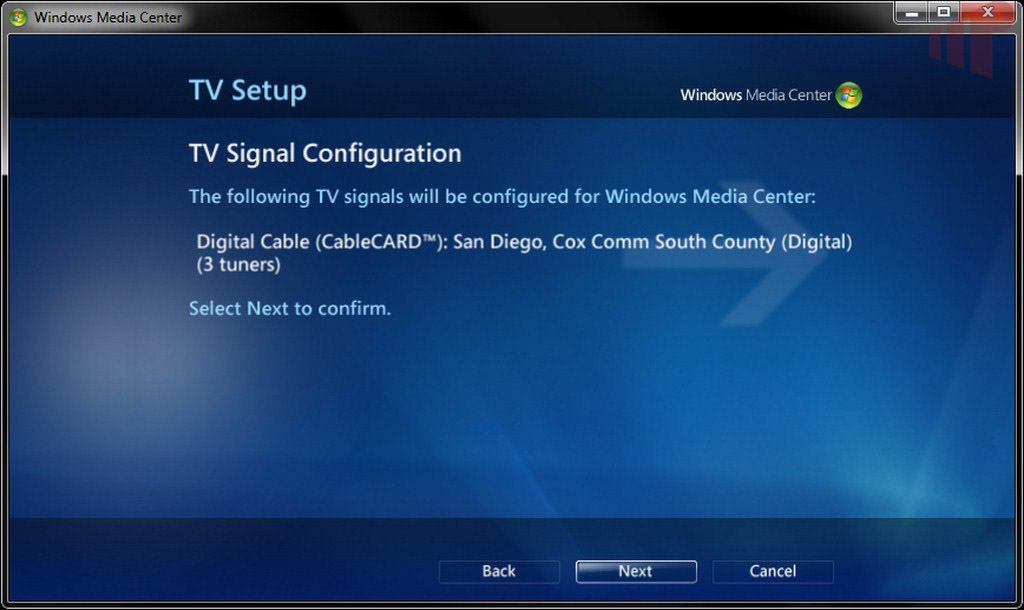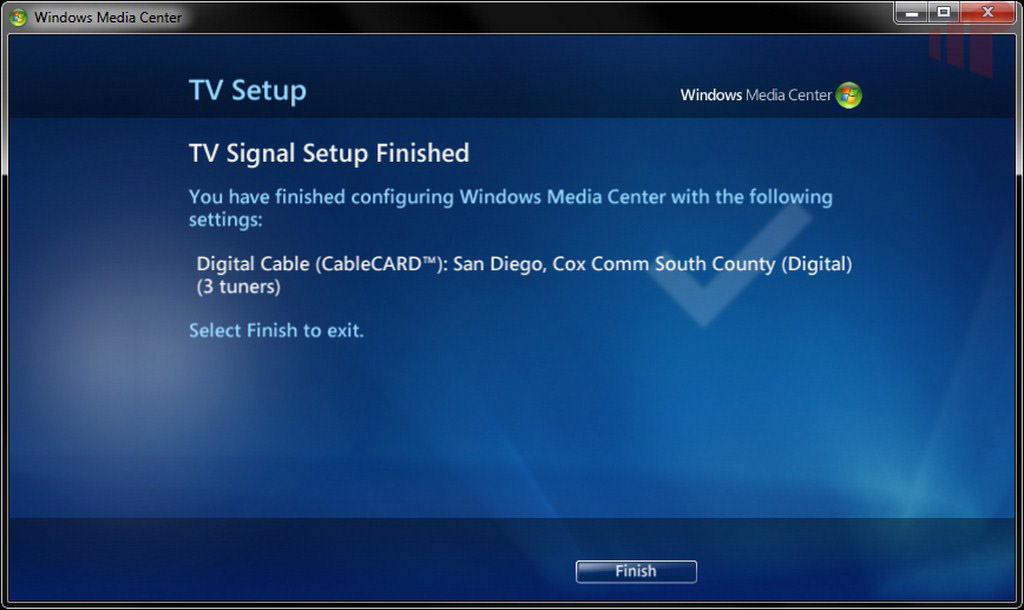 This concludes the WMC TV setup.
Client Installation and Configuration
The client installation and configuration procedure is virtually identical to the host installation. Follow the steps in the host section. Tuner selection will reserve the tuner for the client PC and it will not be available on any other client PCs. WMC TV Tuner setup is not optional for Client PC setup.
When using the InfiniTV Network Tuner Wizard from the client, you will see a tuner selection screen similar to the following: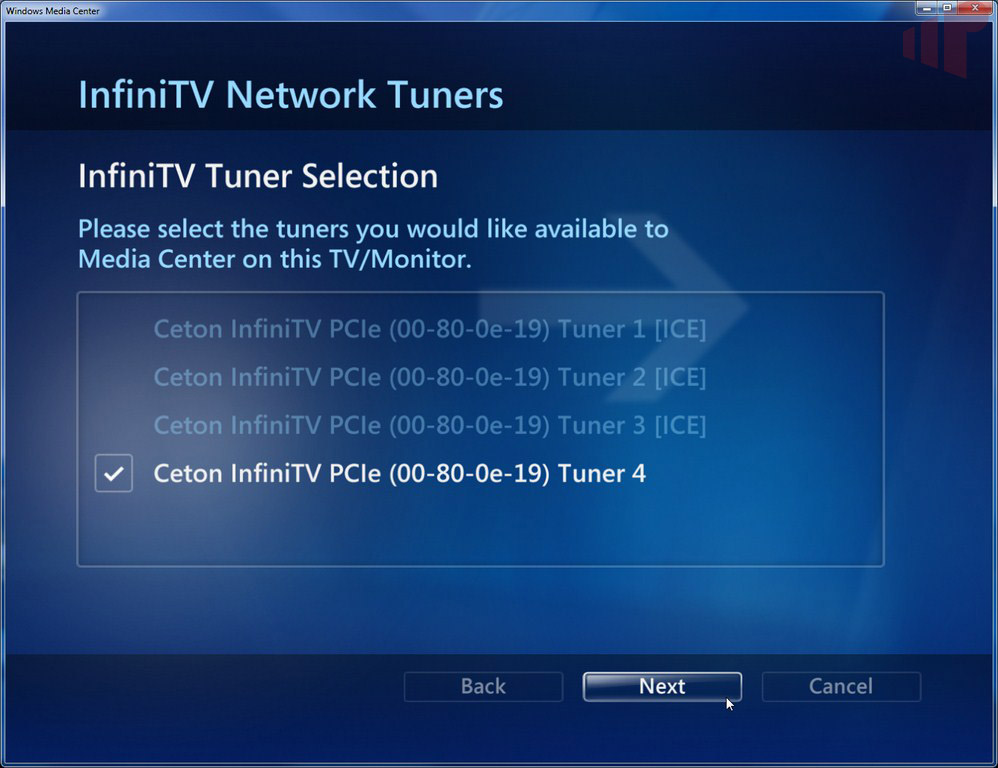 Note how the first three tuners are reserved for the host PC as selected in the host PC configuration.
Uninstalling/Resetting Network Tuner Settings
Open the InfiniTV Network Tuner Wizard and follow the steps as shown. The InfiniTV Tuner Reset will return the InfiniTV and any altered Windows network settings back to their default state. The procedure must be performed on each host and/or client PC where you wish to remove tuner assignment allocations.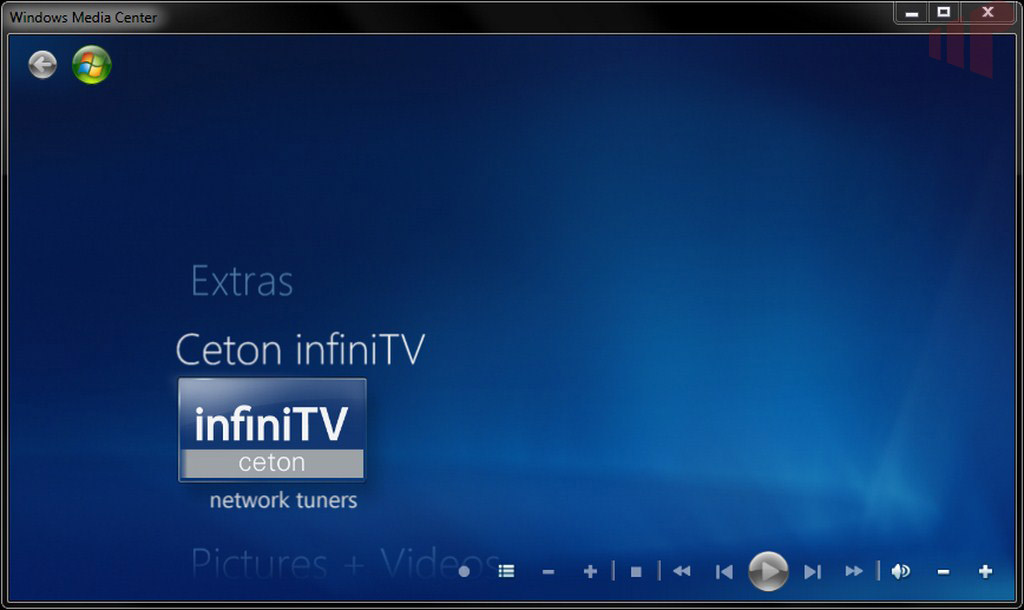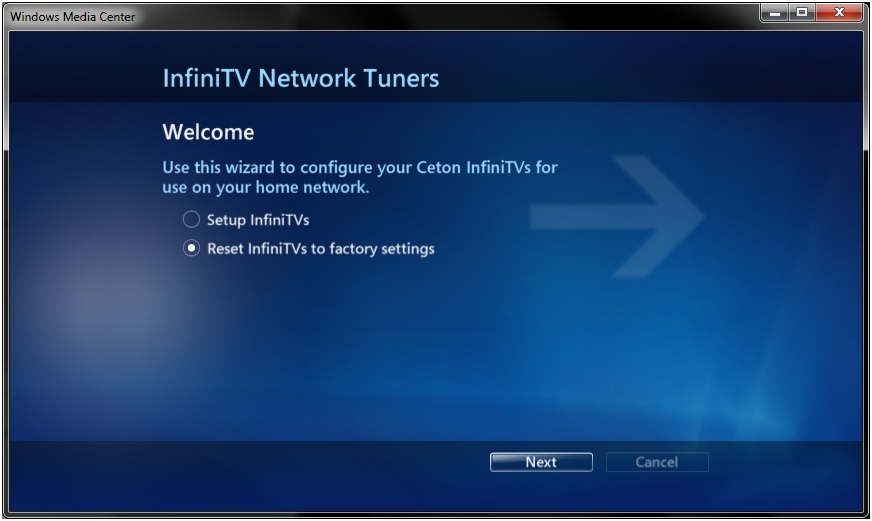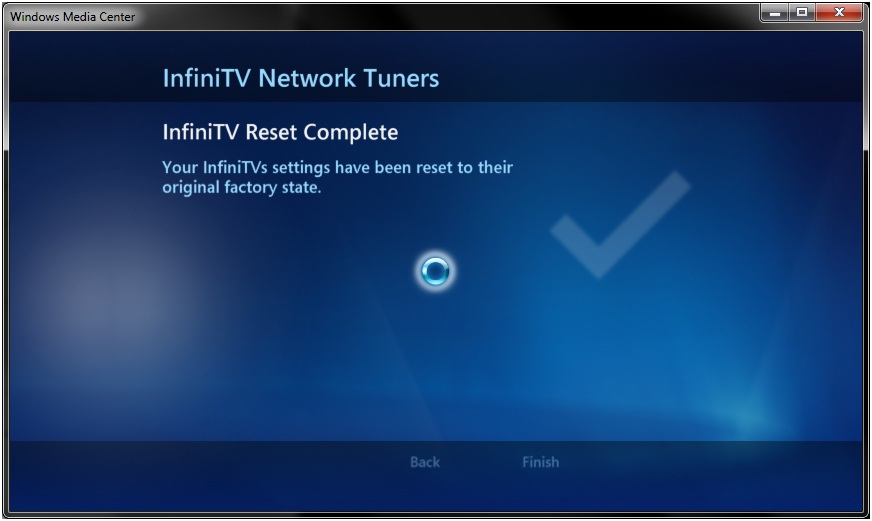 Now that the InfiniTV has been restored to its default state, WMC TV Setup will need to be performed again.
Installation on Host without WMC (WHS2011, Windows Server 2008 R2, etc.)
Important
Do not attempt this configuration if you are not experienced with networking. While we can try to help you out in the comments below with the configuration, Windows Server-based operating systems ARE NOT officially supported by Ceton.
For Windows Server 2008 R2-based machines (including Windows Home Server 2011), the InfiniTV can be successfully installed for use as a host PC. This scenario is not officially supported by Ceton and the process to expose the InfiniTV is a bit different because the InfiniTV Network Tuner Wizard can't be initiated (since there is no WMC on these operating systems).
The premise is fairly simple. The InfiniTV is installed to the Server OS-based machine and Windows Bridging is utilized to expose the InfiniTV via the PC's Ethernet port.
Make sure Minimum Requirements 1, 2 and 3 are met.
Open Device Manager and go to the Network Adapters section. You will see your Ceton InfiniTV there. Right click it and select properties.
Go to the "Advanced" tab and select "Support Bridging." On the right side select "Yes" in the drop-down menu and hit OK.
Open the Ceton InfiniTV4 device webpage. The default IP address is http://192.168.200.1/ but you can also access it under Network in Windows Explorer.
5. Under the System tab there is a next section under the MAC Address, is a hyperlink called "Network Settings." Clicking the hyperlink will take you to http://192.168.200.1/Services/NetworkSetup.html
6. By default the InfiniTV will be setup as a DHCP Host Server. You will need to uncheck "Default IP Settings (DHCP Server)" for network bridging to work.
7. You now have to choose between static IP address or enabling the DHCP Client. Either will work. This example will show the use of a static IP address.
Note
DO NOT use the IP address shown in the screen capture below. Use an IP address that is appropriate for your network. If you don't know what that is, please ask for help in the comments below. Again, this configuration is only for advanced users who understand networking.
8. Click the "Set Network" button. Note: You will lose connectivity to the InfiniTV device webpage and tuners until the rest of the bridging steps are completed.
9. Go to Start and type in "View Network Connections" to show your network adapters. You should see a "Ceton InfiniTV Network Device" along with your main network device.
10. Highlight the Ceton InfiniTV Network Device and your primary network card interface, Right Click and select "Bridge Connections."
Note: During the bridging process you will lose network connectivity. If you are connected over Remote Desktop you may no longer be able to connect as the resulting network bridge will have a new IP address.
11. The result will be a new device called a "Network Bridge." That is your PC's primary connection to your network now. Due to the Windows Network Bridge implementation, Windows will generate a dynamic MAC Address for it. This prevents us from using Static DHCP to assign a reserved IP address from the DHCP Server.
12. To confirm your Ceton InfiniTV is working properly as a bridged device try accessing the InfiniTV device webpage as shown above in step #4. The device webpage should be available from any computer on your network.
This completes the Host PC portion of the network bridging setup. You can now configure clients as needed.
Resetting InfiniTV on Host without WMC (WHS2011, Windows Server 2008 R2, etc.)
Open the InfiniTV web interface "Network Settings" and check the DHCP Server box and then click "Set Network". This step returns the InfiniTV back to its default 192.168.200.1 address.
Go to Start and type in "View Network Connections" to show your network adapters. You should see a "Ceton InfiniTV Network Device" along with your main network device.
Right-click "Network Bridge" and select the "Delete" option.
The InfiniTV should now be accessible via the 192.168.200.1 default IP address via browser.
Related Articles