Pivos AIOS HD Media Player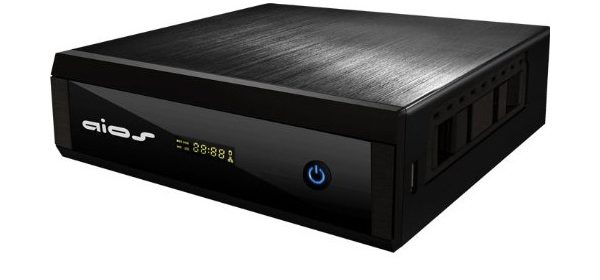 We have reviewed a number of media players in the past, from the
Boxee Box
to the
Dune HD Smart H1
unit. The decision on which player is right for your home is never simple, given the wide array of options available to consumers and depending on their price points and needs. We hope our Media Player Comparison Guide has helped in the past and today the Pivos AIOS HD Media Center is up for an in-depth review to see how it performs. The AIOS HD Media Center is the new-found company's only product offering, and like others, it aims to replace your need for a full, home theater PC (HTPC) with its affordable, smaller package.

SPECIFICATIONS
When it comes to media players, we often find similar chipsets shared amongst them; what separates the winners from the losers often comes down to execution both with the UI and playback software. Here are the specifications for the AIOS Media Center:
Chipset:
Realtek RTD1185DD, 2GB RAM
File Types:
– AVI/ MKV/ TS/ TP/ TRP/ M2TS/ MPG/ MP4/ MOV/ M4V/ VOB/ ISO/ IFO/ DAT/ WMV/ ASF/ RM/ RMVB/ FLV/ SVID/ DIVX 3,4,5
– MP3/ OGG/ WMA/ WAV/ AAC/ FLAC
– HD JPEG/ BMP/ GIF/ TIF/ PNG
Audio Codec:
– MP2/ 3, OGG Vorbis, WMA, PCM LPCM, MS-ADPCM, LC-AAC, HE-AAC, COOK, RA-Lossless
Subtitle format:
– SRT, SMI, SSA, ASS, IDX/SUB, SUB
Audio Output:
– Stereo
– Dolby Digital AC3 .1 (passthrough & downmix)
– Dolby Digital Plus 7.1 (passthrough)
– Dolby TrueHD 7.1 (passthrough & downmix)
– DTS Digital Surround 5.1 (passthrough & downmix)
– AAC 7.1 (passthrough & downmix)
– FLAC (passthrough & downmix)
– DTS HD MA 7.1 (passthrough & downmix)
Languages:
– English, Spanish, French, Dutch, Italian, German, Russian, Thai, Hebrew, Arabic, Japanese, Simplified and Traditional Chinese.
Connections:
– 1 x Card Reader (MMC/ SDHC/ MS Pro)
– 3 x USB 2.0, 1 x USB 3.0 Data
– 1 x 3.5″ SATA I/ II HDD Drive Bay
– 1 x HDMI 1.3 out
– 1 x Component Video Out
– 1 x RCA A/V Out
– 1 x S/PDIF Optical Digital Audio Out
– 1 x S/PDIF Coaxial Digital Audio Out
– 1 x Gigabit Ethernet
– 1 x DC-IN 12V Power
The Realtek 1185DD chip is an extremely capable chip, as you'll note with the healthy number of file types supported above.

DEVICE
When looking at the various media players on the market, there is something for everyone–from the super small devices like the Roku, to the funky looking Boxee Box, and everything in between. The Pivos AIOS HD Media Center falls in the "everything in between" category, as it's as simple as you could expect. It's a standard black box with a small LCD on the front. On the rear of the unit is an excellent assortment of video outputs, including the often omitted composite and component connections, and both S/PDIF TOSLINK and Coaxial digital audio outputs–a nice addition, given the propensity for most recent devices to come exclusively with HDMI. In addition to the two USB 2.0 ports, there is also a USB 3.0 port that can be used to connect to a computer to transfer files.

SETTINGS
Getting to the settings option when using component video was difficult since no picture appeared. Apparently, the initial default setting for video output is 1080p 60Hz, which is not commonly a supported video resolution for component video. This was easily resolved by switching to HDMI output and manually adjusting the setting down to 1080i 60Hz, then voila, the picture appeared; there is also a button on the remote control to toggle between resolutions. There are a number of audio settings, with our configuration opting for RAW audio which will allow bit streaming the high definition codecs; if your receiver does not support this you can opt to use LPCM instead. The menus are not very informative; they do not provide descriptions saying what each menu is but the user manual does, for the most part, help here.
One of the audio settings only says "Dolby TrueHD Output," but the unit also supports DTS Master Audio–although there's no separate menu for this. There is also a "night mode" which is supposed to adjust the maximum audio levels during the late hours.
There is no settings option needed for configuring keyboards, and we found success with all three keyboards tested–the Logitech Dinovo Mini, Vidabox Wireless Keyboard, and XGene Wireless Keyboard. The same success could not be said about Wireless USB adapters, for both the Belkin N600 USB adapter and the Netgear WG111v2 USB adapter failed to work. Pivos does sell their own wireless adapter for a reasonable $14.99 but was not provided for this review. In the meantime, we stuck with the supported gigabit connection. [Editor's Note: There is a list from Pivos for compatible wireless adapters available as well]
While no setup was necessary for the standard Ethernet connection, for all of the networking features–such as FTP, Bitorrent or SAMBA–you need to enable within the settings menu. SAMBA is what will allow you to browse the box as a network share. The Pivos AIOS HD finds its own available network address on your LAN and a dialog informs you of the address to which to browse.
Our unit arrived with the latest firmware; however, there is an option to check the version. Unfortunately, there is no option to update the firmware directly from the unit, so if an update is released you need to use a USB thumb drive to upgrade it. This is a fairly standard practice, but there should be no reason why an external device is needed to do so.
The included remote control was not as enjoyable of an experience. For starters, there are an awful lot of buttons for a Media Player device. Getting past the number of buttons, the layout of them is also confusing–play and stop are on the bottom, but skip and fast forward are in the middle. There is also an EPG and Time Shift button, which I do not believe there is a need for today. However, the most disappointing factor is the overall performance of the controller. From a very reasonable five foot distance, in direct line-of-site, we often found ourselves having to press a button two times before it was recognized. [Editor's Note: We've been informed by Pivos that the included remote has been upgraded in future shipments, being replaced with a smaller, luminous version much improved from what was available at time of review]
EXPERIENCE
Once we solved the initial aforementioned display glitch via component video, we finally were off and running with the Pivos AIOS HD Media Center. The user interface utilizes a fairly bright yellow design which is not customizable. We don't mind the lack of flexibility per say, but the bright yellow is rather polarizing. Its home menu is vertically driven and at any time you can bring up the menu, which appears horizontally in the lower right.
The options from the menu are: File Manager, Video, Music, Photos, Apps, Internet and Settings. Having most of our media on a network device meant having to use File Manager for all playback of those files. This is a pretty big drawback, given the limitations of a single hard drive within the Pivos unit, and also because so many users use a network-attached storage or server of some sort to store all of their media files. Hopefully this is just the immaturity of the device that will (and should) be remedied soon. Having to use the File Browser is nothing challenging for advanced users, but it prevents us from recommending this device to novice users (or your parents/spouse). [Editor's Note: Received feedback from Pivos that this will not be resolved in the future, as it is a limitation to the MIPS based processor found in the Realtek chipset. Future products will have this resolved]
Video, Music and Photos work almost identically so we'll group them together here. As mentioned above, these applications will only function with media files stored on the hard drive inside the AIOS HD Media Center–if you opt not to install a hard drive, then you will never use these. Once we have the media files on the hard drive, then the user must initiate a re-scan to detect the included files. For Music and Photos, the viewing options are simple and traditional, allowing you to view in a list or a thumbnail view. The music does continue playing even if you leave the play screen or if the screen saver kicks in. Photos have their own slideshow capabilities, and even has cheesy music playing in the background if you choose to look at photos but not play music first–it was different to say the least. The Videos section shares similarities to both of the above, with one difference–the ability to view movie cover artwork, ala Windows Media Center (assuming you have the cover file in the folder and labeled as "folder.jpg") is identical to how Windows Media Center and most movie managers handle their artwork, so it should function the same. Navigating was easy enough, but one definitely misses the animations of some of the more refined user interfaces.
The Apps section is comprised of twelve applications (okay, eleven unless you want to count the two Youtube applications separately) which are Internet enabled. I found Video and Audio Podcasts to be the most pleasant–not only from usefulness perspective, but also the design interface–but they all were functional in their own right. Obvious omissions for the apps page are Amazon Unbox, Netflix, Vudu, Hulu Plus, and a number of commonly bundled apps on media players–a disappointment but one customers should be aware of at the time of purchase. At this point I'll mention once again the device supports a wireless USB keyboard, which makes these applications more enjoyable to use. With any of them, if you arrive at a search field or login prompt the online typing screen appears and you can use the keyboard and mouse to navigate. It was not a 100% accurate experience but did make typing much more pleasant than having to use the remote to type letters on a full screen keyboard.
We can't speak as highly of the Internet section. To use the term "Internet" for this category is a bit misleading, as these could and should simply classify as apps. Essentially, these are HTML5 websites that the company has supported from the device, which you can then navigate. Included with the current version are: Sina (Chinese?), Facebook, BBC, ESPN, Yelp and Weatherbug. Using our keyboard and mouse, we had hope for these apps, but after testing we conclude that it's just not ready for primetime. The interface is clunky, and the speed is quite slow. Hopefully this is something that only requires a few more tweaks in the software to improve to a more usable level.
When it comes to performance, the Pivos AIOS HD Media Center is remarkably capable of playing back virtually all media files we could throw its way. From MKV, to MP4 to even MOV and WMV, the player was able to handle them flawlessly and stutter free at 1080p resolution. We tested the configuration via both HDMI and Component video (at 1080i). In addition to those file ypes, DVD movies were also tested, as were Blu-ray ISO and folder structure files.
Files were tested both locally and over the network, and no sign of any stuttering or other glitches were experienced. For Blu-rays, the ISO format of the films did support the Blu-ray menus; however, the folder BDMV structured backups only played the movie directly. Most impressive of the unit was its audio support, with it's ability to playback not only the standard Dolby and DTS audio formats, but also the high definition formats of Dolby Digital TrueHD and DTS Master Audio–impressive feats for an $89.99 box!
Here is a look at the power draw of the AIOS HD:

| | with Hard Drive | without Hard Drive |
| --- | --- | --- |
| Power On | ~30 seconds | ~30 seconds |
| Power Off | ~15 seconds | ~15 seconds |
| Off | 0W | 0W |
| Idle Power Draw | 14.5W | 7.7W |
| During Playback | 15.5W | 8.4W |
The last item of note is in regards to the actual transfer rate of the unit. As we mentioned above, the Pivos AIOS HD Media Center was able to play even our highest bitrate Blu-ray and MKV files without any stuttering over our gigabit network. With that said, one would imagine similar speed throughput when transferring files over the network. This is an important component of the player given what we previously mentioned, how only local files on the hard drive work with the Media categories of the software. Unfortunately, here is where there is a concern for the unit, most likely due to software more than hardware, as the Realtek chipset should be more than capable of providing better speeds than what we found in testing. Through the SAMBA configuration across our Gigabit Ethernet connection, speed reached a maximum of 4.5MB/s–certainly not impressive and definitely not acceptable given the large file sizes of some movies. This problem has been acknowledged by the Pivos team who are actively working on it.
Fortunately, network is not the only way to transfer files, as there is an available USB 3.0 port on the rear and also an included cable, allowing for a direct connection between the AIOS HD and your computer of choice. In this setup we found a much more acceptable data transfer rate of between 23-28MB/s–still not blazing but significantly better than across the network. We hope Pivos continues to focus on this issue given the limitations over the interface and playback of network files–or fixes that feature, then we would not need to even bother transferring any files to begin with!

CONCLUSION
The Pivos AIOS HD media player is priced at $99, and has a special promotional price at the time of this writing at $89.99. At that price, the Pivos is certainly worthy of serious consideration. While I would not recommend this today for your Mom or technical novice, unless you're going to be prepared to troubleshoot on call, for us the AIOS HD was a more than capable player with one of the most powerful chipsets available outside of a full HTPC. With its abilities to play virtually any video and audio file you have, and the ability to add an external storage, you could feasibly replace your HTPC with the AIOS HD–but it's a much tougher sell.
The draw backs are its lacking refinement in the UI, some limitations given local versus network available files, and browser limitations, but most people buying this unit would be willing to adjust to the quirks given the cost to performance ratio. Hopefully in time the firmware will continue to improve the unit's features and interface, and will benefit those early adopters who already purchased one.
PROS:
Price (at $89.99) at time of review
Hardware playback capabilities
Support of most HD audio and video formats
Movie cover art support
CONS:
Simple, bland user interface
Web browser is severely crippled
Uncomfortable remote control with poor distance support
No ability to map Media groups to network storage locations
No major video streaming applications supported (Netflix, Vudu, Hulu Plus, Amazon Unbox, etc)

Thanks to Pivos for providing the review unit.