Habey BIS-6550HD SFF Client PC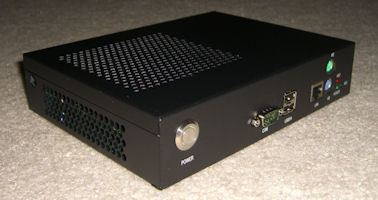 Habey BIS-6550HD Review

We've seen what the Atom N270 can do when paired with the 945GM and ICH7M Intel chipset, and we've see what the N330 can do with the 9400M Nvidia chipset. Today we are taking a look at another implementation of the Atom N270 paired with the Intel 945GM and ICH7M chipset, but this time there is one more trick up the sleeve. Read on to see if Habey's configuration is enough to make up for where the Intel chipset alone falls short.
Introduction and Specs
Netbooks are becoming more popular each and every day. Every time you turn around it seems that someone else is releasing a new Atom-based platform. Today we have one such platform on our bench from a company called Habey USA. In their own words:
HABEY USA, is a subsidiary of Norco Industrial Computer Technology Inc
(NORCO China) in China. Founded in 1991, the company has become one of
the leading design and manufacturing companies in the Industrial PC
field.
Our products include Embedded Computing Platforms, Panel Computers,
Industrial PC platforms, Server Storage Products and Network
Appliances. Having multiple manufacturing facilities in China, a
state-of-art research and development center, and branch offices across
the globe allows us to delivery to our customers the most affordable
products while still providing superior quality and services. We offer
board level, system / barebone level industrial PC customized design
and integration service for the IPC market. Based on our professional
ODM/OEM service, the customers will receive the competitive advantages
with the effective reduction of the TSC (Total System Cost) and
time-to-market. With HABEY USA, there are no limits to the applications
its products and services can offer.
Now let's take a look at the platform.
PROCESSOR
• Intel® AtomTM N270 processor
• 1.6GHz core frequency
CHIPSET
• Intel® 945GSE Graphics Memory Controller Hub (GMCH)
• Intel® ICH7M I/O Controller Hub (ICH)
SYSTEM MEMORY
• One DDR2 SODIMM socket
• Maximum memory supports up to 2GB
EXPANSION SLOTS
• None
ONBOARD AUDIO FEATURES
• Realtek ALC888 7-channel High Definition Audio
ONBOARD LAN FEATURES
• One Gigabit controller
HARDWARE DECODER FEATURES
• H.264/AVC SP, MP and HP at Level 4.1 up to 40Mbps
• SMPTE VC-1 SP, MP and AP at Level 3 up to 125Mbps
• MPEG-2 MP at ML and MPEG-2 MP at HL, up to 125Mbps
SERIAL ATA INTERFACE
• Two SATA II ports
• SSD Support
IDE INTERFACE
• One IDE Compact Flash socket
• One SD card reader
Front PANEL I/O PORTS
• 1 mini-DIN-6 PS/2 mouse port
• 1 mini-DIN-6 PS/2 keyboard port
• 1 RJ45 LAN port
• 2 USB 2.0/1.1 ports
• 1 DB-9 serial port
• 1 power button
• 1 reset button
REAR PANEL I/O PORTS
• 1 12V DC jack
• 1 Composite port
• 1 S-Video port
• 1 DB-15 VGA port
• 1 HDMI port
• 1 SD slot
• 1 Compact Flash slot
• 1 Mic-in
• 1 Line-in
• 1 Line-out
• 1 Wireless Antenna connector
I/O CONNECTORS
• 1 IRDA connector
• 1 CPU fan connector
• 1 S/PDIF connector
• 1 USB connector (2 ports)
• 2 SATA ports (data and power)
BIOS
• Award BIOS
DAMAGE FREE INTELLIGENCE
• Monitors CPU/system temperature and overheat alarm
• Monitors CPU(V)/3.3V/5V/12V/VBAT(V) voltages and failure
alarm
• Monitors system fan speed and failure alarm
• Read back capability that displays temperature, voltage
and fan speed
• Watchdog timer function
DIMENSIONS
• 205mm (8.07") x 153.2mm (6.03") x 48.2mm (1.90") (W x D x H)
Board Layout
Habey shipping box and system accessories
As of now Habey is selling the BIS-6550HD only through online retailers. As a result, the packaging is not covered in graphics or text exclaiming the numerous qualities of the system. Instead it is essentially blank. I will note that this is a review sample so the retail version may be different.
As for the accessories, Habey has included mounting hardware in case you have a need to hard mount your system somewhere, an external power brick with a rather unique system interface, a wireless antenna, some extra screws and a software CD.



BIS-6550HD front and back
One thing that you will notice right away is that this unit does not follow any standard form-factor. It does not use a rear I/O shield for the bulk of the I/O. Instead, the various interfaces are spread between the front and the back. The front from left to right consists of a blue LED enclosed power button, a serial port, two USB ports, one LAN port, two PS2 ports, power and hard drive indicators, and a recessed reset button. On the back you will find a coax connector for the wireless antenna, Line Out, Line In and Mic In audio jacks, an SD memory card slot, a Compact Flash slot, an HDMI connector, a VGA connector, an SVideo connector, a composite connector and the power connector.
There really is quite a selection of interfaces to meet all of your needs. In many ways I like the way that the various interfaces are spread between the front and the back. For a media-centric system it makes sense to have the USB and PS2 interfaces on the front so that you can easily attach a keyboard and mouse temporarily as necessary without having to hunt for the ports in the rear. On the other hand, I do not see the need for a serial port right up front and I found that the LAN cable often got in my way while the unit was sitting on my test bench. If the unit is sitting on a shelf in your entertainment center I think that a network cable would look out of place hanging out the front. On the back I found it nice to have the I/O spread across that face allowing a little bit more space between the connectors and associated cables. One thing that is notably missing however is an SPDIF interface. If you want more than two channels of audio you'll need an available HDMI port on your AVR.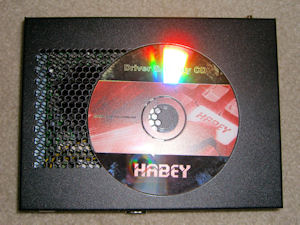 Size comparison
The fully enclosed system is only slightly larger than a CD or DVD. With this small size you can hide the system just about anywhere to keep it out of sight. For those that are adventurous, I'm sure that you could find a way to use the included mounting brackets and rig up a way to mount it directly to the back of your TV if you wanted.
BIS-6550HD left and right sides
BIS-6550HD top and bottom
The left and right sides each have a mesh grid for ventilation. The top also has a large mesh opening directly above the CPU heatsink to aid in thermal cooling. The case that encloses the BIS-6550 is made up of two pieces. The top and front are one piece while the other makes up the bottom, back and both sides. The metal feels very strong and is not in danger of bending due to normal handling.




BIS-6550HD internals
Since this is an embedded system you will not find much in the way of expansion slots or headers. The BIS-6550HD includes two SATA interfaces that provide both data AND power connections. Due to this you need to use a SATA cable that has connectors for both. There is no internal power supply with SATA power connectors to attach a drive to independently. Habey includes one of these cables as well as the mounting bracket for a 2.5" hard drive. The hard drive uses a unique mount to connect to this system. The
mount is essentially a tray that connects to the motherboard via four
posts, one at each corner. There is also some extra metal at one end
that seems to act as a heatsink for the drive.
There is a header for two additional USB ports located between the front USB and LAN connectors. In one of the corners there is a connector for the power button that also includes power for the LED. There is also a header for an IRDA interface. Because of the limited number of internal connections, cable management is very clean in this unit aiding in the thermal management of the system.
The CPU cooling system that Habey uses is completely passive although there is a header on the board for a CPU fan if needed. For memory the BIS-6550HD uses DDR2 SODIMM memory to save space. There is only one socket and it can support up to 2GB.
| | |
| --- | --- |
| | |
| Side view | All connected |
As I mentioned earlier, I'm not a fan of the placement of the LAN or serial ports. I think they would find a better home on the back. I'm not sure that the casual user will be a fan of the exposed ports either, but being as small as this unit is it would be easy to place somewhere out of sight. One thing that I noticed when putting the top back on this unit was that the cover would catch on the serial port. I needed to coax it a little to get it back on.
BIOS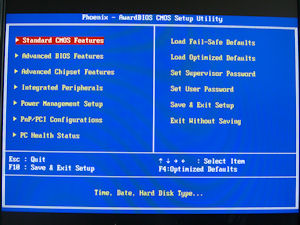 The BIOS
The BIOS included with the Habey BIS-6550HD is pretty standard for what I would expect in an HTPC motherboard. The vendor in this case is Phoenix.
| | |
| --- | --- |
| | |
| Standard features | Advanced features |
The standard BIOS menu contains no more or less than I would expect to see in a BIOS today. You've got date and time, which drives are attached and a couple of miscellaneous settings. The advanced menu also contains your standard non-enthusiast features.
Advanced features
The advanced menu gives you the option to choose your boot devices and set your memory timings, but you will not find any voltage settings anywhere for overclocking.
More advanced menu video options
The chipset menu gives you a place to indicate how much memory you want to dedicate to the onboard graphics with options of 64MB, 128MB and 224MB. There is also a setting for how you want to use the video connector. I find that leaving it set to automatic seems to work well.
More BIOS options
The power management menu also contains your standard features covering everything from what to do at power up/wake up to how to handle the shutdown signal. The PC Health menu gives you the the standard temperature and voltage monitoring abilities.
Overall, the BIOS used here is exactly what you'd expect for this type of platform: standard. There are no enthusiast features, nor are there any missing pieces. Just the basics for stability.
Test Setup
This setup consists of the following components:
Habey BIS-6550HD (Processor, motherboard, enclosure, power supply)
Super Talent T667SC1G/S DDR2 667MHz 1GB SODIMM
Hitachi 80GB 540RPM 2.5" HDD HTS541680J9SA00 – WinXP
Samsung 160GB 7200RPM 3.5" HDD HD160JJ – Win7 RC
LG GGC-H20L BluRay/HD DVD ROM drive
All drivers used were provided on the included CD
P3 Kill-A-Watt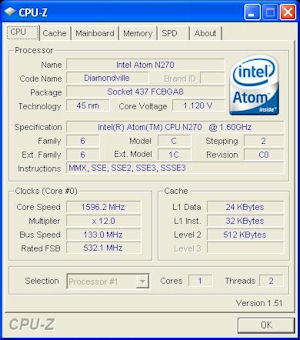 CPU-Z
Here is a shot of CPU-Z showing the test setup. Everything is running at stock speeds, etc.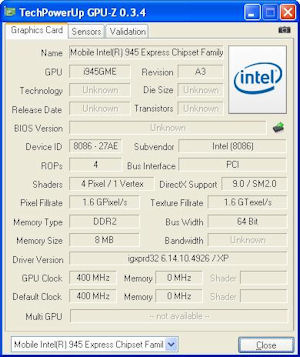 GPU-Z
Here's a shot of GPU-Z showing the video setup. All tests were run using the onboard graphics.
Video Playback tests
The most important thing for a Home Theater PC is its ability to play various video codecs. As such we will be throwing as many formats as possible at this system. Let's start out with something easy, a DVD.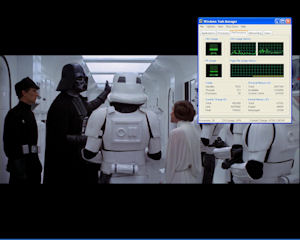 Star Wars
The BIS-6550HD had no issues playing a regular DVD, with CPU usage staying steady at ~15%.
| | |
| --- | --- |
| | |
| Alexander 720p (WMVHD) | Alexander 1080p (WMVHD) |
The unit also had no problem playing the WMVHD clip in either 720p or 1080p. At 720p, CPU usage was 10% and at 1080p the usage was at 13%. No stuttering or other issues occurred during playback.
Quicktime playback is also no problem for this system. 720p clips sit at about 10-12% CPU usage and 1080p clips use about 15-20%. Playback is nice and smooth.
Aliens in the Attic 1080p (MP4)
Cloudy with a Chance of Meatballs 1080p (MP4)
Gamer 1080p (MP4)
MP4 playback was no sweat for the unit. All of the clips that I tested with were 1080p h.264 encoded and CPU usage stayed around 30%.
| | |
| --- | --- |
| | |
| The Dark Knight 720p (WMVHD) | The Dark Knight 1080p (m2ts) |
| | |
| The Dark Knight 1080p (mkv) | The Dark Knight 1080p (WMVHD) |
This test was intended to directly compare the systems ability to playback the various containers. This is the same clip of The Dark Knight in various formats to see how each one is handled. The m2ts and mkv versions are VC-1. CPU usage remained low throughout and with the sole exception of the mkv format, all played back nice and smooth. For some reason the mkv version stuttered a bit during playback.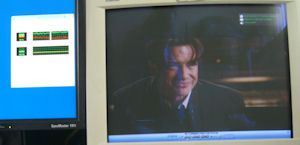 Blu-Ray
And what HTPC review would be complete without testing blu-ray? I am happy to say that the BIS-6550HD was able to keep up just fine here as well. CPU usage appears high at first glance but about 45% of the usage was kernel use. Playback remained smooth here as well.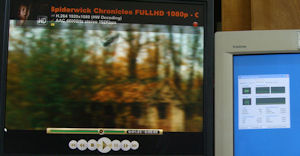 1080p (flv)
As we all know the Adobe Flash Player does not support hardware acceleration of flash videos (yet). However, Habey was generous enough to supply me with a beta OEM frontend application that does support hardware acceleration of flash media. As a result, as seen in the picture above, 1080p flash media plays back on this hardware perfectly smoothly. What's the catch? You need to either have the media on your system for local playback or you need to be able to enter a direct internet address for it. In other words, at this time there is no way to use this with Hulu. It is possible that a later release of this software will be able to work with Hulu (I've already made this suggestion/request and it's being looked into) but for now you'll have to stick to other sources. (The blurriness in the picture is due to the clip not being paused).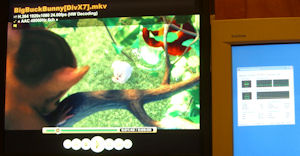 1080p (DivX)
DivX is another format that you will have no trouble playing back on this hardware. This unit was able to keep up just fine without breaking a sweat.
Power Consumption and Temperature
The following is a quick reference of the power consumption for the BIS-6550HD under various conditions. The readings include everything but the monitor/TV and the Blu-Ray drive. Due to the SATA interface implementation for this board and only having one of the SATA power/data cables, power was provided to the Blu-Ray drive by an external source (another PC).
| | |
| --- | --- |
| State | Power(W) |
| Off | 0.2 |
| Idle | 11 |
| Suspended | 0.2 |
| WMVHD | 15 |
| Quicktime | 17 |
| MP4 | 16 |
| DVD | 15 |
| Blu-Ray | 19 |
The previous measurements were taken while using the 2.5" HDD from Hitachi. When testing with a 3.5" Samsung HDD, power consumption increased by 8-10W. As you can see, this unit consumes very little power. Considering what it is capable of this is pretty incredible. This is starting to get to the point where you don't even notice if you have it on or off when looking at the electric bill at the end of the month.
During all of these tests, the highest temperature that was seen was ~118F. That's really good considering that the unit is passively cooled!
Conclusion
FINAL THOUGHTS
One thing that I did not cover previously is that the unit did run into difficulty when doing playback of just about anything on my 1080i CRT TV. This is not very surprising because many higher power systems also have difficulty here. However, if you stick to a progressive display this should not be an issue.
Another thing that I noticed was that after I turned off the unit there was a faint whining sound that remained until I removed the power plug and then plugged it back in. I was unable to identify the source of this noise but it may have been something that was specific to my review unit.
CONCLUSION
In and of itself the Intel Atom N270 and 945GSM/ICH7 is not a chipset that is powerful enough to handle HD playback, as was shown in the review of the Itox NP101-D16C. However, with the addition of a Broadcom hardware decoder Habey was able to take this platform and make it into a powerhouse of a media playback system. Overall this system was very stable and able to reach its goals of smooth media playback. The only issue is that in order to make use of the hardware accelerator the playback software needs to be able to use DirectShow filters. This means that, for example, .mov files can be run in Habey's proprietary software without issues but stutter constantly when played with Quicktimes native player. The same is true with flash media and Adobe's player.
PROS
Ability to play 1080p material smoothly
Low power consumption
Compact size
Silent operation
Small form factor
S-Video and Composite interfaces for use with legacy TVs
Compact Flash and SD interfaces for alternative storage devices
CONS
Has trouble with playback on 1080i displays
Requires that playback software can use DirectShow filters in order to make use of the hardware decoder
No space for an internal DVD/BDROM drive
Network and serial jacks on the front get in the way
Proprietary power connector
No S/PDIF interface
In the end, I think that this is a very nice little system that is capable of handling todays hi-def formats as long as you don't mind jumping through a couple of hoops for certain formats. The hardware decoder appears to be able to handle things smoothly and the overall system was very stable. The only major drawback I had with the system was the lack of ability to put a Blu-Ray drive inside the chassis and a couple of unfortunitely placed ports on the front. If you're looking for low power HD playback this is it. If you are comfortable with a USB Blu-Ray drive, no Blu-Ray drive or don't mind adding a hole in the case for a SATA cable (data and power) then this is a good system for you.
MSRP is $399 and it is currently available at Stone Computer and they are working on distribution through other e-tailers such as Newegg and Mwave . Mwave should have the system listed in the next few days and Newegg is expected to list it next month. According to my contacts at HabeyUSA they will be running a promotion and price it at $299 with 1GB of RAM.
Finally, I would like to extend a thank you to Habey USA for providing this review sample to us.