ZOTAC Announces ZBOX Nano AD12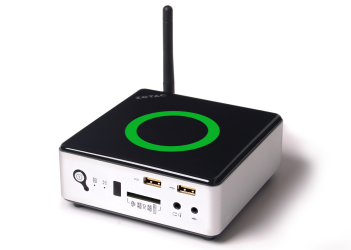 ZOTAC has updated their ZBOX line of mini-PCs with the announcement of the ZBOX Nano AD12. The ZBOX Nano is not quite the smallest mini-PC in the ZBOX series, but it is close. The ZBOX Nano AD12 represents the AMD side of the Nano coin and replaces the ZBOX Nano AD10. Sporting an AMD E2-1800 APU, the AD12 has two Bobcat cores running at 1.7GHz and an integrated Radeon HD 7340 GPU, which should give the AD12 an incremental boost in performance over the E-350-based AD10. Like most ZBOXs, the Nano AD12 comes in a standard barebones version and a Plus version that adds 2GB of DDR3 RAM and a 320GB hard drive. Pricing and availability are still pending, but the new entries are listed up on ZOTAC's website for anyone interested in perusing the ZBOX Nano AD12's tweaked specs in more detail.
The 5″ x 5″ x 1.8″ box is tiny, and it comes with VESA-compatible bracket that allows for easy mounting on the back of some LCDs or anywhere else you can drive four screws. Inside, there's enough room for a 2.5″ hard drive and a single SO-DIMM. You can add your own, because the Nano comes in barebones and Plus flavors. The latter is equipped with 2GB of RAM and a 320GB hard drive.