ZOTAC Announces New ZBOX PCs at Cebit 2012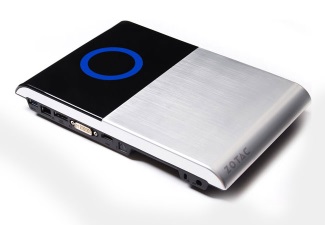 Cebit is usually one of my favorite tech trade shows. CES may be fun, but shows like Computex and Cebit are when the real hardware is unveiled. Unfortunately, between the Windows 8 Consumer Preview release and the new iPad announcement, this year's Cebit kind of fell through the cracks for me. It's unfortunate too, because there was some neat stuff on display such as AFOX's single-slot 7850 graphics card or the ROCCAT Power-Grid app. On the HTPC front, ZOTAC announced some new entries into their line-up of ZBOX mini PCs. At the high-end is the new ZBOX ID82 sporting a Core i3 2330M processor. Intel also gets its first opportunity to provide a processor in the extra tiny ZBOX nano line with the Celeron 867-packing ID61. Finally, ZOTAC also announced the ZBOX Blu-Ray AD05 based on AMD's E-450 processor. As usual, all three new ZBOXs are available in a standard barebones and in a Plus version with preinstalled memory and hard drive.
ZOTAC International, a global innovator of graphics cards, mainboards and mini-PCs, today starts CeBIT 2012 with three new mini-PCs in standard, nano and Blu-ray form factors. The new ZBOX ID82, ZBOX nano ID61 and ZBOX Blu-ray AD05 series mini-PCs are perfect matches for users seeking a powerful tower PC replacement, home theater PC or energy-efficient PC.