ZOTAC ZBOX ID80 Plus Reviewed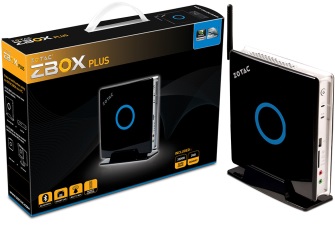 ZOTAC kicked the new year off at CES with the announcement that would be unleashing a new line of ZBOX mini PCs in both AMD and Intel flavors. We've seen a review of the AMD E-450-based AD04, but if Intel Atoms are more your speed, then the ID80 may be worth considering. Under normal circumstances, an Atom-based system would be hard-pressed to keep up with a Fusion-based system for HTPC duties, but the ID80 has a trick up its sleeve. The ZBOX ID80 comes equipped with a 2.18 GHz Intel Atom D2700 processor paired with an NVIDIA GT 520M GPU. That Nvidia GPU means the ID80 should offer considerably better performance where it counts for HTPC fans. The ZBOX ID80 Plus is a pre-assembled version of ZOTAC's systems, and comes equipped with 2GB of memory and a 320 Gb hard drive, but Zotac also offers a barebones, non-Plus version for those who want to bring their own memory and storage.
The Zotac ZBOX ID80 Plus Mini PC is an energy efficient system utilizing the latest Intel Atom D2700 processor with an NVIDIA GT 520M GPU. The Zotac ZBOX ID80 Plus Mini PC also comes with a 2GB DDR3-1066 SO-DIMM memory module, as well as a 320GB 5400rpm HDD, requiring an OS installation to be functional right out of the box. For display connectivity, the Zotac ZBOX ID80 Plus MiniPC has a dual-link DVI and an HDMI 1.4 port so you can connect it to your HDTV or 3DTV.