ZOTAC ZBOX Nano XS AD11 Plus Now Shipping, Already Reviewed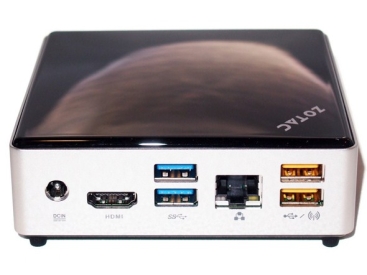 At Cebit this year, ZOTAC unveiled three new ZBOX mini-PCs. At the show, ZOTAC was also showing off a prototype motherboard for a new generation of ZBOX machines, a motherboard that was only a fraction the size of a mini-ITX board and even smaller than VIA's pico-ITX standard. It merited little more than a blurb in the Cebit write-ups that mentioned it at all, and I honestly didn't expect to see anything come of it for a good long while. Evidently a month is a good long while in the tech industry these days because ZOTAC has announced the launch of the ZOTAC ZBOX Nano XS AD11 Plus, a particularly petite version of the company's mini-PCs, and Anandtech has already had the opportunity to kick its teeny-weeny tires. Like ZOTAC's other ZBOX mini-PCs, the AD11 is targeted at HTPC aficionados, but unlike the other ZBOX mini-PCs, the AD11 will only be available in a completely assembled "Plus" version. No barebones option for the AD11 will be available because the custom-sized internals are not appropriate for user upgrades. In fact, the AMD E-450 based system is so small that it cannot even accommodate a 2.5″ hard drive, opting for a 64GB mSATA SSD instead. The AD11 is not quite as small as the Apple TV or Roku 2, but it is getting close. Unfortunately, the AD11 is also going to be quite a bit more expensive, so it is rather disappointing to see the AD11 struggling with some streaming playback.
Today, Zotac is launching their AMD E-450 based custom sized solution, the ZBOX Nano XS AD11 Plus. The motherboard of the unit measures 10 cm x 10 cm, which is smaller than the nano-ITX (12 cm x 12 cm) and just slightly bigger than the pico-ITX form factor (10 cm x 7.2 cm). The system comes in at 10.6 cm x 10.6 cm x 3.7 cm, and is definitely one of the smallest machines we have reviewed.