Roku Launches in Canada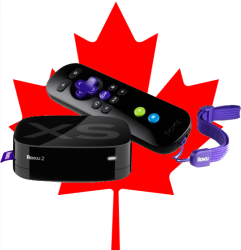 In the build-up to Netflix's launch in the UK and Ireland, Roku announced that they had their eye on expanding in Netflix's wake. Roku managed to follow close on Netflix's heels into the UK, but today Roku has announced that they have also followed up on their plans to come to Canada. Roku will be launching their assault on the Great White North with two models, the Roku 2 XD and the Roku 2 XS. The Roku 2 XD and Roku 2 XS represent the top-end models in Roku's lineup and will be available for CAD 89.99 and CAD 109.99 respectively. Both models offer 1080p streaming, Netflix subtitle support, and built-in 802.11 b/g/n support. The XS also adds Ethernet and USB ports, and bundles in the game-friendly remote with motion control that is only available to the XD as an optional accessory. Roku is offering pre-orders through select online retailers with an anticipated ship date of April 30th. At launch, Roku plans on offering more than 100 content channels with the promise of more to come.
At launch in Canada, Roku features more than 100 entertainment channels including movies and TV shows from Netflix and Crackle; live and on-demand sports from the National Hockey League and Major League Baseball; music from Rdio and TuneIn Radio; photos and videos from Facebook and Flickr; news and weather from the Wall Street Journal and CNBC – plus casual games like Angry Birds, Wheel of Fortune and Jeopardy. Roku expects to broaden its channel selection in Canada at a pace similar to its growth in the U.S. – now at more than 450 channels.
Online savings are often available for most electronics.