Corsair Obsidian 550D Case Reviewed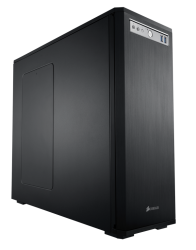 I've long been a fan of Antec's P180/P280 series of cases for use as home server cases. Even though the P180/P280 cases are targeted at the performance market, they are designed with a focus on quiet performance. Combined with the right hardware, these cases are perfect for building a silent high-end home server. Corsair made a big splash when they entered the computer case market a few years ago and have consistently refined their offerings to target different segments of the market. With the Obsidian 550D, Corsair is quite clearly aiming for the territory that Antec has staked out with the P180/P280 series. The Corsair Obsidian 550D has room for 6 internal 3.5″ drives and 4 5.25″ bays just itching for a 5-drive backplane, so there is plenty of room for drive expansion. It is a bit disappointing that some of Corsair's design decisions might lead to vibration noise over time, but if long-term feedback proves positive, then Corsair may have a winner for home server enthusiasts.
By explicitly engineering their enclosure for silent running, Corsair has taken a major first step in producing a specialized design as opposed to a more fundamental ATX case like the 550D's predecessors. There's still a lot of experimentation going on here, and the case is designed with flexibility in mind, but the insulating foam should be a dead giveaway that the 550D was designed for silence first and foremost.