Amazon Instant Video Comes to the PlayStation 3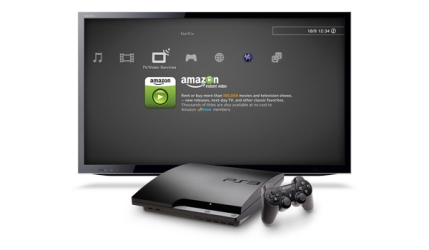 PlayStation 3 owners looking to get their Dirty Jobs fix have another option with the arrival of Amazon Instant Video. The app download is available directly from the XcrossMediaBar under TV/Video Services or from the PlayStation Store. The new app gives complete access to Amazon video rental and purchase options, and for Amazon Prime subscribers, access to Amazon's Prime Instant Video streaming catalog as well. Amazon is also touting the introduction of new smart lists for recently watched items and personal recommendations as well as Whispersync support for viewing synchronization across devices. The PlayStation 3 is the first game console to receive support for Amazon's video services, giving Sony a big win over Microsoft in the race to establish game consoles as the living room entertainment hub. That being said, the general look and feel of the new Playstation app seems to draw from the design influences of the new Xbox Metro style, so perhaps an Xbox 360 version isn't too far off.
Amazon Prime members have access to 17,000 television shows and movies, including Glee, Downton Abbey, Sons of Anarchy and other content from providers like Viacom, ABC, and Fox. Non-Prime members can access the same content during a free one-month trial, but that after that they need to pony up $79.99. The Amazon Instant Video service also offers another 120,000 movies and television shows for purchase or rental.