Ceton Dishes on WP7 Mobile Companion for Q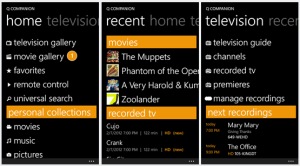 I was impressed with the Q and associated companion applications when Ceton showed them off at CES, but there was a lot that we didn't see given the time constraints and completeness of the mobile experience. Fortunately for us (who doesn't like a nice teaser :)), Ceton has flushed out more detail around what they will deliver for Windows Phone 7 – and it's clear that we have a lot to look forward to whenever the Q shows up.
At CES in January, when we first showed off the new Q companion apps for Windows Phone 7, we showcased a few main features. The most obvious was that we believe breaking the content into key segments like television, movies, music, etc. would be the most natural way for people to navigate the app. In addition, within each of these we really wanted to show live content, like what shows were recently added or which ones were coming up next. We got some great feedback at CES and have been working hard since then to flesh out more functionality and some new designs. So today we want to show you our latest revision to the WP7 companion apps home screen.