IP-RC6 : IP or UPnP based HTPC Control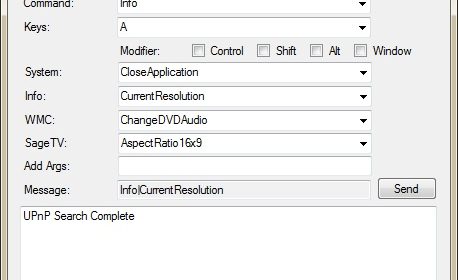 I couldn't sleep the other day so I finally got around to building the IP based remote application for HTPCs that's been rattling around my head for the past few months.
In its default form IP-RC6 acts as an IP based remote that listens on a configurable port but it also supports UPnP for broader controller support. The application attempts to emulate the behavior of a standard Microsoft Windows Media Center Remote in general use scenarios. This includes support for all of the Media Center buttons and triple-tap as well as the full keyboard. Native application support also exists for SageTV's messaging protocol and I may add other applications if enough interest exists.
1.0.0.0
– Initial release
Enjoy 🙂