60 Percent of Philips TV Owners Use Smart TV Functionality Daily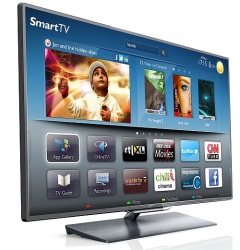 I missed the announcement, but evidently Philips no longer makes TVs. Philips has spun off their television manufacturing arm into a joint venture with Hong Kong-based TPV Technology to form a new company called TP Vision. The announcement came early this month, leaving time for Maarten de Vries, the CEO of the new company, to take the stage at the IFA Global Press Conference in Dubrovnik, Croatia to talk about how TP Vision's Philips-branded TVs would continue to grow marketshare. One part of the plan is to invest further in the Philips smart TV platform. According to TP Vision, 60% of Philips smart TV owners use the features on a daily basis, marking the technology as a feature capable of driving sales. I would be curious to learn more about how this statistic meshes with a recent NPD In-Stat survey that revealed that less than half of smart TVs are connected to the Internet, but even assuming that TP Vision's 60% figure is only represented by about half of the smart TVs they have sold, this is still a respectable buy-in for a perpetually nascent technology.
De Vries outlined future sets would focus on Smart TV, with 80 per cent of the 2012 portfolio of Philips TVs featuring smart features and stating that 60 per cent of owners were using smart features daily. The user interaction and design are also key aspects for future devices.