StableBit DrivePool for Windows Home Server 2011 Now Available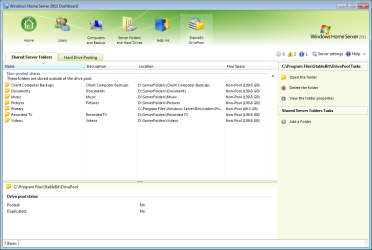 The loss of Drive Extender, the storage pooling and redundancy feature of the original Windows Home Server, was a crippling blow for Windows Home Server 2011 in the eyes of many WHS enthusiasts. A couple of different companies sprang up to try to fill the void left by Drive Extender with new WHS plug-ins. Drive Bender was the first to go public, but now we have an alternative as StableBit DrivePool from CoveCube has exited beta and been released to the public. Like Drive Extender and Drive Bender, DrivePool allows for multiple hard drives to be combined together as a single storage pool and provides for data redundancy. DrivePool sells for $19.95, half the price of Drive Bender.
After a looong beta period CoveCube, the developers of StableBit DrivePool for Windows Home Server 2011, have finally brought the add-in out of testing and have published a full release, priced at $19.95.