Home Server SMART 2012 Updated to Version 2.2.3.12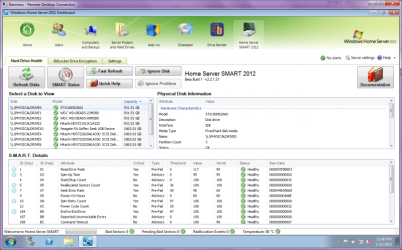 I tend to be very conservative about adding plug-ins or new software to my Windows Home Server. Indeed, on my v1 box, I'm not sure I ever installed anything other than Squeezebox Server, and I have not installed too much else on my 2011 box. That being said, one of my favorite add-ins for WHS 2011 is Home Server SMART 2012, despite its beta status. For those not familiar with HSS 2012, it is an add-in that reads the SMART data from the hard drives in your WHS and displays the info in the Admin Console and alerts you to issues. It also provides tools for taking advantage of BitLocker with your WHS drives, though I have never tested this particular functionality. The new version offers fixes for identifying Intel SSDs and reportedly fixes email alerts. Email alerts have been consistently problematic in my experience, and I am looking forward to testing the new version to see if everything works now.
Home Server Smart 2012 is a disk health reporting add-in for Windows Home Server 2011 and Windows Small Business Server 2011 Essentials. The add-in monitors your server's hard disks at user-defined intervals for errors and issues, raising alerts and issuing email notifications when problems are detected.