DirecTV HD DVRs Receive Pandora Internet Radio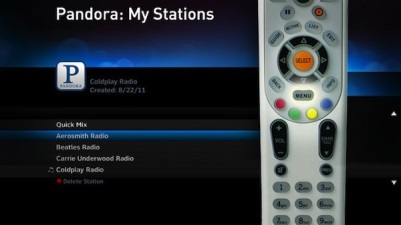 It wasn't that long ago that the big news surrounding DirecTV's HD DVRs was the deployment of an updated HD UI. Now, DirecTV is adding features to take their DVRs beyond simply watching and recording TV. Internet connected DirecTV HD DVRs can now be used to stream Pandora Internet Radio. Pandora is integrated into the device's "Extras" menu and provides access to both the free ad-supported version of Pandora and the premium version for subscribers. Unfortunately, becoming a subscriber still requires accessing Pandora from a computer. It will be interesting to see if this is the beginning of a new effort by DirecTV to expand the functionality of their systems as all-purpose entertainment devices.
So long as the aforementioned DVR is connected to their home network, Pandora users can login by hitting the menu button on their remote and visiting the "extras" section, after which they'll have access to any and all of their personalized stations — up to 100 in total.