LaCie 5Big Office+ Network Attached Storage Reviewed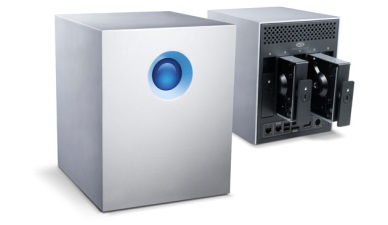 The LaCie 5Big Office+ is a five-bay network attached storage device powered by Windows Storage Server Essentials 2008 R2. Though geared toward small business users, it would also be a good fit for a home user looking for a NAS with robust data redundancy and user management options. Based on the Colorado family of server products, WSSE 2008 R2 utilizes the same kind of Dashboard and Admin Console as Windows Home Server 2011, but supports up to 25 users for anyone running a large home network that feels constrained by the 10 user limit of WHS 2011. It also supports many of the same plug-ins and is capable of providing the same media sharing and remote web access as WHS 2011. The 5Big Office+ is definitely a bit more stylish than the average NAS, but does it have the performance to go with its looks?
Finding a backup and/or storage solution for a small business environment that fits a price point can often be a challenge. Deciding whether to choose a rack-mounted solution or discrete solution, also what OS to choose, how much storage space you need adds to that challenge. LaCie is attempting to tackle this challenge with their 2Big and 5Big NAS solutions.