SilverStone DC01 DataCenter Reviewed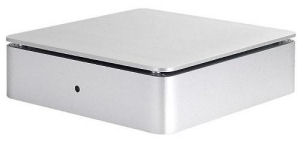 The SilverStone DC01 DataCenter is a Mac Mini-inspired single drive network attached storage enclosure that keeps itself slimmed down by housing a 2.5″ drive rather than a 3.5″ drive. Despite a paucity of internal drive bays, the DC01 is definitely designed with media consumption in mind. For expansion to take advantage of the integrated BitTorrent client, the DC01 sports a pair of USB 2.0 ports and an eSATA port. In an interesting move, the internal drive and a drive attached via eSATA can be set up in RAID 0/1/JBOD. The DC01 also offers a host of servers including a print server, a DLNA and an iTunes server, and even an FTP server. It seems like a lot of features to pack into a NAS device that is unlikely to offer the amount of storage space that a serious media maven would be looking for, but it sounds like the pieces do come together nicely. I could see this being a particularly nice device to install for a less tech savvy, but decor or clutter-sensitive relative who simply wants to serve up their music or pictures and backup their computer to an external location.
Silverstone is a manufacturer best known for cases, coolers and power supplies, and in the past they've indeed produced some of our favorite cases. Now they're expanding into new area of network storage, and we also got a sample of their new SST-DC01S Data Center. The device is a NAS/home server and on paper quite similar to some others we've reviewed in the past, so let's see how it copes with the competition.