Hulu Premieres "Battleground", Netflix Preps "Orange is the New Black"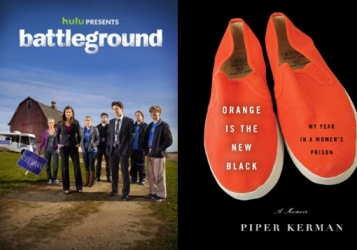 It's been a busy month for streaming media fans looking for something new. Netflix launched their first original series, Lilyhammer, earlier this month, and this week Hulu premiered their first original scripted show, Battleground. While Netflix dropped the entire first season of Lilyhammer at one time, Hulu likes to parcel its shows out gradually. New episodes of Battleground will be available on Hulu and Hulu Plus every Tuesday for its entire 13 episode run.
Hulu launched its first original scripted series Battleground Monday night, just one week after Netflix started its foray into original programming with Lilyhammer.
Even as Lilyhammer and Battleground face-off, Netflix is reportedly moving ahead with another new series. Netflix is expected to announce that it has ordered 13 episodes of its own comedy, Orange is the New Black. Although Netflix does have some other original content coming down the pipe, this will be only the second series after Lilyhammer to be completely financed by Netflix. Both companies are betting big on original content going forward. Early reviews on Lilyhammer and Battleground have generally been quick to pounce on the idea that HBO and Showtime don't have much to worry about. Just keep in mind that early HBO shows such as Tanner '88 and Dream On weren't exactly greeted as the second coming of television either.
The company has ordered 13 episodes of Orange is the New Black, a comedy from Jenji Kohan, the creator of Showtimes's Weeds. The show is based on the memoir of a communications exec who served time for drug charges in a women's prison.
**This article has been amended. "Lilyhammer" was produced by Rubicon TV AS for the Norwegian Broadcasting Corporation. Netflix financed part of the production.**