Zotac Z68ITX-B-E WiFi Supreme Motherboard Reviewed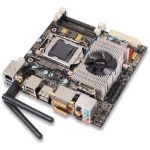 Zotac makes a number of mini-ITX motherboards and has established a reputation for stacking a lot features on their little boards. They make two different Z68 Mini-ITX boards, the Z68ITX-A-E, for which we saw a review a while back, and the Z68ITX-B-E. The Z68ITX-B-E adds a couple of different features, in particular the built-in discrete Nvidia Geforce GT430 GPU. Intel has made great strides with their integrated graphics performance, but the GT430 is still a nice step up for those looking for some extra graphics horsepower. It's also a nice option to have for those looking to utilize LAV CUVID as their decoder.
Today we are going to take a look at a motherboard that is perfect for a small form factor or media center application. The board is the Zotac Z68-ITX WiFi Supreme and it features support for second generation Intel Core processors, discrete NvidiaGeForce GT 430 graphics processor, support for DDR3 memory, USB 3.0, SATA 6GB/s support and of course built-in WiFi.