Seagate Barracuda 3TB Reviewed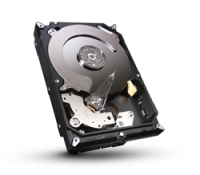 When Seagate launched their new 1TB-per-platter hard drives back in early November, Seagate also announced that they were doing away with the sub-7200 rpm Barracuda Green hard drive line. Their point at the time was that their high areal density drives could achieve comparable noise levels and power consumption levels even while running at 7200 rpm, negating the need for the Barracuda Green line. It might be hard to justify the price of a 3TB hard drive until the hard drive shortage eases, but it sounds like Seagate's new drives do deliver the goods. Given that these new drives appear to perform particularly well with large files, I certainly like the idea of adding 7200 rpm hard drives to my server without sacrificing more than a couple of decibels.
The Seagate Barracuda 3TB hard drive beat out all 7200 RPM models in our overall performance index, topped only by the 10,000 RPM WD VelociRaptor 600GB. It excelled mainly in the file copy and application sections, particularly in tests that dealt with larger files making it ideal for transferring bulk data like high definition video, image files, etc.