Syabas Announces Popcorn Hour C-300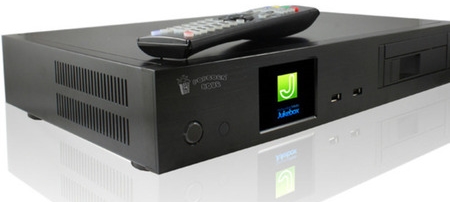 The folks at Syabas have a new Popcorn Hour media streamer on tap, the C-300, and it comes with a wealth of storage and media options. There's room for an internal 2.5″ hard drive and 3.5″ hot swap bay along with a slot for an optional Blu-Ray drive. There are also USB ports in front and in back for connecting external storage devices. The Popcorn Hour media streamers have an established track record of supporting a wide range of media formats and the C-300 looks to continue that trend, not to mention the app ecosystem that Syabas has been building for accessing streaming media, though there's still no Netflix on the table. I especially like the look of the front LCD screen for accessing media without turning on the TV.
Looking more substantial than the recentA-300, the C-300 model includes a 2.5-inch color TFT display at the front and packs space for both a quick-removable 3.5-inch HDD and an internal 2.5-inch SATA drive. A Blu-ray drive can also be mounted to the removable HD rack and you can expect support for the same plethora of file types we've come to expect from the Popcorn Hour family.