Sonos Adds Slacker, Labs, and Android Tablet Support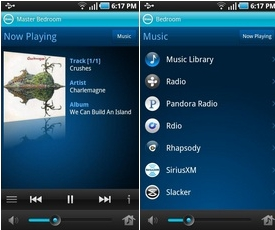 The folks over at Sonos continue to push their whole-home music solution to take advantage of new devices and services. They have updated the Sonos controller app with native Android tablet support, including support for the Kindle Fire. The Android tablet version of the app has been reformatted to take advantage of the extra screen real estate and adds Twitter integration and enhanced zone and device control. Sonos has also added support for Slacker to their devices, but perhaps the most interesting addition is Sonos Labs. Sonos Labs allows Sonos users to test new services while still under development for the platform. One of the things I like about Squeezebox is its assortment of unofficial third-party plugins that provide new features and access to new services, many of which eventually get added officially. Sonos Labs sounds like it might provide a similar testing grounds for Sonos that can help new services and features mature faster.
An update to the Sonos firmware and controller now allows Android users to manage their devices on a Honeycomb tablet in a native slate format, eschewing the original portrait-only Android phone app. The new version supports the Kindle Fire as well.