Sonos Voice Control – FINALLY! …soon

Today, Sonos finally let us know that voice control in on its way. It was originally announced almost a year ago and the company has been extremely quiet on their progress. People got excited when they updated their terms of service to include wording which seemed indicative of the requirements for voice control. So, what are we getting?
A beta.
No, really. It should be getting released to the public soon (as opposed to the private, invite only betas Sonos is known for), but the fact that it's still a beta is slightly disheartening. However, that beta will give us control of Sonos via Alexa, with Google Assistant and Siri support coming later. We'll have to see whether or not this is too little, too late, considering how much competition Sonos now has from both Amazon's Echo line and Google's Home products. Not only are competing products out there, but, particularly with Echo, the price of entry has plummetted. Compare the Sonos Play:1's $199 cost to Amazon's Echo (2nd gen) price of just $99 and Sonos really needs to prove that they have the better product and it's worth TWICE the cost of an Echo. Apple fans rejoice because Sonos also annouced Airplay 2 support for 2018. This means you'll be able to play any audio from an iOS device on your Sonos speakers.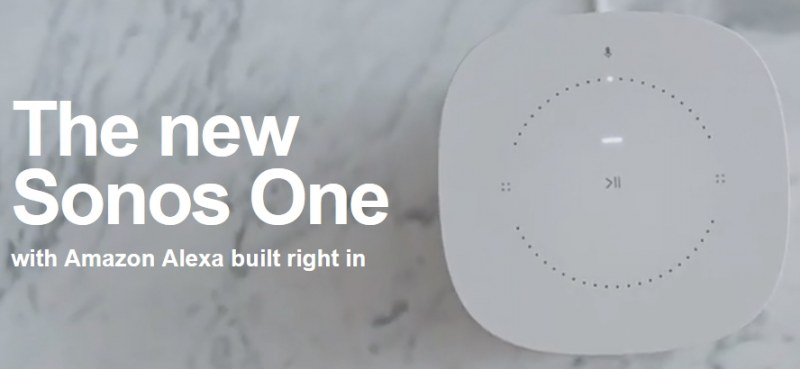 Sonos also announced the October 24th release of the Sonos One. This new speaker will integrate a six-microphone array and should work similarly to the Echo. If you're a stats junkie, this is one microphone less than the Echo has, but I highly doubt that will make a significant difference. The great news about this release is that it will cost the same as a Play:1 costs today.
Finally, Sonos announced that it will open up its developer program and offer API access to anyone who wants to build Sonos compatibility into their devices or apps. They'll also be offering a certification program where developers can earn a "Works with Sonos" badge, much like you see "Works with Alexa".