SlingPlayer Web App Released for Google TV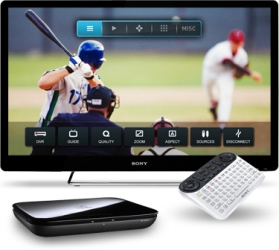 Sling Media has been working hard to get their SlingPlayer app deployed as broadly as possible. Most recently we saw apps for Facebook and then the Boxee Box, and now the SingPlayer app is available on Google TV. Officially called SlingPlayer for Logitech Revue, it will reportedly work just fine on Sony's Google TV hardware as well. I suspect it will also work quite well on forthcoming Google TV hardware as it is a web app rather than a native Android app. It can be found under the "Spotlight" section of the main menu and appears to work much like the app on the Boxee Box, however I have noticed a couple of times that one must be careful of using the back button on the remote as it will unceremoniously dump you out of the app as it navigates back to the previous webpage.
Slingbox maker Sling Media quietly rolled out official support for Google TVWednesday night with the launch of a SlingPlayer web app optimized for the smart TV platform. Google TV support and a closed beta test had been announced earlier this year, but now it's available for everyone who owns both a SlingBox and one of Logitech's Revue set-top boxes.