Plex Available on Kindle Fire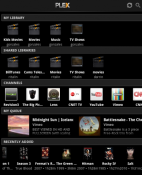 The Plex team is in the middle of a new round of releases, but it sounds like Amazon gave the team a freebie. Plex has been available on Android for a while now through a variety of different venues, including the Amazon App Store for Android. However, according to the Plex forums, when the Kindle Fire was launched Plex was listed as incompatible. That has changed. As if the Kindle Fire wasn't already shaping up to be a mean little media consumption device, Plex now works with the Kindle Fire out of the box and the Amazon App Store has been updated to reflect this. It is worth checking out Darrin's blog over at Plex for some suggested tweaks to improve the performance of the app on the Kindle Fire until the version on the Amazon App Store geta patched up to make the changes automatically. Now if we could just get a version of Plex for the Nook Tablet.
Kindle Fire owners can now easily access media stored on their home PCs, thanks to the new Plex app for the device. The app also makes it possible to access media libraries shared with other users through the recently-launched MyPlex personal cloud service, which also enables users to access personal media collections on the go.