Nintendo Reaffirms Apathy Toward Media Consumption on Wii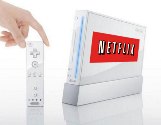 The Xbox 360 has been in the news here at Missing Remote quite a bit lately; not because we are avid gamers, but because Microsoft has been heavily investing in the Xbox as a media streamer with their most recent dashboard updates. Don't expect Nintendo to follow suit with the Wii anytime soon. In a recent interview, Nintendo of America president, Roger Fils-Aime, made clear that Nintendo doesn't have any interest in developing the Wii as a media streamer for live TV or movies. There is a whole lot of irony in the discussion given that Roger Fils-Aime seems to be perfectly content to talk about the advantages of having Netflix on the Wii, an application that we have seen Nielsen report is very popular on the Wii. The Wii may not have the best hardware, but would serve as a fantastic entry into the world of media streaming for many mainstream consumers.
While PS3 and Xbox 360 have been adding new non-gaming features over the years, Nintendo remains opposed to joining the fight. Why? "If the consumer wants live TV, they can get it through the options they have today," Nintendo of America president Reggie Fils-Aime commented.