LOVEFiLM Signs Sony to Exclusive Content Agreement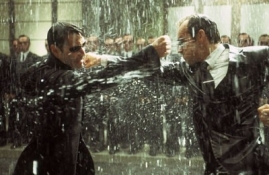 Do you remember that scene in Matrix Revolutions where Neo and Agent Smith have their final showdown in the rain and they end up flying at each other, colliding with such force that it generates a shockwave that displaces the rain for miles around? This is the image that has begun to come to mind every time I think about Netflix and LOVEFiLM facing off in the UK.
Both companies have been signing companies to content deals in the run-up to Netflix's UK launch, but Netflix in particular has been working on signing movie studios to exclusive licensing deals. Now, Amazon and LOVEFiLM are striking back by signing Sony to a similar exclusive licensing deal. The deal gives LOVEFiLM exclusive streaming access to both new and catalog movie titles, as well Sony television series.
LOVEFiLM, an Amazon company, and Sony Pictures Television have signed a major multi-year content deal giving LOVEFiLM members exclusive streaming access to new and forthcoming Sony Pictures titles during the second subscription pay TV window, as well as catalog titles and TV series, from June 2012.