LG Bringing 84″ 4K 3D LCD to CES 2012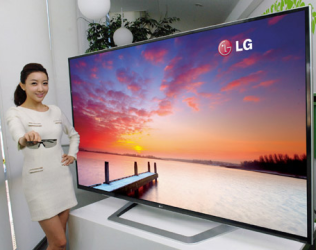 LG is going to have an exciting booth at CES this year. We heard recently about the 55″ OLED TV they are planning on showing at CES 2012, and now comes word that LG is also going to be showing off an 84″ 4K 3D LCD TV. As with the OLED TV, showing off a TV at CES is absolutely no guarantee that we are going to be seeing production models on the shelves of Best Buy anytime soon. Of course, there's also the issue of finding content for a TV with a resolution of 3840×2160. Other than a couple of sample clips on YouTube, 4K video has been largely the province of movie theaters. I wonder if Sony will be prepping Blu-Ray's 4K format successor for the PS4.
LG's 3D UD TV, which will make an appearance at the Consumer Electronics Show (CES) in January 2012, is an 84-inch master of entertainment with 8 million pixels, a Slim and Narrow Bezel Design, 3840×2160 resolution, 3D Depth Control (to control the 3D effect) and 3D Sound Zooming for a whole new audio experience.