Comparison of Paid Video Streaming Services Updated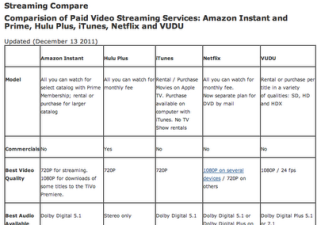 Which video service is right for you? Are you looking for a pure streaming play and trying to decide between Netflix and Hulu Plus? Perhaps you prefer to rent or buy your videos and are trying to decide between iTunes or VUDU. Maybe Amazon Prime Instant Video, with its bit of everything approach is the best of all worlds. Fortunately, our friend Gabe over at Tech of the Hub stands ready to help you with your decision-making. He has updated his streaming video service comparison with a special focus on how Amazon Instant Video and Netflix stack up to each other. Be sure to check it out.
The newest version of our paid streaming video streaming comparison is now available. This version goes a little deeper breaking out counts of TV episodes when possible. There is also a breakdown of closed captions on movies versus TV across the various services.