brite-View CinemaTube 1080p HD Media Player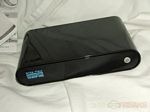 Cool little extender here….
I've taken a look at several media players here on TestFreaks and today I have another one, but unlike the previous kind I looked at. Today for review I've got the brite-View CinemeTube Media Player. You might recognize the name brite-View as I recently reviewed their power line networking kit, that kit was meant to work with this product I have for review today. It's unlike other media players in that there is no storage on-board the unit itself, it is strictly a streaming media player. Yes you can attach a USB hard drive or even a thumb drive, but there is no storage inside the unit. The CinemaTube will not only stream video and audio, but you can use it to share photos and files on your network and it even has a built-in torrent client and even a program to use with Flikr for even further photo sharing. The CinemaTube features HDMI, Component and Composite outputs and an optical audio output as well. So read on to learn more..