Hand-Made Bag End from Lord of the Rings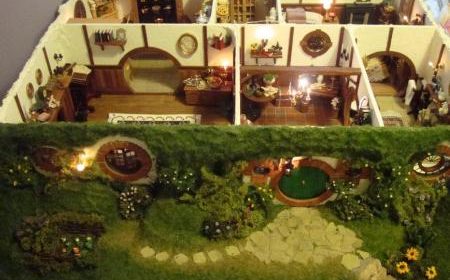 I had to take a moment to pick my jaw up off the floor after seeing these pictures. Maddie Chambers is a hardcore LOTR fan and she used her amazing talent over the course of a year to recreate Bag End in excrutiating detail. Looking at the huge array of photos she has online, her Hobbithouse (aka dollhouse) could easily be mistaken for a fullsize movie set. In fact, if it weren't for the photos with her next to the piece, I'd think it was real. This is one talented woman and, I must admit, quite easy on the eyes, to boot. But, let's focus on the amazing craftsmanship, shall we?
I decided to make everything by hand – the frame, the garden outside, the furniture (as much as I could), the food and it has been a real labour of love and I have found something I truly enjoy doing. I have always been 'crafty' and enjoy painting etc, but this captures my imagination even more!