Patriot Launches their Box Office All-In-One HD Media Player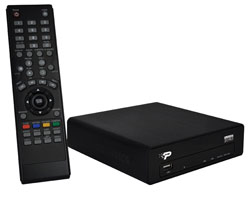 Fremont, California, USA, October
13, 2009 – Patriot Memory, a global pioneer in high-performance memory, NAND
flash and computer technology, today introduced the new Box Office all-in-one
High Definition media player.
Patriot
has simplified playing and accessing your digital library, bridging the gap
between your digital media and your Home Theater. The Patriot Box Office
offers an easy way to play your digital media stored on USB storage devices,
on a network device, or using an optional internal 2.5" Hard Disk Drive
(HDD). Box Office becomes the digital media hub tying everything together
into one simple, easy to use high definition media experience. Patriot has
also increased the competitive value of their Box Office by including an HDMI
1.3 cable. Simply connect the HDMI cable from the Box Office to an HD ready
display, and gain immediate access to your digital media collection,
streamlining your ability to access content that before was a multi-step
process.
Full press release, click Read More.
Features at a glance:
    * Full HD-video playback up to 1080p l
    * Dolby® Digital and DTS™ surround sound l
    * Expandable internal storage via 2.5" SATA SSD/HDD l
    * Three USB ports l
    * HDMI 1.3 and composite video connection (HDMI cable & composite cable included) l
    * UPnP™ support l
    * Optional 802.11g USB WIFI Adapter
"Patriot's Box Office brings the digital revolution to the home audience," says Jack Chen, Patriot's Business Development Manager. "Contrary to some popular media devices in the market, the Box Office is simply an all in one solution combining high definition media play back, file copy/ move/ transfer capability between sources, P2P download management, industry's leading video preview function, and even compatible for internet video streaming with 3rd party software."
To pre-purchase your Patriot All-In-One Box Office media player, please visit:
Link to Website: Amazon.com Pre-purchase link for Patriot's Box Office Media Player
If the link does not load, please cut and past the following:
http://www.amazon.com/dp/B002Q4U9PY
For more information about Patriot's Box Office and other memory module and flash memory solutions, please contact your Patriot Sales Representative or visit http://www.patriotmemory.com.
About Patriot Memory:
Patriot Memory designs, manufactures and markets high performance, enthusiast memory modules, flash products, and computing technologies. Patriot products have become world renown for their extreme performance, reliability and innovation. Patriot Memory sells its products through original equipment manufacturers, retailers, e-tailers and distributors. It has operations in North America, Asia and Europe. Patriot Memory's parent company, PDP Systems, Inc., was founded in 1985 and is headquartered in Fremont, California, USA.