SageMC: Bringing Sexy Back?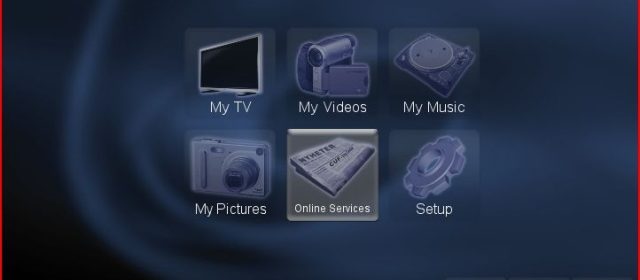 I almost hate to call SageMC a plugin or skin as it is coded from the ground up in studio :). Starting off as a glint in mlbdude's eye, the torch has been carried by Flachbar and Meinmaui (Dirk and Mike). The original goal of SageMC was to provide a look and feel similar to MCE and provide some needed UI improvements over the standard UI. THe beuaty of this STV is that they are able to integrate the great work of the Sage developers and add their own improvements to it as well.
SageMC 6.36 provides a couple of cool new features including configurability of the main screen, and a cool new icon menu system. Below are a few screen shots of what is possible with the new system. Mike also had time to integrate the new online services found in the standard UI. Click the read more for the full release notes or this link to the forum thread.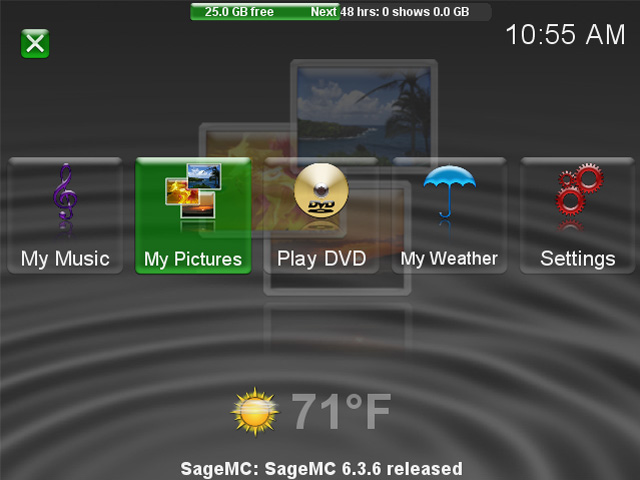 SageMC 6.3.6 is available.
I haven't had much time lately to work on SageMC, but fortunately Mike
filled in and implemented a couple of really cool new features for the
main menu. This includes total configurability of almost all the
elements on the main menu, and a new icon based main menu style. He
also worked on replacing the old legacy animations and added some other
features. This is truly a 'Hawaiian' release…

Here are the new features:
Added screen layout
configuration menu for the Main Menu which allows most objects on the
main menu to be moved/resized and customized:

Menu: move/scale, adjust width, change text justification
Title Graphic: enable/disable, move/scale, adjust height, set opacity
Main Icon Panel: enable/disable, move/scale, set animation type, animation timeline, animation duration
Weatherbar: enable/disable, move/scale, select style(simple, detailed,
and forecast). Will be shifted up when ticker is enabled only in case
of overlap.
ShutdownIcon: enable/disable, move/scale, transition animation
PreviewPanel: enable/disable, move/scale, ticker is automatically adjusted to compensate

Popup menus and UI titles are converted to now use core animations. (new SageTV v6.3.2 animations were necessary for this)
Added display of (Category, Subcategory) to Subcategory Search Results menu title when searching by category.
Added new color coded EPG properties to theme.properties file (set to 0 to remove the default background color):

Alpha/GuideAiringBGDefaultPast=
Alpha/GuideAiringBGDefaultCurrent=

Fixed Selection Bar display on Browse by Channel screen.
Added property to set current time marker color in EPG
Added new icon based main menu system.

To activate, open the 'Customize Screen Layout' menu (via the options
menu in the Main Menu) and go to the Customize button for 'Main Menu'.
Select 'Icons' as the main menu style. If you are using the dynamic
main menu, you can set the style for main and sub menus independently
You can adjust the number of rows and columns and they will update on the fly.
There are also settings here to choose the selection bars to use. By
default it uses the existing 'icon_empty_*.png' files when 'Folder
View' is selected, but you can also choose 'Main Menu' and it will look
for 'main_menu_focus.png' and 'main_menu_nofocus.png' graphics files in
your theme. (This allows the icon menu can work 'out of the box' with
all existing themes, but still allows full customization to be done.)
The last setting you will see is the time delay for the new double
select (double click) functionality in the icon menu. If you double
click with the mouse or double select with the remote or keyboard then
the popup shortcut menu will appear when available. Single click/select
behaves as usual. This setting allows the user to tune the time allowed
for the second click/select to their preferences

Added new Online Services. This is a rough first version, so there
might be still some quirks with themes not matching etc. I know that
people were anxiously waiting for this, that's why I tried to get it in
even if it's not perfect yet
Integrated Niel's Multispeed FFWD/REW into the STV
"Grouped" recording view now groups movies into one folder
Added batch file "rss_reader.cmd" (in SageMCE folder) to specify the external browser for RSS news
Fixed icons in Other Airings
Fixed number of rows in EPG by Channel
Fixed issue with hover_custom1.png
Here are a couple of screen shots showing the new functionality in the main menu: