XPS 420 First Impressions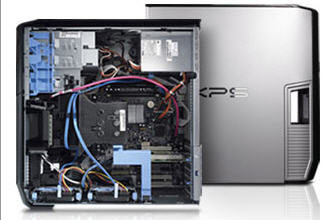 As I mentioned in my earlier blog, "Drinking The Kool-Aid" I went ahead and purchased the Dell XPS 420 with Dual CableCard option. I still feel a little dirty doing so, but in order to maintain the WAF, you sometimes have to do what you have to do.
My configured system, as follows, is mostly the default system with a few upgrades.
CPU: Intel Core2Quad Q6600
Video Card: ATI Radeon HD 2600 XT (upgraded from 2400 pro)
Hard Drive: 500 GB (upgraded from 320 GB)
Tuners: Dual CableCard (upgraded from tunerless)
Software: Declined every option including virus scan, etc.
Warranty: Standard
Optical: Default DVD Writer
Memory: 3GB
Everything arrived in only a few days, however, the CableCards were shipped via DHL will arrive around a week later then the main box.
The hardware came bundled with a very nice mouse pad, pleather CD binder and an iffy keyboad and mouse. Except for the cheapy keyboard everything was presented nicely and would be something you would expect buying a company's flagship computer (or at least not a $400 one).
Before booting up, I took off the side of the case to examine the wiring and see the BTX layout. The wiring was done very well, and as such, no air flow was being impeded. The CPU cooler is a tower HSF similar to a Scythe Ninja that has kept temperatures below 30C so far. This is no doubt in part to the 120mm fan in the front of the case that draws air in and exhausts to the back. Dell gets a bad rap for using BTX, however, I can see the airflow benefits. Under normal use, with an ambient of 20 C or so, the computer runs around 20C to 25C and the 2600 XT runs around 50C. **Note** – This is not under heavy testing :). I will report back with various load tests including HD video playback.
In terms of expansion, the XPS 420 offers room for one more hard drive at the bottom of the case and an eSATA port for a full speed eSATA external drive. If that is not enough there are eight USB ports and two Firewire ports to keep you in connection heaven.
What about the Sideshow display? Absolutely useless at this point in the ball game; they even installed Solitaire on the dang thing, how pointless is that? They have a few PC stats like network traffic and some reminder/calender type stuff. /me passes.
I was pleasantly surprised to find very few craplets in upon start up. In fact all I could see was Windows update, Google Sidebar and Adobe Acrobat update on first boot. Not bad at all. Looking into MSCONFIG, I found a couple of others, but all-in-all it looked much cleaner then even my personal machine. Vista is pretty damn snappy with a Q6600 and 3GB of ram with no craplets bogging down your system. All in all, it is a pretty good computer for a pretty good price.
Viiv comes installed and this article from Ars Technica should explain ViiV :p.
What about the Media Center aspect? To be frank, it has a lot going against it. First off, the configurator does very little to tell you what CableCard support is, all I could find was a note beside the OS selection and of course the tuner selection. While I praise BTX above, the BTX form factor does not allow you to take the guts of this system and put it in another HTPC case. This may or may not be a deal breaker. If your plan is to use this as a server, noise or form factor should not be an issue.
There are too many strikes against it too make it a viable in the Media Center community. Given some time, marketing, and a proper extender setup from MS, this could be HUGE! However, as it stands now… just a blip. This has 'great server' written all over it but not Media Center PC.
However, I drank the kool-aid and I have to live with it now. I hope the CableCard is worth while! I'll report back with my CableCard experience and on-going Digital Home transformation :).
Here are my next steps:
Finish wiring Ethernet jacks at both TVs
Configure WHS server for DVD, picture, music streaming and SageTV server
Configure Media Center PC for HD DVD playback and install plugins
Call Cable Company for appointment to install cards