Meridian : Glorious Sound With Minimal Visual Impact!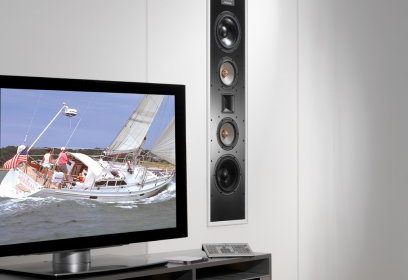 The picture below just about says it all. This is one that I need to keep away from my wife, she will want me to hide every piece of electronics I own if it can be done like this and look that good. The electronics and amplifier are built into the speaker so only one wire is required to hook each speaker up to a CD or DVD player.
From the article:
A prime goal of these new installation loudspeakers was to offer comparable
audio power and quality to Meridian's freestanding designs, in a compact,
easy-to-install form. The speakers can be supplied as passive systems to be
driven by conventional external amplification, or as 'remote active' analogue
systems driven by the G41 Powered
Crossover/Amplifier, which includes 8 × 100W power
amplifiers and modular plug-in electronic crossovers which can handle up to five
channels of audio.