nMEDIAPC HTPCKB-100 Wireless Home Theater PC Keyboard With IR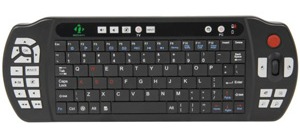 As more content becomes available via search, it is increasingly important to use a real keyboard to interact with devices in the home theater. Unfortunately, with most keyboards lacking the capability to control infrared (IR) components, they can only supplement a traditional remote (or series of remotes) which reduces the value of when applied to the problem they are intended to solve – convenience. However, this issue has not gone unnoticed by everyone, with nMEDIAPC providing a compact home theater PC (HTPC)/media streamer keyboard that also provides the ability to control one device via IR. With a street price of around $60, the HTPCKB-100 has potential — let's find out if it can deliver.
Specifications
| | |
| --- | --- |
| Wireless Frequency: | 2.4GHz RF |
| Connector: | USB |
| Range: | Up to 10m |
| OS Support: | Windows 2000/XP/Vista/7 |
| Battery Requirement: | 2x AAA; rechargeable batteries (not included) can charge via Mini-USB port along the front edge |
| Dimensions (W x H x D): | 12.3" x 4.5" x 1" |
At first glance, the nMEDIAPC HTPCKB-100 appears to be a fully functional home theater PC (HTPC) keyboard, offering a dedicated Windows Media Center key alongside volume and transport controls. Experience launcher keys (Videos, TV, music, etc.) are relegated to Fn + status, but as those keys receive much less traffic this is understandable, given the layout constraints. It was quite perturbing to find the "Next" and "Previous" (aka chapter skip) buttons falling into the same functional bucket because it makes quick, easy, one-handed access to this commonly used functionality more difficult than it should be. Unfortunately, this is not the only example of clumsy layout found on the device; with one-handed click-and-drag maneuvers made nearly impossible because the mouse buttons are located below the thumb stick, along with the scroll wheel. These oversights are mostly forgivable, given the additional flexibility the inclusion of IR control provides, but the lack of a "Stop" button (dedicated or otherwise) is not.
In the context of home theater keyboards, the nMEDIAPC HTPCKB-100's dimensions place it between the truly small (e.g. Lenovo N5901, Logitech diNovo Mini, and IOGEAR GKM571R) and larger (e.g. IOGEAR's GKM581R and GKM561R) units popular with enthusiasts. Key presses are tacitly rewarding with a decent level of tension and enough "click" to give auditory feedback. Given some time for acclimation, those with thin fingers will find the HTPCKB-100 good enough even for tasks requiring more than casual typing, but it never truly crosses the "comfortable" threshold required for extended use–especially with keys along the bottom row, which require focused effort to hit squarely with the smallest part of the finger making shortcut use less reflexive than it should be. Those with larger fingers will find the keys difficult to target specifically because they are small, placed closely together and completely flat. Where many will find this aspect of the keyboard acceptable, given the positives inherent in the form factor, the thumb stick's unpredictable behavior is a cause for significant frustration. While tracking is usually linear when operating strictly on the X and Y axis, diagonal use is often jumpy and I found it difficult to use with a natural level of precision – often missing the intended target. Adding this to the limited feedback, occasional pointer teleportation, and an odd behavior where cursor movement stops when the thumb stick pushed to the limits of the enclosure, it was often easier to Alt+Tab and use the keyboard to get anything but the simplest tasks accomplished.
The HTPCKB-100 lived up to its range claims quite easily with the supplied USB extension cable attached, and well enough for those in standard sized home theaters under the right circumstances (e.g. attached to a device placed in open space away from the wall) even without. IR support was a welcome feature, as it will finally enable the single remote dream for those with a simple TV + device setup. Even those with a slightly more complex environment can also put the other remotes away if the display and audio video receiver (AVR) support HDMI CEC and the device connected to the keyboard is the only one in the stack. However, full reliance on the HTPCKB-100 when CEC is in use is not possible because even though the keyboard offers an "Input" button for selecting sources on the TV this functionality cannot be delegated to the AVR and the keyboard also lacks the full suite of directional, transport, or other (Red, Green, Blue, Yellow, etc.) that are required to support many devices.
Conclusion
In the competitive HTPC/media streamer keyboard landscape, the nMEDIAPC HTPCKB-100's IR capabilities make the device standout because it offers the potential to finally unify the entire search, discover, and consume model under a single unit when coupled with HDMI CEC. Unfortunately, that innovative feature and the general convenience of the form-factor is let down by the unit's lack of important keys, awkward layout, and a thumb stick with inconsistent and frustrating function. I hold out hope that nMEDIAPC will take the time to do another spin of the keyboard, because there is potential for a V2 product to deliver in this space, especially as we move away from linear television and towards an over the top world.
Pro:
IR capability
USB extension cable included
Range
USB charging (with user provided rechargeable batteries)
Con:
Thumb stick is very sensitive and stops working when pushed into contact with the sides
Lacks stop button
Transport controls are not placed next to each other
Mouse buttons are placed under the thumb stick, making click and drag maneuvers difficult
Thanks to nMEDIAPC for providing the review sample.