Peel Universal Smart Remote for iPhone and Android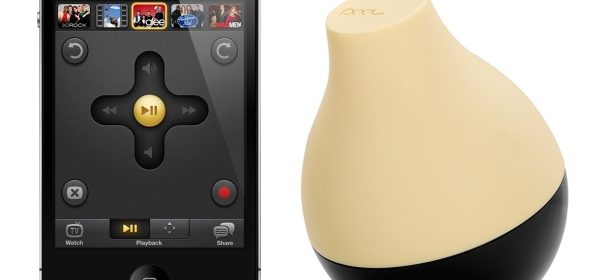 We recently reviewed the
Griffin Beacon Universal Remote
device, which leverages the capabilities of an iPhone to be used to control your television and stereo components. Peel is a lesser known brand hoping to achieve similar success with their Peel Smart Remote device. Enclosed in a uniquely pear shaped unit and powered by a single C battery, the Peel shares many similarities to its Griffin counterpart – except for its higher $99 suggested retail price. We will examine the details included with this higher MSRP to see which is worth your money.
DEVICE
The Peel Smart Remote device, referred to as the Peel fruit, arrives in a tube package with the pear-like shaped remote receiver as the center of focus. Inside the package is: the Peel Smart Remote device, quickstart guide, ethernet to power adapter and a C battery.
The device is a very unique style in the shape of a fruit, and is intended to sit atop your coffee table in direct line of sight of all the electronic components you hope to have it control. The Peel will only control infra red (IR) based devices, so if you have your components hidden and controlling with radio frequency (RF), it will not work.
SETUP & USAGE
Configuring the Peel remote hardware is as simple as installing the C size battery into the Peel Smart Remote device and aiming it at your devices. Under the battery lid is the four-digit code you will need to connect the Peel Smart Remote app to the device.
The Peel app is available on both Android and iOS operating systems, and for this review we used an iPhone 4s with iOS 5.01 installed. Installation is a snap as most apps are, and it will actually function standalone, without the Smart Remote hardware. The purpose of this is to help aggregate the television programs so you see targeted recommendations from it as to what is on and what you may like–think of it like TiVo's recommendations based on what your record. In addition to that, the app can also share what you are watching with your Facebook friends. If this sounds very similar to the Griffin Beacon Universal Remote, it's because it is.
During the initial setup of the application, you select the categories and genres you want to monitor, and then the final stage gives you the option to set up your Peel Smart Remote. The Peel device must sit within 15 feet of your electronic components and 25 feet within the Peel cable that is plugged into your router. For configuring devices, Peel uses a different technique than most remote controls; rather than having to pick your brand and model, it uses the brand you select and then works a trial and error mechanism until it finds the right code to control your devices. Considering a lot of people don't know the model of their equipment, this should make configuration easier.
As a home theater computer (HTPC) user, I was disappointed with the lack of customizing the devices to control TV–Cable Box with DVR, Cable Box without DVR, or TV. No amount of tweaking or configuring would allow the Peel Smart Remote to control my Microsoft IR Receiver and my Windows 7 Media Center system. Even when choosing the "Media Player Setup", the only two options were the AppleTV and the Roku. In order to be universal to a broader customer base, it would be a shame to not support the assortment of devices available to consumers these days. But the review must go on, so I used the digital tuner built into my television to properly test the application.
The application is at the core of the Peel fruit, and is your television hub. It aims to replace your set top box (STB) interactive program guide. Rather than show you a grid-like listing of shows that are playing, the Peel app is image and category driven, whereby making recommendations as to what you may want to watch via images with detailed descriptions. I found the interface to be very friendly and intuitive. As mentioned earlier, the app can be downloaded by anyone, but by configuring it with the Peel Smart Remote it allows you to actually tune to the program once you find something you choose one.
CONCLUSION
In the last few months we have now seen interactive, app controlled IR receivers in the Griffin Beacon, Harmony Link, and here with Peel's Smart Remote, all of which are vying for your coffee table space and the use of your iPhone as the means of controlling your home theater. The Peel Smart Remote is a unique design that will either connect with people or alienate them–I found it a bit too bright for my table, but that was not a deal breaker. The use of a C battery to power the device will hopefully yield longer lifespan, but it's not nearly as common a battery type as AA or AAA.
If you are looking for something to help improve the traditional STB interactive guide, the Peel Smart Remote is well designed, refined, and easy to learn. I don't see the Peel replacing your existing universal remote controller, unless everyone in your family has an iPhone–or unless you want to buy an iTouch just for the living room; otherwise, nobody will be watching TV when you leave the house!
PROS:
Easy to configure
App works standalone
Doesn't require pressing the device to wake
Unique shape/design
CONS:
$99 MSRP is higher than similar Griffin Beacon
Hardware supported is limited thus far
Requires Android or iOS device to function
Thanks to Peel for providing the review unit.