Lian Li PC-TU200 Mini-ITX Case Reviewed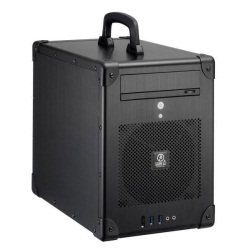 Lian Li makes a variety of Mini-ITX cases. The PC-TU200 is geared toward LAN party gamers with its sturdy build and handle, but with a 5.25 inch optical drive bay and room for 4 hot-swappable hard drives, the PC-TU200 might find a place in the heart of anyone looking to build a petite but powerful media server. The front-mounted 140mm intake fan looks capable of keeping things cool without generating too much noise and the fan grille and riveted corners give the case a surprisingly appealing industrial look that reminds me of the SilverStone Sugo mini-ITX cases, but decidedly more working class. I know that the handle is a part of the point of this particular case, but it is too bad that there does not seem to be an option to remove it as the rest of the case manages to marry its industrial design to some very clean lines.
The exterior of the PC-TU200 is made up of beautiful black brushed aluminum. The front, top, and part of the sides are made out of one solid piece of aluminum. The corners are reinforced with hard plastic and everything is held together with large, prominent rivets, giving the case a rugged look. The black brushed aluminum really looks fantastic and, unlike other "rugged style" cases out there, keeps it classy and modest.