SilverStone EC01 USB 3.0 Internal 19-Pin Dual Port PCI Express Card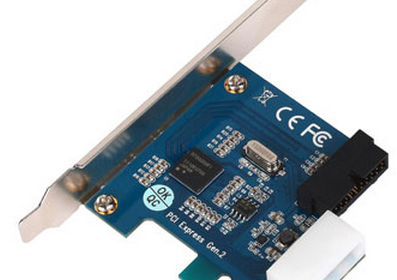 Some of our recent enclosure reviews (SilverStone TJ08-E, Fractal Design Define Mini) have featured external USB 3.0 ports requiring a connection to a 19-pin header required by the USB 3.0 specification which poses a problem for most motherboards to date. While SilverStone was kind enough to provide an internal USB 3.0 to USB 2.0 adapter with the TJ08-E, it would be ideal to take advantage of the USB 3.0 capability. Enter SilverStone's EC01 PCI Express card providing a 19-pin internal connector capable of supporting two USB 3.0 ports.
Specifications
| | |
| --- | --- |
| Model | SST-EC01 |
| Power Requirement | 5V DC via 4-pin peripheral power connector |
| Form Factor | Single lane (x1) PCIe gen 2.0 |
| USB 3.0 Controller | NEC uPD720200 |
| USB Ports | Dual USB 3.0 support (one internal 19-pin connector) |
| USB Bus Power Output | 5V DC up to 900 mA |
| Operating System | Windows XP, Vista and 7 (32-bit/64-bit) |
| Transmit Speed | USB 3.0 (5Gb/s), USB 2.0 (480Mb/s), USB 1.1 (12 Mb/s) |
| USB Host Interface | USB 3.0 (Max. 5 Gb/s) compatible with USB 2.0 |
| Dimensions | ~2.75" x 2.75" |
Test System
Motherboard

Intel DH67BL

CPU

Intel Core i5-2500k

CPU Cooler

Scythe Mugen 2

Memory

8GB (2x4GB) Patriot Signature DDR3 PC3-12800

GPU

NVIDIA GTX 560 Ti

Hard Drive / Solid State Drive

500GB Western Digital Caviar Blue 16MB Cache 7200RPM

500GB Seagate 7200.12 7200RPM

120GB OCZ Vertex 2

Optical Drive

Samsung 22X DVDRW SATA

Power Supply

PC Power & Cooling Silencer 750W 80Plus

Operating System

Windows 7 Ultimate 64-bit
Packaging and Hardware
The SilverStone EC01 is packaged in clamshell plastic. Fortunately, the plastic was not heat-fused so it was easily opened and reusable to store the card as needed. Inside the package are the following items:
EC01 PCIe card with full-height expansion bracket attached
Low-profile expansion bracket
Driver CD
The EC01 is compact and no larger than it needs to be. Installation is extremely simple only requiring a free x1 PCIe slot and a connection to a 4-pin peripheral power connector from the power supply unit (PSU). The 19-pin internal USB 3.0 header supports two USB 3.0 ports. For evaluation purposes, the EC01 has been installed in a SilverStone TJ08-E chassis which offers two USB 3.0 ports. Because the Intel DH67BL motherboard in the target system also contains a NEC/Renesas USB 3.0 chip, the driver CD was not required as the EC01 shares the same driver.
Performance
To test the performance of the EC01, a freshly formatted 500GB Western Digital Caviar Blue 16MB Cache 7200RPM hard drive was installed into a USB 3.0 enclosure. The drive was also installed in an enclosure offering an eSATA connection to establish a baseline maximum performance of the drive. Benchmarking was performed using the standard Passmark disk test with medium length.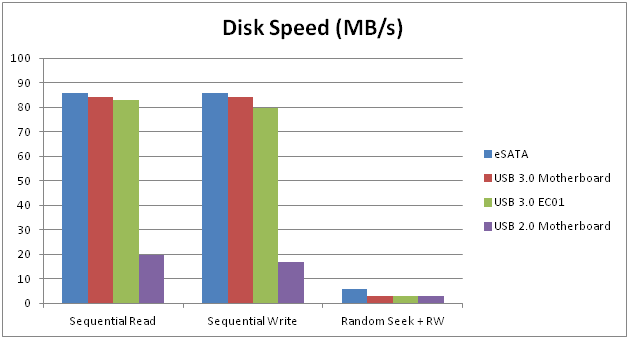 For the most part, the EC01 proves itself capable of keeping up with the motherboard's USB 3.0 solution and eSATA connection. In addition, the USB 2.0 connection is easily trounced. Finally, we have a USB-based solution that can easily keep up with the speed of hard disk drives so transferring large files and backing up a system to an external drive will not take eons.
While there were no objective tests performed with respect to supply of power, USB devices all charged as expected from the USB 3.0 ports powered by the EC01.
Power
The SilverStone EC01 required little power to operate adding approximately a watt to the total system power consumed whether at idle or under test.
| State | Power Consumed (watts) |
| --- | --- |
| Idle System | 59.2 |
| Idle System + EC01 | 60.1 |
| System Under Test | 73.0 |
| System Under Test + EC01 | 71.9 |
Conclusion
With a sub-$25 street price, the SilverStone EC01 PCIe card offers a relatively inexpensive way to bring USB 3.0 ports on newer enclosures to life with motherboards that lack the required 19-pin USB 3.0 internal header (which are most boards sold to date). Some solutions have required passing cables to the chassis exterior to plug into rear motherboard ports so the EC01 is obviously a much tidier and the next best thing to having a native USB 3.0 19-pin header on the motherboard. The EC01 sips power and mostly performs on par with the USB 3.0 ports offered on the Intel DH67BL motherboard.
Pros
Small and low-profile
Power-efficient
Adds internal 19-pin USB 3.0 header
Cons
Performance a tad slower than on-board USB 3.0 ports
The SilverStone EC01 can be purchased from Amazon.
Thanks to SilverStone for providing the EC01 review sample.