Boxee Box D-Link DSM-380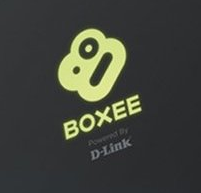 As we can see from the video Boxee provides an excellent first experience with the device with friendly retail packaging and includes an HDMI cable so most users will be able to get started when they bring it home.
Device
Love it or not, the Boxee Box is certainly unique–sure to stand out in any environment. How desirable that is will depend on preference; personally I would like subtle, but still find it quite attractive in a quirky way. Along the back we see all but one of the inputs (there is an SD card slot on the top) offered by the device including Ethernet (10/100), two USB, HDMI, TOSLINK (optical S/PDIF), analog stereo audio and power. Component (YPbPr) is notably missing however which, given the form factor, is understandable but limits the Boxee Box to modern HDTVs with HDMI or DVI inputs and is a limit in one of its market segments–buyers with older displays who want an over-the-top applications platform without buying a new TV.
Taking the device apart was more difficult than expected; the entire non-slip pad on the bottom must be peeled off to expose the screws that hold the case together. After removing the top we find the 2.4GHz Wireless-N add-in, and a small, quiet fan for cooling the CE4100 based system.
The Boxee Box remote is almost flawless in execution with my only real complaint being the lack of buttons on the top side makes some actions, like selecting a DVD menu or changing audio/subtitle tracks, unnecessarily tedious. The QWERTY keyboard on the bottom keeps the profile slim and one-hand friendly while navigating, while also enabling a rich experience when text entry is required. We have seen this style of remote gaining popularity; hopefully it continues to do so. For those who fall into the "or not" category, the remote works over RF so line-of-sight is not required to control it, making placement behind the TV (or in a cabinet) possible without control complications. RF does introduce a few challenges however as most universals are infrared (IR), so it is difficult to drive the device (even in a more limited way) from a single remote.
To address this Boxee has added support for the Media Center (eHome) IR receiver, and when the box is on it actually works pretty well but a blocking issue exists in the implementation since it is not able to power on the Boxee Box. More importantly though is the lack of HDMI CEC, as that would address this issue in a much more elegant way using only the Boxee Box remote to power on all devices in the chain, select inputs and control volume on appropriate device. Frankly, any modern HDMI mass market CE device should include CEC support; it is a glaring, correctable, omission from the feature set.
Settings
The Boxee Box offers a multitude of knobs and dials in the settings section. There are too many to discuss each one in detail so only the most important sections will be covered. There should be a picture of each screen in the gallery to document all of the options.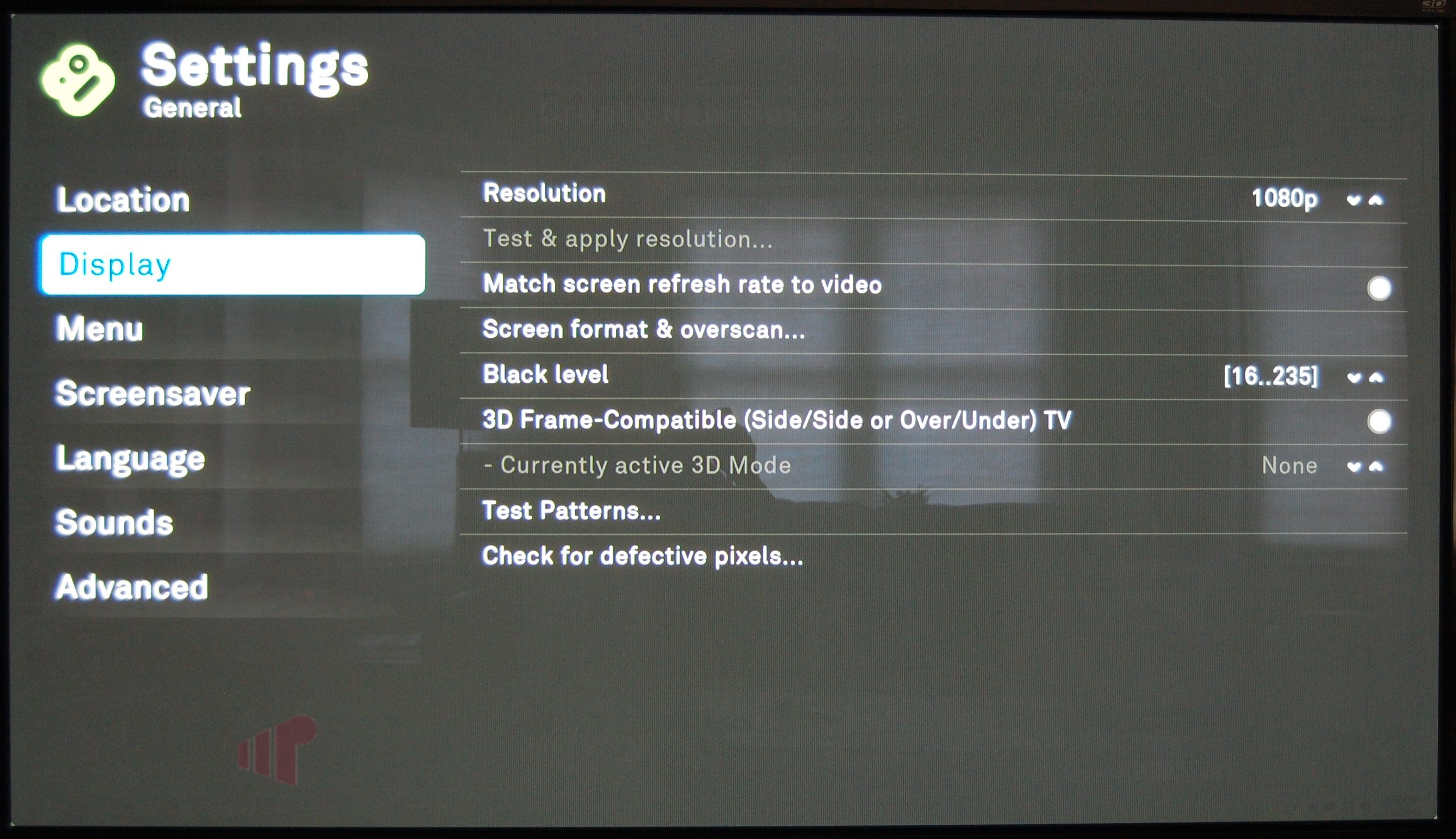 As an A/V device it should not be surprising that the display settings are highlighted. Besides the typical settings for resolution and refresh rate matching (source direct is not supported) found on many streamers, there are also have options for configuring levels and enabling 3D support. By default the Boxee Box outputs 16-235 8-bit RGB 4:4:4, so it is nice that full RGB (0-255) is also available, but I would like to see an option for YCbCr output as well for greater compatibility with other CE devices and displays that do not handle RGB input properly. Unfortunately this screen will require more familiarity than is customary with other CE components because it occasionally "forgets" the TV's resolution and reverts to the lowest setting available ("NTSC"). Finding the exact scenario to reproduce the issue has proved elusive, but it is most common when the device is left, or powered, on when the AVR/TV are not.
Being based on Intel's CE4100 platform, in addition to full hardware accelerated (HWA) decode for all the important video formats the Boxee Box also supports HD audio codec bit streaming or local decoding depending on preference, with each one a separate toggle. For those with capable hardware connected via HDMI, bit streaming is the best option however, as audio channel mapping for non-stereo PCM is fumbled so badly that I found it impossible to watch non-bit streamable multi-channel content (i.e. FLAC). On the bright side, it does set channel count properly when decoding audio so two channel sources will come out the left/right mains instead of the seemingly random speaker when the count goes up.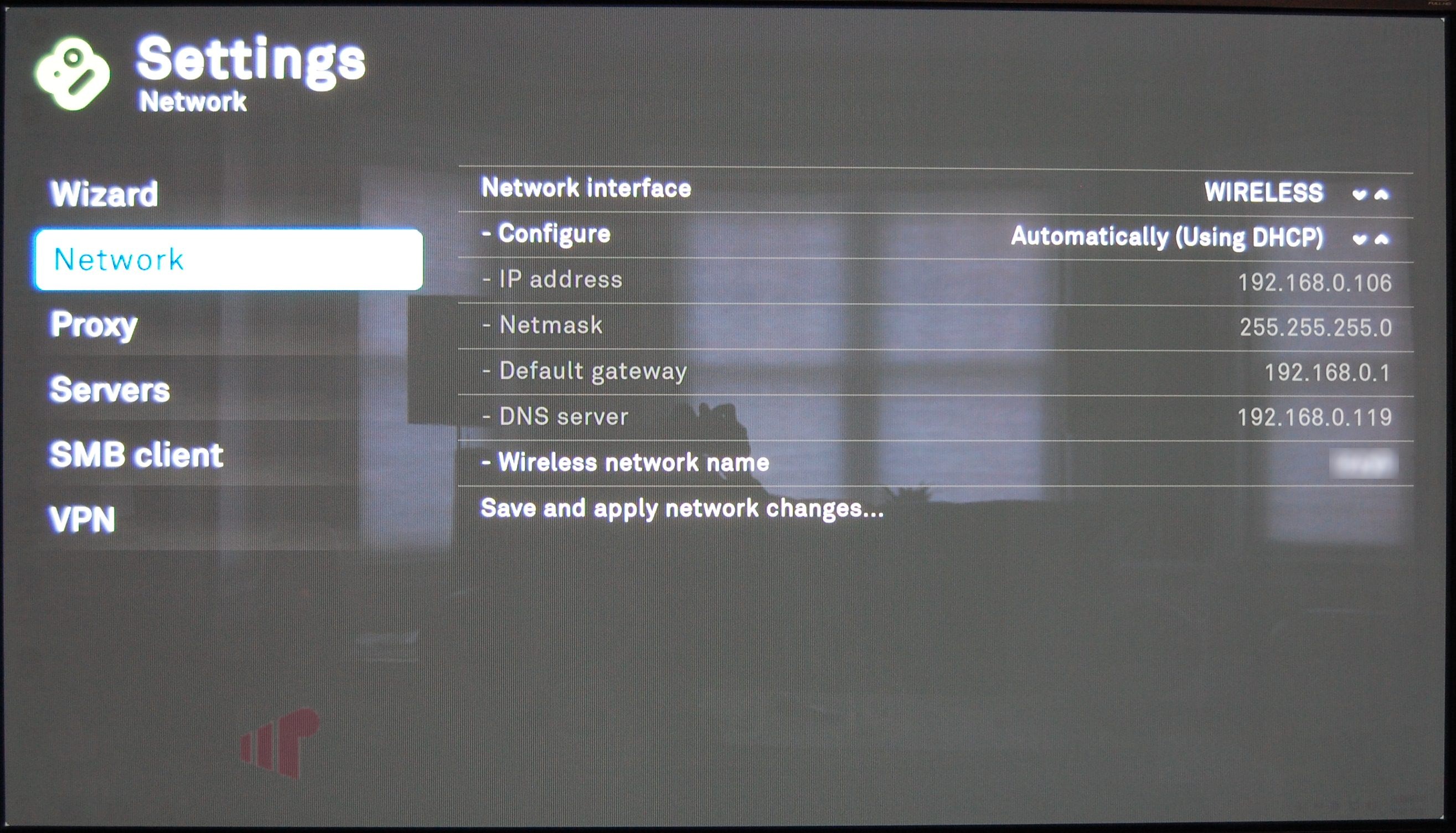 The Boxee Box supports 10/100 Ethernet and Wi-Fi (2.4GHz N), and while the wired option obviously performs better overall I was surprised at how well wireless kept up– with no noticeable difference between the two until file sizes got really big (30 GB+). Wi-Fi Protected Setup (WPS) is not supported, so the QWERTY remote will get another tick in the plus category when it comes time to connect to the access point.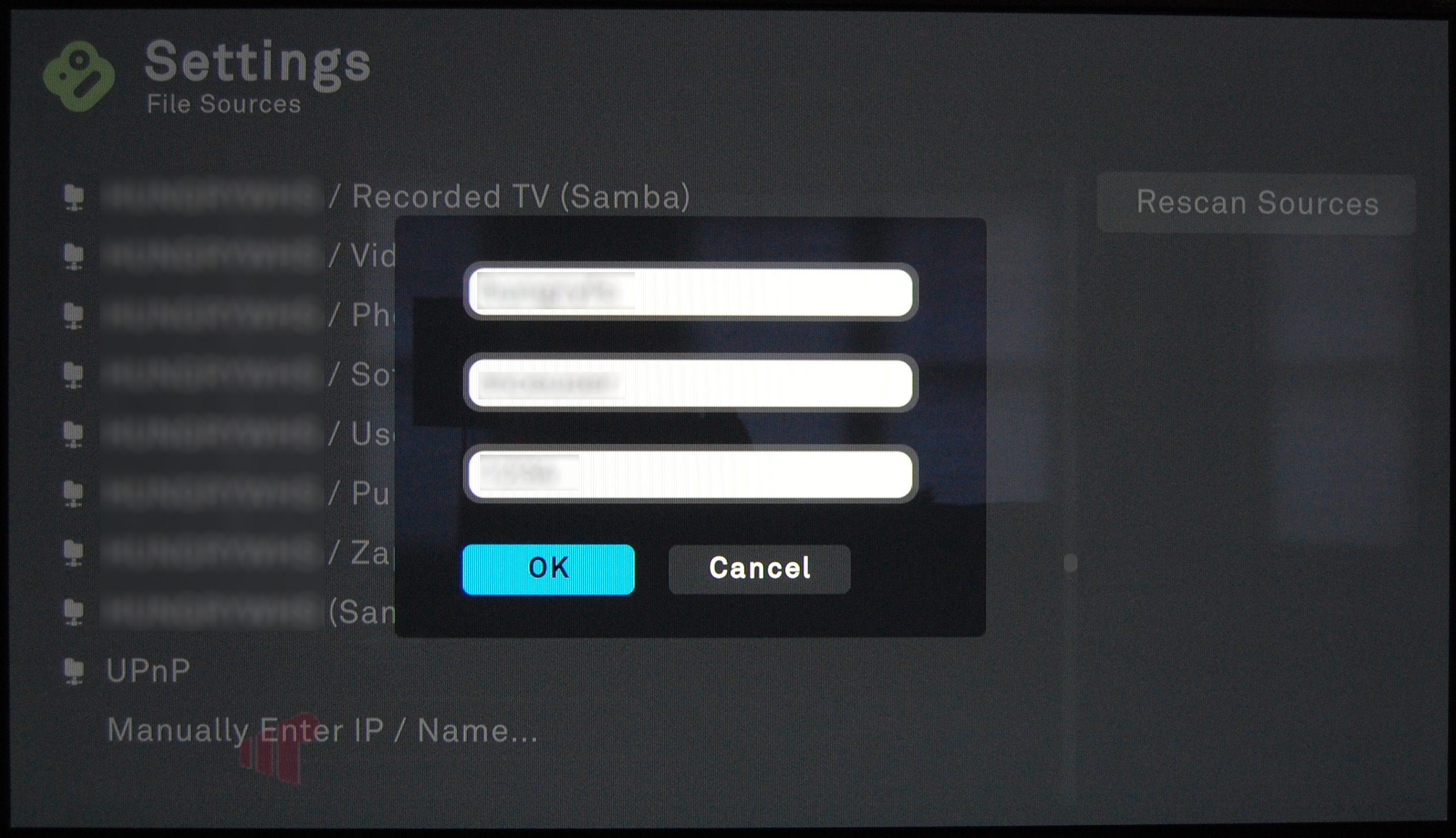 Adding folders to the Boxee Box's library is also handled from the settings section. On this screen the device discovers shared folders on the network and allows them to be easily configured for inclusion in the media pivots (Shows/Movies) used to consume content. It is also possible to manually add folders via the dialog shown above; which oddly, because it was able to find lots of shares on the network, I had to use for all of my media folders. When adding a folder the content type (Video/Music/Photo) must be specified along with the scanning interval, but unfortunately the software never actually discovered any media during scans, so evaluating the efficacy of the aggregation/sorting algorithm was not possible. This issue, and those noted previously, were sent to the Boxee team — we are waiting for a response.
UPDATE: 05/12/11
Boxee released a firmware update (1.1) shortly after we published this review, which among other things addressed the local media library scanning issues noted previously.
Experience
Like the settings section, there is too much ground to cover in great detail with the Boxee Box's user interface (UI) and overall experience so only the highlights will be discussed in detail. Flip through the gallery to get a feel for the screens not discussed below.
One of the more interesting aspects of the Boxee experience is how clearly they get the social and multi-user nature of a shared use device. The most obvious manifestation is that multiple user profiles are supported, allowing segmentation of the associated social accounts as well as maintaining content folders per user–which in practice means it is easy to keep my kid's content out of my view, and vice versa. The cool thing about the implementation however, is that device characteristics like Netflix activation are maintained at the appropriate level; so once the box is setup everyone can use that application without configuring again.
As mentioned earlier I was unable to get the local content libraries to work on the device so it went untested, but local file playback did work using the folder experience very similar to the DLNA-style browsing found on most streamers. Evaluated in that context the Boxee Box is a competent media consumption device with support for PGS (Blu-ray subtitles) in MKV/M2TS, external SRT subtitles, and the full suite of audio/video codecs (WMAPro, Dolby Digital, Dolby TrueHD, DTS, DTS-MA, VC-1, Divx, AVC/H.264, etc.) in a variety of containers (ISO, VIDEO_TS, AVI, MKV, WMA, WMV, etc.). Video levels (16 = black, 235 = white) are output properly but blacker-than-black (BTB) and whiter-than-white (WTW) are clipped; which is not a problem per-se as they really only make calibration easier. BD-Lite (Blu-ray minus menus) also works, but was imperfect at times with not all chapters/titles available for selection.
UPDATE: 05/12/11
After applying the 1.1 firmware revision the local library feature started working so it was now possible to evaluate it. Where before only folders were available (they still are for those scenarios where it is easier to browse that way) we now have a rich "jukebox" populated with files and an automated metadata discovery mechanism. Like all metadata scrappers, there will probably be some manual resolution required; an interface in "Settings : File Sources" is provided to identify and discover metadata.
Interestingly local media is not isolated, and integrates into the main movie browsing experience (see the second screen shot in the series above) with the Boxee recognizing similar media, aggregating it and presenting the online and local content in a unified way.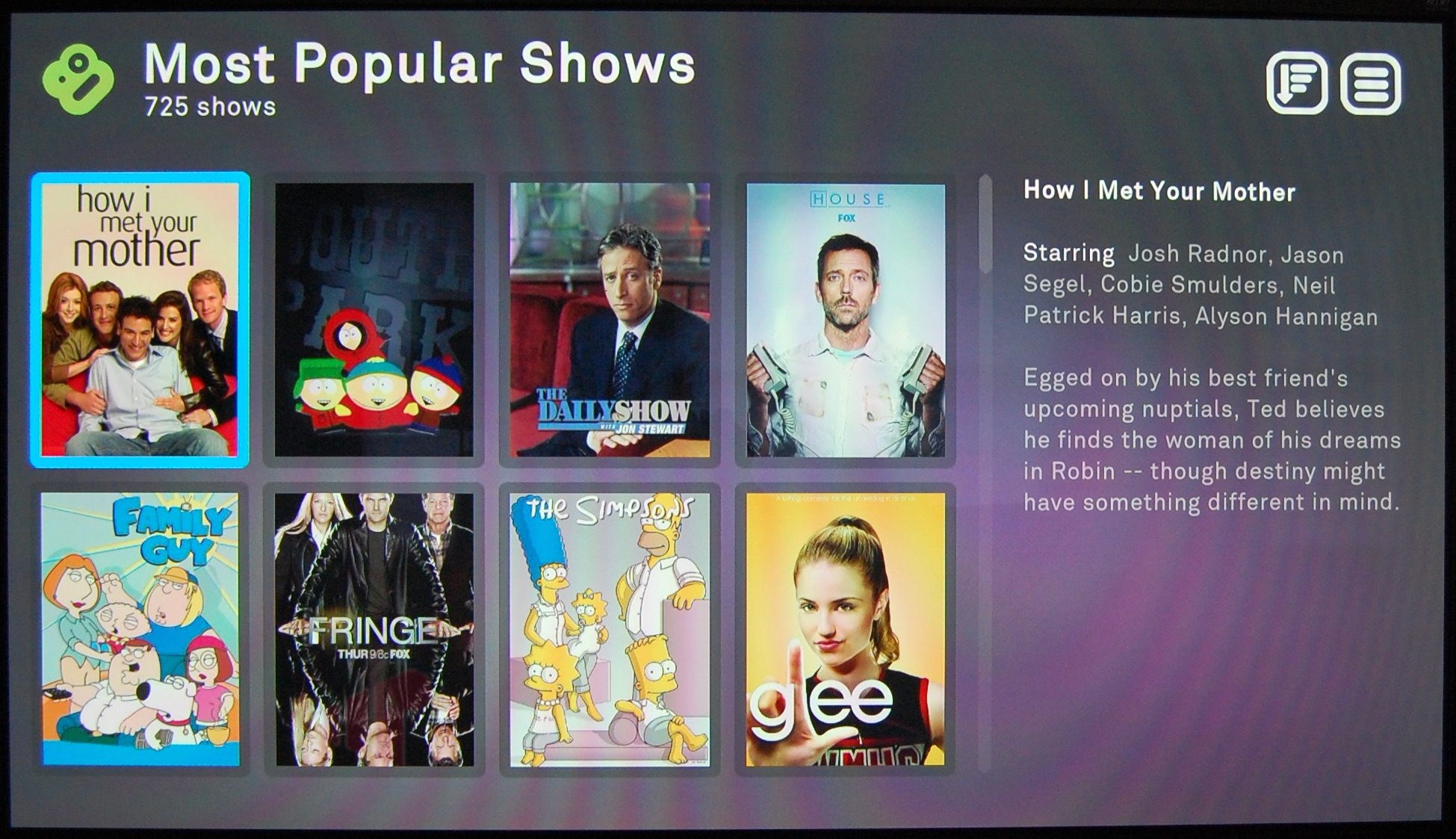 Having made it this far it is obvious that there are several areas where some improvement is required, but Internet content is an area where it truly shines. Of course it cannot overcome the limitations of the medium (i.e. YouTube is still a blocky, stuttering mess), but where the video is good and the bandwidth aplenty nothing aggregates the mass (mess? ;)) of Internet content like Boxee – making it almost effortless to fritter away countless hours "channel" surfing.
Unfortunately the experience is not as consistent as it should ideally be–though this is not really Boxee's fault given the state of "Web" in the greater pool of "Internet" content, and to be fair they do a decent job of finding video on web pages and automatically pushing it full screen for those sources. That said, when given proper access to high quality content the over-the-top experience is very, very good.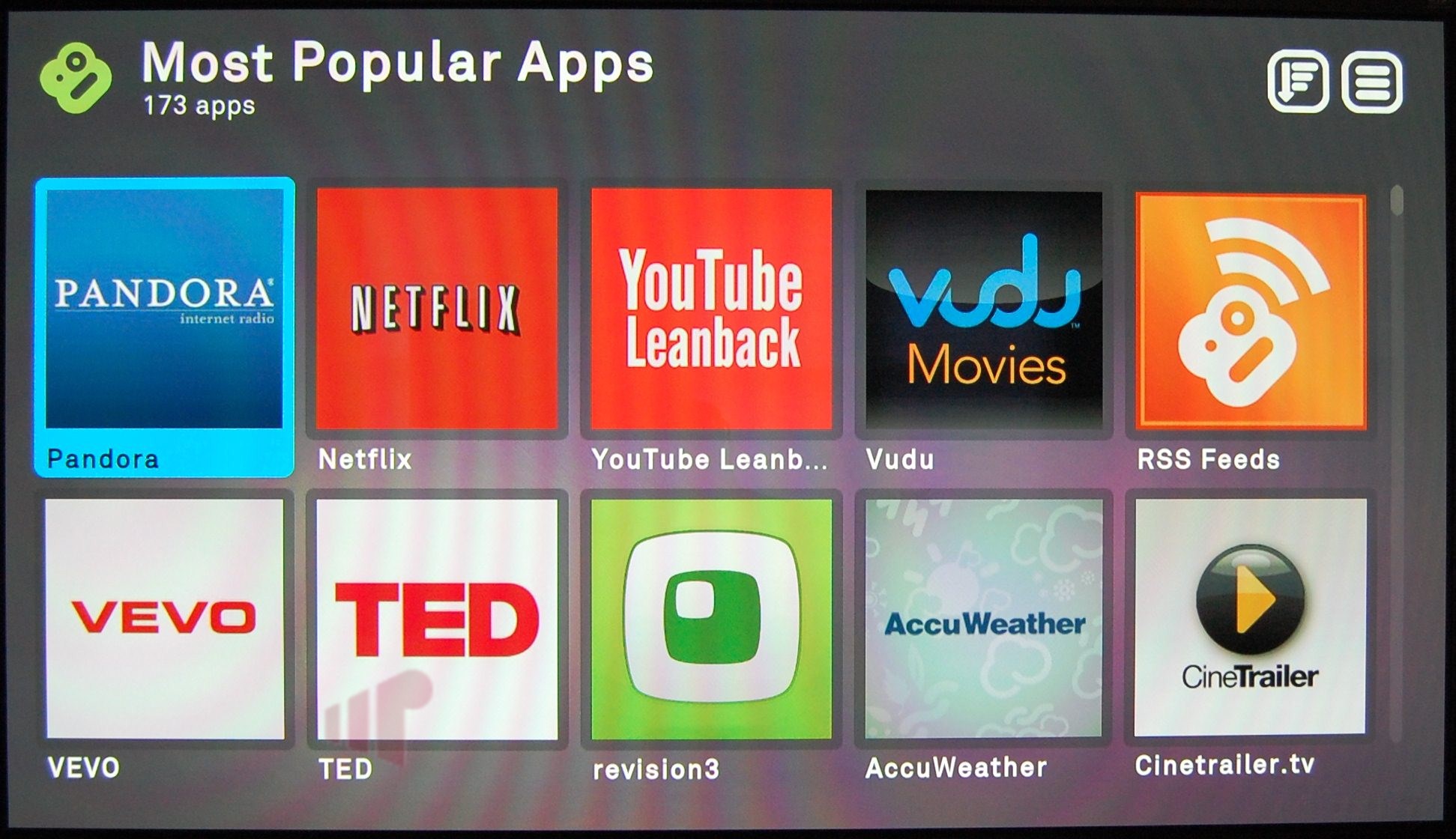 As an extensible applications platform, Boxee provides a software development kit (SDK) for 3rd parties to build and deploy new functionality on the device. There is a large pool of applications that bring Internet based content into the device including popular services like Pandora, Revision3, Netflix and VUDU.
With Netflix included in most mainstream Blu-ray players, media streamers and mid-level HDTVs shipping the Boxee Box without it was a problem. Taking a few months to fix that didn't help either, but it was worth the wait with the integration provided on the Boxee Box providing the excellent HTML 5 based interface, and the best overall experience I've seen–including the better looking, but more sluggish, implementation found in Windows 7 Media Center. Where many boxes include it the application is often severely limited; lacking important features like search or subtitles found on the Boxee. We are still waiting for Dolby Digital Plus (DD+) support, but I take hope that it is coming from two things: the surround sound audio option is displayed and DD+ works beautifully in VUDU.
For those unfamiliar with VUDU, let me chastise because you have not listened to the MissingRemote podcast where we discussed the service's near Blu-ray audio/video quality that somehow gets streamed down the tubes between Wal-Mart and your TV. With that in mind, it is easy to see why it is a natural fit for Boxee's application platform. The coolest thing about the integration is how content from VUDU integrates into the general experience, both on the home screen and within the Movies experience. Anyone can build an over-the-top application framework, but the real differentiating value is in the quality of aggregation. When I want to watch a movie, having to know what service provides it is a barrier to consumption. Boxee obviously understands this, and as cord cutting becomes more feasible, they are positioned well to enable it.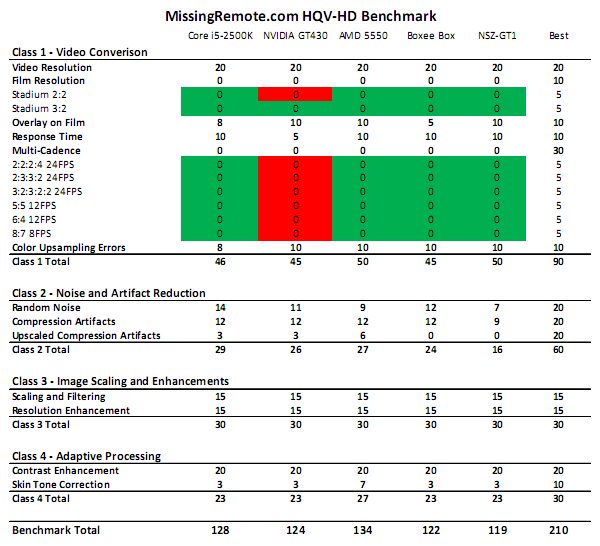 When evaluating HQV-HD scores it is important to remember that while numbers are produced, the outcome is still somewhat subjective and open to interpretation so results should only be evaluated within the context that created them and are not directly comparable between displays or reviewers. The most interesting comparison from the values above is between the Boxee Box and the NSZ-GT1 as the devices are based on Intel's CE4100 platform. Overall the scores are in-line with what I expect from a device in the mainstream CE category. That said, and given these results, and the nature of the majority of content that the Boxee Box makes available a source direct feature would go a long way for those with a more capable video processor downstream from the device.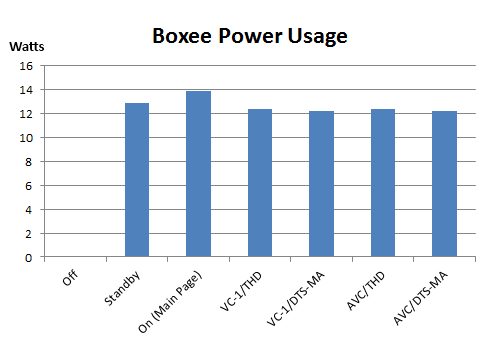 With a peek power number of just under 14 Watts the Boxee Box is miserly in contrast to most HTPC and in-line, or better than, the many other CE devices. The most interesting output is that the device's "Standby" mode actually uses more power than it would looping a 1080p Blu-ray rip, so while it takes about 50 seconds to power on the device it is probably worth the savings unless used quite frequently.
Conclusion
The Boxee Box is still a work in progress, and as a moving target it is difficult to evaluate completely. With that in mind I still cannot help but have mixed feelings about the device. It excels at Internet content aggregation, but fails with what is found locally It excels at content aggregation, providing a rich, integrated experience that appropriately blurs the line between local and online. The user experience is generally easy and intuitive enough for mainstream users, but suffers from some HTPC style issues as well that create a barrier to adoption. Despite that, and that it cannot replace any device in my primary viewing environment, or act as the only component in the secondary location it was an excellent complement in every environment I placed it – and I often missed it in those locations while testing the device in another. I suspect though, that those with a greater willingness to "cut the cord" or just a cable/satellite DVR would find it easier to use the Boxee Box as their primary media consumption device, especially on displays without a built in over-the-top application platform.
One thing is clear however, Boxee has an innovative and interesting product with enormous potential. I look forward to watching the platform evolve over the next few months and seeing what devices it ends up on– a Boxee Box Blu-ray player would be awesome.
Pro:
Internet TV experience
Netflix & VUDU
RF remote
Multi-user support
Continually adding functionality and features
Con:
Local file playback lacks polish
No HDMI CEC
Multi-channel PCM playback is a mess
No Component (YPbPr) video output
Thanks to D-Link for providing the review sample.