VIA NSD-7800 8-Bay WHS Solution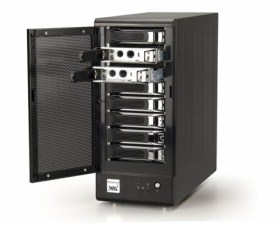 VIA NSD-7800 8-Drive NAS Storage Solution

The popularity of Windows Home Server as a viable NAS competitor has spawned a number of solutions from HP and Acer, to name a few. Equally as popular however, has been the desire for enthusiasts to roll out and build their very own WHS Server boxes as well. The main restriction with the majority of these cases and available OEM solutions was the limit of four internal hard drives. VIA is tossing their hat into the ring with an 8-Drive bay chassis that comes as a barebones solution. With little effort this chassis can be come your new WHS box holding just under 16 terabytes in a very small form factor.
Specifications
If you have not seen the competition or other options available, take a look at our Battle of the Home Servers and the EX487 review to see the various options that are already out there for Windows Home Server systems, either OEM or ones you can design on your own.
I will preface the entire review by stating that this chassis is not by any means an exclusive Windows Home Server solution. It will work and includes drivers for all flavors of Windows and Linux, if you desire to use it for a different application. However, for the purposes of this review I will be solely approaching the unit as a platform for WHS as I feel it was what most our readers are interested in.
| | |
| --- | --- |
| | |
| Product Label | Delta Power Supply Label |
Now let's move onto the specifications of the unit! Unlike the Chenbro chassis from the Battle, which was just an empty chassis with power supply, the VIA NSD-7800 is essentially complete. End users only need to throw in a hard drive and the operating system itself to get started. For comparison, I will use the HP MediaSmart Server EX487 as my baseline unit since, besides being what I own, is also arguably the leading Home Server system on the market.
DIMENSIONS
| | | |
| --- | --- | --- |
| | HP EX487 | VIA NSD-7800 |
| Length | 9.8" | 13.3" |
| Width | 5.5" | 5.9" |
| Height | 9.2" | 13.3" |
| PSU | 200W | 300W |
| Drive Bays | 4 | 8 |
| Weight | 12.7lbs | 14.3lbs |
TECHNICAL SPECS
| | | |
| --- | --- | --- |
| | HP EX487 | VIA NSD-7800 |
| CPU | Intel Celeron 440 2.0Ghz 64-bit | VIA C7-D 1.5Ghz |
| Memory | 2gb DDR2 | 1gb DDR2 |
| Ethernet | 10/100/1000 | 10/100/1000 |
| USB | 4 (1 front, 3 rear) | 4 (rear) |
| eSATA | 1 (rear) | 0 |
| Drives Included | 1.5tb (2 x 750gb) | 0 |
| MSRP | $749 | $589 |
| | | |
Here's how VIA describes it:
The VIA NSD7800 addresses the growing need for a compact,
user-friendly home server solution as well as NAS, iSCSI, Media
Server and NVR applications to offer system integrators a superbly
versatile product.

The VIA NSD7800
supports up to eight 3.5" desktop hard drives and Gigabit networking
for fast, efficient file transfer speeds. Powered by a power-efficient
VIA C7-D processor it offers a power-efficient, low heat system that
can be relied upon in always-on server implementations.

Key Features include:

Desktop tower design
Supports eight SATA trays
Supports one bootable Compact Flash type I slot
Supports one VIA VT6130 PCIe Gigabit Ethernet and an optioanl 2nd Gigabit Ethernet port for ODM/OEM project requirements
Supports four USB 2.0 ports

The
VIA NSD7800 supports a type-1 compact flash slot for embedded OS
installations and uses PCI-Express-based Gigabit networking to handle
file transfers quickly and efficiently. A mini-PCI port is also
available for additional security related add-in cards such as hardware
VPN or anti-virus modules.

LEDs include
individual S-ATA port activity, overall hard drive activity, network
activity and power. There are also custom LED control and push button
backup and recovery options.

The VIA
NSD7800 supports Microsoft Windows Server 2003/2007, Windows Home
Server and Linux. System monitoring and management includes
Wake-on-LAN, Wake-on-Alarm and Watch Dog Timer. A complete driver and
SDK is available to customers.
You can see some pretty full features included with the system. Something to pay particular note is which version and where you purchase. My unit for review did not include the VGA cable, so make sure if you purchase one you get it with the VGA as it's impossible to install without one. As with most of VIA's products, this product is as much geared for OEMs as consumers, and apparently there are some nice customizations an OEM could make including dual gigabit NICs and of course the VGA port. I am not aware of any OEMs currently selling the NSD-7800 but something to keep in mind in the future.
Appearance
When I received the package from VIA the box was pretty large. Fortunately that is because the packaging is impressive as it was double-boxed and had some very sturdy airbags surrounding the unit enclosed in protective plastic. The contents are fairly sparse as the system comes pre-built, so you have the unit itself and then a small box accompanying it with screws for the hard drive and the power cable.
| | |
| --- | --- |
| | |
| Outer Packaging | Inside Smaller Box Contents |
As mentioned above, the unit does require screws to connect the hard drives to their removable trays. This is slightly disappointing given how convenient and simple the HP MediaSmart's screwless design is for their caddies, but assuming you do not plan on changing drives often it was a minor inconvenience.
Immediately out of the box I was very impressed with the small size and stature of the unit. When I first received the HP MediaSmart server I was very pleased at its size, and considering this unit has double the amount of hard drive bays I was anticipating a significantly larger size. As shown in the dimensions before, this unit is just slightly larger than the HP unit, not even an inch wider and only 4 inches taller and deeper. In other words, this unit can fit anywhere the HP MediaSmart can, yet support double the drives.
| | |
| --- | --- |
| | |
| Side Unit | Angled Unit Door Open |
Always difficult to photograph, the chassis features a glossy black paint finish on its front, sides and bottom. This is a nice touch but makes it very difficult to keep clean. It's a bit unusual but the rear of the unit is not painted at all and comes in the standard metal finish you would find internally. I do not know why the back of the unit was ignored with the paint but it is a bit disappointing in my opinion.
| | |
| --- | --- |
| | |
| Rear of the Unit | Available Ports |
The front drive bays are covered by a metal door with a grill faceplate. Unlike the HP unit, the lights from the drives are directly shown via the caddies so the door and grill have no connecting cables or lights coming from it. The power and LAN buttons are present at the bottom front of the unit and include the power button, power indicator, collective hard disk activity and network activity indicator light. There is also a reset button underneath the power indicator light. The lights are an interesting piece and I could see them getting annoying to some but can be easily remedied by simply disconnecting the header cables from the motherboard. The power indicator is literally an amber light that is illuminated if there is power to the unit. The network activity indicator functions both when the unit is powered off and on. The last item on the front panel is a "Powered by VIA" logo badge on the lower left. The standard 1×1" badge seems large here due to the overall size of the chassis so I would have preferred seeing something smaller. Considering most people will have the server tucked away somewhere these are all minor qualms with the appearance.
| | |
| --- | --- |
| | |
| Hard Drive Caddy | Front Panel Indicators |
Finally we have the drive caddies themselves. A combination of steel and plastic the design seems rugged enough to handle many ejections. As mentioned earlier, the caddies do require screws to attach the hard drives into them. Installation is simple and each drive can be attached with up to 6 screws, but I normally just use 4 and have never had a problem. The hinge system is different as well, as you slide the front hinge to the right to unlock and remove. It took some practice but I do not see any difficulties with this method.
Setup and Installation
Hardware setup for this unit is as easy as you can expect. The only tricky piece was getting the VGA cable inside onto the motherboard header which could be difficult if you have larger hands. Once the monitor was connected, installing each drive was a simple task. I connected an External SATA DVD ROM drive I had available and connected it to one of the SATA ports on the system (I unplugged a SATA drive). Note that Windows Home Server is able to boot off of a USB drive provided you follow some steps online and have a large enough USB key. I went with the more traditional DVD installation since it's what I had available. I have worked with Windows Home Server for a while and know its installer does tend to be pretty picky so I was curious how it would behave here.
| | |
| --- | --- |
| | |
| Inside of Unit | Closer look at Board and Cables |
I began with placing the installation drive on the bottom caddy since I thought this would make sense. I quickly learned that there are actually two SATA controllers on the system (this is a good thing, keep reading). The top four hard drive slots are controlled by the VIA VT8251 South Bridge chipset. The bottom four however are controlled by the Marvell 88SE6145 chipset. I knew there were multiple SATA II controllers on-board but it did not occur to me what I soon discovered–Windows Home Server refused to work on the Marvell connector. No matter what driver I used during installation, the OS just would not let me continue to install it to that drive. While I could have just switched cables internally I decided to just switch the OS drive to the top connector. As expected installation from there went smoothly and succeeded quickly, just keep that in mind when you are installing.
Aside from that slight issue, installation itself was a breeze. Upon entering Windows Home Server, I was surprised to see that hot-swapping the drives was not supported. I connected a couple new drives and Windows did nothing. I needed to restart the system for them to be detected. After a bit more research it seems the hard drives were not configured to AHCI and therefore were not hot swappable; an easy remedy, but one that would require a reinstallation of the drives. I take partial responsibility for not checking the BIOS initially, but if this unit is designed for WHS it should really be coming with AHCI enabled by default.
Once up and running I installed the chipset and LAN drivers for the unit and then was able to disconnect the VGA cable and close up the unit, once I verified that remote desktop was properly working. For what it's worth, if I owned the system I would connect the VGA cable to it as a just in case. I would rather have the VGA port on the backpanel than always having to open up the unit and connect the cable when needing to troubleshoot. That being said, this is still much easier than getting VGA out on the HP MediaSmart, so not all terrible.
Power and Performance
Gauging performance on Home Server systems is always difficult since the Windows Home Server operating system itself is not really geared towards blazing speeds. If maximum speed is what you're after you should probably be looking at a Linux RAID setup of some sorts that will not only maximize the system but the drive speeds as well.
The system specs tell a lot of the story here. 1gb of memory is sufficient for most people and activities, but with the inexpensive prices on a 2gb stick, I would recommend maxing out the memory if you plan on using this unit. Unfortunately the CPU is impossible to change out, a 1.5GHz C7 chip from VIA. This chip has been around a while and is a single core solution. Not a bad choice at all and it makes sense from a cooling solution but will definitely hinder your speed. I found performance to be similar and slightly more responsive than the original HP MediaSmart EX470 server, but not nearly as quick as the EX487 as expected.
| | |
| --- | --- |
| | |
| Internal 120mm Fan | The NAS-7800 Board Used in the System |
Cooling is handled by a single 120mm exhaust fan which does run fairly quiet, but then also a 40mm fan over the CPU heatsink. The power supply is made by Delta and is audible nearby but not with an annoying sound or high whir sound. VIA boards in general are very low powered and generate low heat, so these touches are almost exclusively for the 8 hard drives. The CPU fan although small and could generate some noise over time was surprisingly quiet for its size.
With that said, let's move onto the most impressive part of this review, the power ratings for the system. Again using the EX487 as our baseline, which uses approximately 81 watts when fully populated with 4 drives. This is really where the VIA system shines the most. I'm using the wattage estimates from WeGotServed's review of the EX487 to compare to the unit. I used a Kill-A-Watt connected to the unit to measure the wattage and used Prime95 and HDTune during the "Load" stage to simulate the system under 100% load.
| | | |
| --- | --- | --- |
| | HP EX487 | VIA NSD-7800 |
| 0 Drives | n/a | 37 Watts |
| 1 Drive, Idle | 44 Watts | 40 |
| 1 Drive, Load | 50 | 47 |
| 2 Drives, Idle | 55 | 50 |
| 2 Drives, Load | 60 | 60 |
| 3 Drives, Idle | 65 | 60 |
| 3 Drives, Load | 70 | 71 |
| 4 Drives, Idle | 76 | 63 |
| 4 Drives, Load | 81 | 74 |
| 5 Drives, Idle | n/a | 66 |
| 5 Drives, Load | n/a | 76 |
| 6 Drives, Idle | n/a | 74 |
| 6 Drives, Load | n/a | 85 |
| 7 Drives, Idle | n/a | 78 |
| 7 Drives, Load | n/a | 88 |
| 8 Drives, Idle | n/a | 81 |
| 8 Drives, Load | n/a | 92 |
As you can see, the numbers do not lie and this is one SUPER low powered unit. Powering 8 drives in a Windows Home Server solution at under 95 watts is just incredible. Considering the HP system with half the drives comes in at 81, this is incredible. For the record, I was using Seagate Pipeline hard drives, which are designed to be more power efficient than Barracuda drives, but still impressive numbers. One could easily throw in the most popular drives, the WD Green 1tb and have 8 terabytes of data with similar numbers. The system definitely benefits from the super efficient VIA motherboard and CPU, which although it is slightly lower performance does have impressive power draws. My only remaining question was why VIA is using a 300 watt power supply when an efficient 200 watt could easily have done the job. That extra headroom could result in some wasted power in the long run.
Software and Extras
As with any chassis or barebones manufacturer (such as the Chenbro) the system comes with no special Windows Home Server software like the HP solution. That being said, there are so many comparable add-ins available from the community that this isn't as important as it used to be. Want to see your hard drive temperatures? There's a plugin for that. Want to schedule your server to go to sleep at a certain time? There's a plugin for that. The list is virtually endless.
| | |
| --- | --- |
| | |
| Fully Populated with 8 Drives! | System Resources and Specs |
Home Server Software aside, this system does include some extras that are pretty unique. For starters, the board includes support for a Compact Flash card, meaning you could install your OS solely on the flash card with no moving parts for added reliability. You would need a fairly large one to do this with Home Server, so this is probably more preferable for you Linux fans to throw a small distro on it (maybe UN-RAID?).
Windows Home Server aside, the board (as most VIA boards) is designed for embedded application with some cool features like wake on alarm. Additionally the board includes Watch Dog Timer, which is designed to automatically reboot the system if it is caught in a hung state. This is something Windows users take for granted, but if you have a NAS solution that is frozen, you really want it rebooting sooner than later.
Conclusion
I found the VIA NSD-7800 online for under $500 ($489 to be exact) which is quite a tremendous price for what you are getting. While not the fastest system on the planet, the VIA setup is very efficient and normal users will have trouble noticing the difference between this and a similar system with faster specifications. I used the HP MediaSmart EX487 as my baseline since it's arguably the leading Windows Home Server system and expected it to blow away the lower priced VIA NSD-7800. Instead I came away pleasantly surprised as the VIA unit was capable of handling double the amount of drives and hardly using more power.
That being said, this product has a market very different to that of HP's for now. No doubt VIA's goal with this item is for OEM usage and that would be ideal since installation did take some expertise compared to the Acer or HP solutions which are good to go out of the box.
However, for enthusiasts it would be hard to ask for more. The system is compact yet one of the largest storage chassis I have seen that does NOT require a rack. Most of us geeks have hard drives lying around anyways so the lack of any storage simply means you can configure the system with the drives you want right from the get-go.
The only blatant qualm I have is with the lack of a VGA port built-in. I understand the market with HP and Acer and others not including them, but in a market with so many DIY-ers who will rely on them, it is slightly bothersome. There is a port on the backpanel to add it, but I would like to see VIA be considerate of the geeks and just include the part built-in.
Overall, this is a terrific product which does everything it says it does and best of all does so while keeping your electricity draw nice and low. With the recent offerings of 2 terabyte drives from Seagate and Western Digital, you could potentially build yourself a solid Windows Home Server with this tiny chassis yet have 16 TERABYTES of Storage! That's a lot of Blu-ray…err….home movies.
Pros:
Low cost
Super low powered
8 Drive bays
Barely larger than the HP MediaSmart
Compact Flash slot
120mm Exhaust fan is cool and quiet
Solidly built chassis and caddies
Cons:
No VGA Port
No Dual Gigabit
Slower 1.5 GHz CPU
1gb of RAM
40mm CPU Fan could get loud over time